Steve Clones in his tight leather Jeans, low-slung trade-mark Gibson, & an eye for the girls, knows how to turn it up & turn it on, as Steve Diggle of the Buzzcocks said - " A crashing guitar sound Steve Jones should be proud of.!"
Paul Crook drives the whole thing along relentlessly with the powerhouse behind a solid, pounding, drum kit. Always late, but never missing a beat.! Sat proudly behind his Premier Union Jack drum kit flying the flag for the Sex Pistols Experience.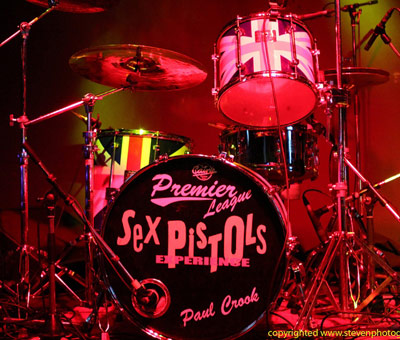 Their live show has to be seen to be believed, many hours of hard rehearsing have paid-off to get the look & sound so spot-on. When they were invited as special guests onto Sex Pistol guitarist Steve Jones' radio show 'Jonesys Jukebox' being interviewed & performing live on-air some classic Pistols tunes together to millions of listeners. "My God.! They Really are the Sex pistols!!" said Steve.!
Appealing to young & old(ER) alike, even the most ardent of Pistols fan, reluctant to see their hero's being portrayed, can usually be seen, 2 or 3 songs in, pogo'ing and bouncing around at the front, re-living their youth & wishing they were 20yrs younger!!
So if you missed out on seeing the 'real deal' back in the day, there is no alternative, accept no false fakes, this is your chance to say " I swear I was there..!" Come along and witness what is now regarded as one of the World's leading tribute bands whilst you still can, before they burn-out as they surely will, perhaps after their next U.S.A tour!!??


It may not be the 'real deal', but it is without doubt the real 'double act', we all remember the songs, just one classic after another, Holidays in the Sun, Pretty Vacant, Bodies, Anarchy in the U.K, and of course the banned No1 single 'God Save The Queen'. All delivered as it should be, raw, loud & proud, powerful & dynamic, with the main focus being on having FUN...! Never trust a Hippy, the Swindle really does continue! "Who killed Bambi..??" asked good friend & regular support act Ed' Tenpole Tudor "We did"
-The Sex Pistols Experience. !
<![if !supportEmptyParas]>
<![if !supportEmptyParas]>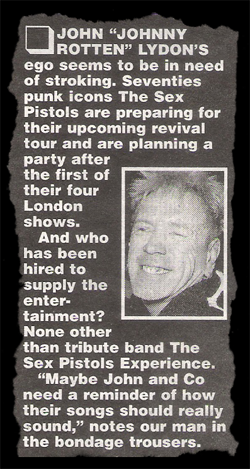 After playing hundreds of live shows since their formation in 2001, covering the length & breadth of England, winning over some of the toughest of critical audiences, and building on the foundations of a solid fan base at every gig. The groups reputation soon spread overseas, with them playing many festivals & dates all across Europe covering some 17 countries so far, taking it in their stride playing in front of an estimated 20,000+ people at one recent Slovakian festival. During 2006 the Sex Pistols Experience spent three & a half month's touring extensively around the U.S.A - from East to west - New York to L.A, & North to south from Seattle to El Paso' & back again! Proving, beyond doubt they really are, not just the U.K's, but the World's No1 Sex Pistols tribute troupe!