"Then The Broken Hearts appeared/Staggered onto the Stage, Feedback everywhere and I thought this could be a... Rock'n'Roll Carcrash . Then after a few Songs, the Sheer Rock'n'Roll Class that was on the Stage shone through. This band Oozed Rock'n'Roll through every Vein (Sometimes Literally). A Truly Fabulous Set! Great Pity there wasn't any Kasbain Fans et al there, they could for once have Witnessed a Real Rock'Roll Band! "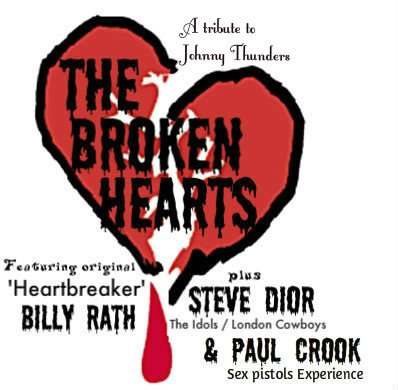 The Broken Hearts,
Featuring 'Steve Dior' ex The Idols / London Cowboys / Delinquents,
& Billy Rath the original Heartbreaker.
'Johnny Thunders & The Heartbreakers' – also known as 'The Heartbreakers - were New York street Punks playing sleazy Rock & Roll having risen from the ashes of the 'New York Dolls' in 1975. The Heartbreakers featuring Johnny Thunders, bassist Billy Rath, guitarist Walter Lure, & drummer Jerry Nolan formed a formidable name for themselves in England after arriving for a European tour just as the London & U.K Punk scene was exploding in 1976. Joining forces with the Sex Pistols, The Damned, & The Clash they took to the road on the ill fated 'Anarchy in the U.K Tour' in the winter of 76'.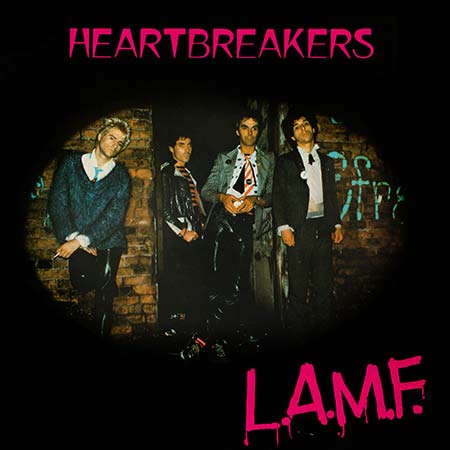 The band we're soon snapped up for a record deal, & their debut, and only, studio album L.A.M.F (Like A Mother Fucker) resulted, featuring studio versions of all their popular live songs. That album, despite band-breaking arguments over the mix quality, remains a powerful & rockin' 'classic' in every sense. The Heartbreakers, like many great bands of the time (The Pistols included) burnt brightly for a short time, & then burnt out.
With work visas expired, & some serious drug habits to support, they relocated back to New York in 1978 where Thunders would record his solo album 'So Alone'. The notoriously drug-fueled recording sessions featured a core band of Thunders, & (now ex-Sex Pistols) Paul Cook & Steve Jones, with guest appearances from, amongst others, Walter Lure, Billy Rath, Phil Lynott, Steve Marriot, & Chrissy Hinde.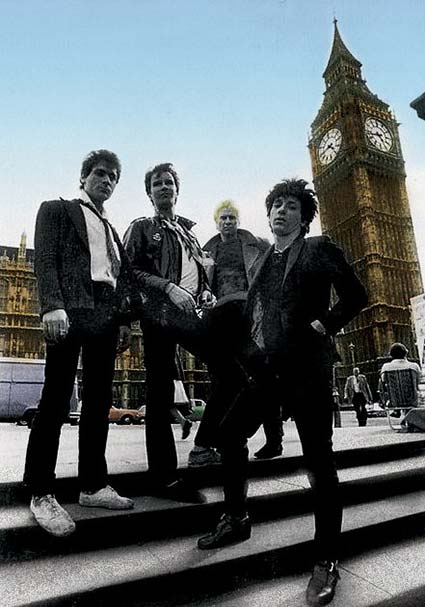 During the early 80's Thunders reformed the Heartbreakers for various tours, the group recorded their final album in 1984. Thunders Died in New Orleans from a suspected drug overdose in 1991, his best friend, & now regarded as one of the greatest Rock'n'roll drummers of all time, Jerry Nolan' died in New York from pnuemonia just a few months later.
Steve Dior first came to attention of the London scene in 1975 when as no more than a teenager he was giving guitar lessons to Steve Jones.! Steve Dior grew up in the thick of the London Punk movement but was eventually taken over to New York by (his now friend) Johnny Thunders where he fell in with former New York Dolls 'Arthur Killer Kane' & 'Jerry Nolan' forming 'The Idols' who're probably best remembered for backing Sid Vicious at his 1978 Max's Kansas City gigs.
"Sid Vicious live at Max's New York, with Steve Dior on Guitar".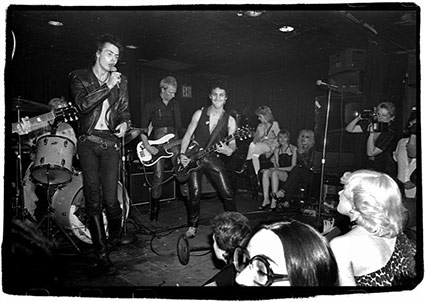 On his return to England Steve teamed-up with Barry Jones (co-founder of the London Roxy club) to form the 'London Cowboys', again with drummer Jerry Nolan, & bassist (ex-Sex Pistol) Glen Matlock, featuring catchy sleazy Rock'n'Roll based songs.
The London Cowboys charted a drug-fuelled rollercoaster through the 80s & had good success throughout Europe, they gigged regularly in the UK, Europe & Japan. Around this time Steve also worked with Johnny Thunders in one of his 'revolving door of musician' bands 'The Delinquents'. - Steve must be the only musician to have worked alongside all four ex-members of the 'New York Dolls' & The Sex Pistols.!

Fast-forward almost 30yrs, & Steve Dior is teaming-up with Heartbreakers survivor bassist 'Billy Rath', who's over from New York City for the first time since the bands split 1984, to bring the music if The Heartbreakers to life once more on stage's across the U.K. In the absence of their former band mates, & unavailability of Pistols Paul Cook & Steve Jones, who better to fill in on guitar & drums
than 'The Sex Pistols Experience' Paul Crook & Steve Clones.!

'Crook & Clones' – or to give them their proper names 'Dave & Mark' are well known for their attention to detail & explosive live shows. Talented musicians with an ear for getting things just right.! But more than that, Mark spent years prior to the Sex Pistols Experience performing in 'L.A.M.F' the U.Ks premier Heartbreakers tribute show band. Whilst Dave grew-up on a diet of Jerry Nolan & Paul Cook as his main drumming influences, which is where that solid driving beat comes from!
A perfect example of a reality/tribute crossover band.!

However do not dissmiss 'The Broken Hearts' as some retro tribute act, with the old habits long gone, & Steve Dior on board writing new material & digging in his archives for long lost Thunders/Nolan recordings to work on, along with Billy Rath who's active again in America with his band 'The Street Pirates' you can expect to hear a collection of the old classics from The Heartbreakers, The Idols, London Cowboys, & some new tracks from Billy, & some (so far) unheard songs, keeping the legacy of the Heartbreakers not only alive, but active in 2012.
With record indutry interest, a back catalogue of crowd pleasers, & some new songs to air, 'The Broken Hearts were a great addition live as 'special guests' of the Sex Pistols Experience during the autumn of 2011, & we'll hopefully see some more shows in the future....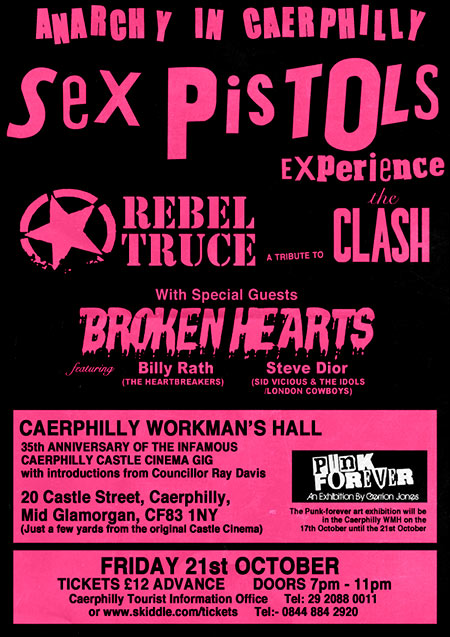 ANARCHY IN CAERPHILLY THE SEX PISTOLS EXPERIENCE, REBEL TRUCE (CLASH TRIBUTE) BROKEN HEARTS (FT BILLY RATH AND STEVE DIOR) CAERPHILLY WORKMANS HALL FRIDAY 21ST OCTOBER
35 Years ago this sleepy area of South Wales was catapulted to national attention when the Sex Pistols fresh from the Grundy debacle had the Cardiff leg of the tour cancelled and Caerphilly's Castle Cinema took up the mantle and put on the show complete with hundreds of carol singing protesters outside. Marking the anniversary Gerrion Jones put selections from his legendary Punk Forever exhibition on the walls of this phenomenal Art Deco venue (closest venue still standing in the town). To culminate the week the bill from the evening was recreated in tribute form. I was expecting a crowd of around 80-100 and was amazed when over double that made the pilgrimage. First up was Punk Royalty in the form of the Broken Hearts which featured Billy Rath (who in his time with the Heartbreakers was on stage last time around), they played a well received set of HB standards, Born To Lose, Chatterbox and a fantastic Chinese Rocks. I have always been more of a Clash over Pistols man so Rebel Truce totally blew me away. The crowd went mental with 16 year olds grappling and pogoing along with the fifty pluses in the pit. This was heavenly, I missed the Clash in their heyday and so am never going to see them now, but the greatest hits set was incredible. Everything from 1977 and Janie Jones to White Man in Hammersmith Palais and the ubiquitous White Riot, a highlight being when some wag threw a condom on stage during the hymn to them Protex Blue. One of the finest sets I have seen in my time reviewing gigs but being such a fan of the motherlode they couldn't fail. The Sex Pistols Experience are exactly that, they look the part 'Rotten's" attitude is as snarling as you would expect and musically they are spot on. 'Sid' ask's the crowd who was here last time 'when I wasn't' (Matlock still in band) when a huge roar went up he pointed out a few teenagers and said ' your was not even born, you mistaking us with Greenday'. TSE enthralled and played everything you could think of (bearing in mind the canon is one album plus assorted bits n bobs) loved the intro as well, do yourself a four and go see these guys. Overall a fitting tribute to a momentous event in music history in a great venue that really needs to be utilized in the future. Punk Forever Indeed.
Chris Phillips review from
www.brfm.co.uk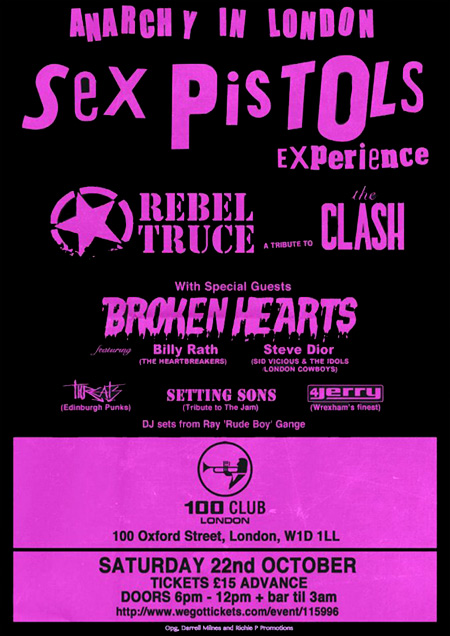 A special event with punk tribute bands at The 100 Club to celebrate 35 years of
The 100 Club Punk Rock Festival.22 Oct 2011.
A special event with punk tribute bands at The 100 Club to celebrate 35 years of The 100 Club Punk Rock Festival.I was at the original event in 1976 as a mere seventeen year old that has gone down in rock n roll history as one of those "i was there" gigs as it put punk rock on the map. Up first we have Setting Sons who are a Jam tribute. Always good to hear those Jam classics. Then we had Threats who are a Scottish punk band who were around in the late 70s/early 80s.An ok set.

Then Broken Hearts who i was really looking forward to as they are a Johnny Thunders tribute act and they feature ex Johnny Thunders And The Heartbreakers bassist Billy Rath first time on a UK stage for many years.He looks like death warned up due to his heroin habit. Also in the band is Steve Dior who was mates with J.Thunders and Sid Vicious back in the day. Loads of great tunes like "Born To Lose","Let Go", "Chatterbox","Pirate Love","Chinese Rocks " and "Get Off The Phone" in their 60 mins set. Gaye Advert from 'The Adverts' (amongst many other 'faces' of old) was in the crowd lapping it up.
Then Rebel Truce who are a Clash tribute. One Clash gem after the other. Have seen them before. Always good. Headliners Sex Pistols Experience as always were fantastic.Soon the crowd are jumping around front of stage. Johnny Rotter (the singer) is so brilliant as a young John Lydon it is uncanny.Classic Pistols gems one after the other inc "Pretty Vacant","Holidays In The Sun","EMI","Belsen Was A Gas","Bodies","God Save The Queen" and "Anarchy In The UK".SPE really are a must see for any punk fan.They really are the bollocks.!
www.raysgigs.com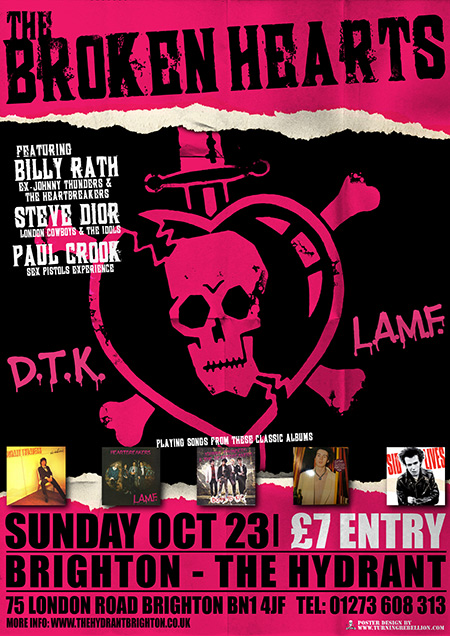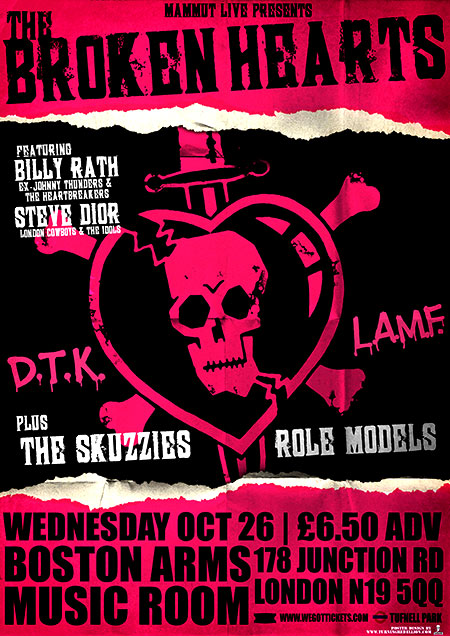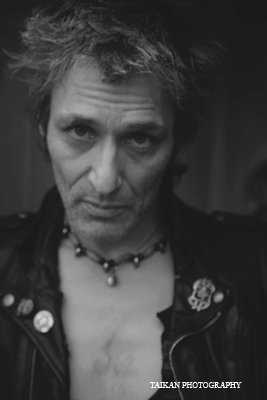 Performing the best of Johnny Thunders & The Heartbreakers / The Idols/ The London Cowboys / Billy Rath's Street Pirates + some new & original material.


A bit of background:- www.tourdates.co.uk

"Then The Broken Hearts appeared/Staggered onto the Stage, Feedback everywhere and I thought this could be a... Rock'n'Roll Carcrash . Then after a few Songs, the Sheer Rock'n'Roll Class that was on the Stage shone through. This band Oozed Rock'n'Roll through every Vein (Sometimes Literally). A Truly Fabulous Set! Great Pity there wasn't any Kasbain Fans et al there, they could for once have Witnessed a Real Rock'Roll Band! "

T-Shirts available in the store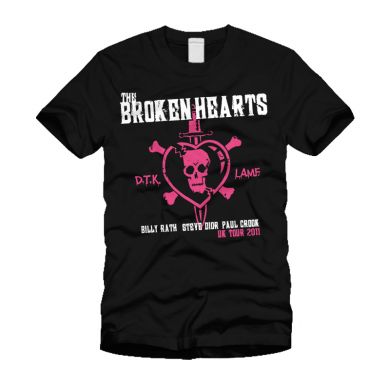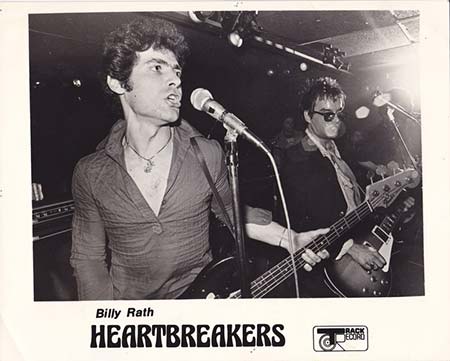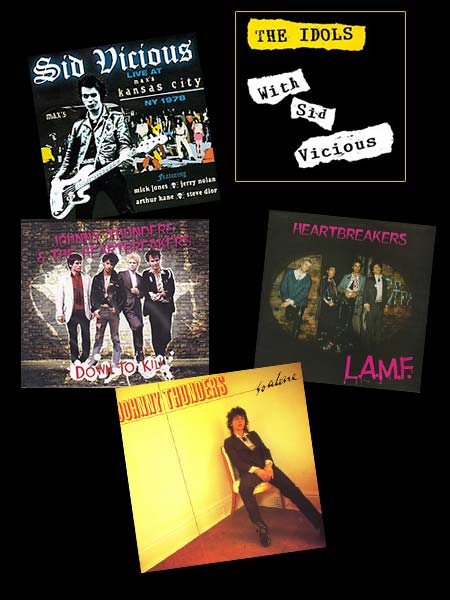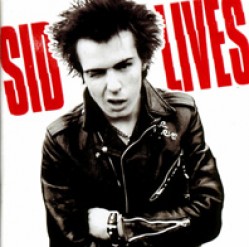 Get 'Sid Lives' with Steve Dior on guitar with Jerry Nolan (drums) & Arther Kane (bass), Sid's his last 4 gigs at Max's Kansas. Also 'L.A.M.F' re-mixed & with unreleased tracks direct from Jungle Records,
http://stores.ebay.co.uk/jungle-records
Jungle Website:- www.jungle-records.com