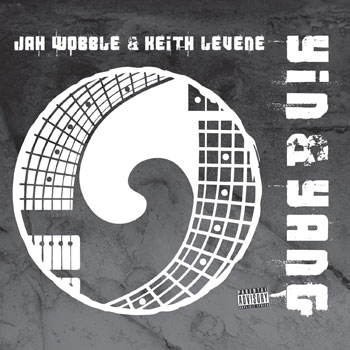 Jah Wobble & Keith Levene with special guests including our very own 'Johnny Rotter' have their new album out now ' Ying & Yang' which has been picking up some very healthy reviews. Get it here through Amazon or any other on-line stores..
For the first time in 30 years Jah Wobble and Keith Levene, the core of the classic post punk innovators Public Image Limited will be taking to the stage together again. The ground breaking, dub heavy bassman and one of the most original guitar players ever have reconvened to play tracks off the two key albums from their original outfit and a bunch of new tunes that continue their ground breaking work from the past
After being out of contact for a few years the pair had decided to revisit their own legacy of the first two Public Image albums from the late seventies that redefined music in the post punk period and arguably were the first releases to signpost the form.
Wobble, who knew Johnny Lydon since the mid seventies after meeting him at Kingsway College of Further Education, was one of the original 'Four Johns'- the gang of very smart nutters who were the inner core of what was to become 'Punk Rock'. Terrorising the hippies on the Kings Road were John 'Wobble' Wardle, John Grey, John 'Sid Vicous' Ritchie, and John Lydon. When the Pistols fell apart and Lydon started his next project it was inevitable that Wobble (who got his nickname from Sid Vicious) would get the call up and the pair of them added ex Clash guitar man Keith Levene to the line up to form Public Image.
The new band recorded two amazing albums that redefined music with Wobble's wobbling bass end, Levene's chiming harmonic guitar and Lydon's sensational poetry that was half cackled and half whined creating a totally new music that influenced everyone from post punk to U2 and beyond.
The original P.i.L was an ambitious but short lived affair, much like the Sex Pistols before them, they lasted little more than a couple of years before the inevitable revolving door of musicians & hired hands would join & soon after depart, the 'group' continued into 1992 before disbanding for a hiatus lasting some 17yrs.
In 2010 Lydon reconvened the band without the two key members and toured to critical acclaim. Also during 2010 & after a handful of guest appearances with tribute band 'Public Imitation Ltd' got the ice broken & Levene & Wobble on the phone to each other once again. So early 2012, despite threatened court action by Lydon, but with the help of the vocal talents of 'Johnny Rotter', Wobble and Levene decided to revisit their past as well, whilst also fast forwarding to the future with some planned new material. A short tour of Japan was planned & a handful of u.k dates followed with a new take on their classic album, & so 'Metal box in Dub' was born.! And a new studio album is being recorded now & coming in 2012, further updates will be on www.30hertzrecords.com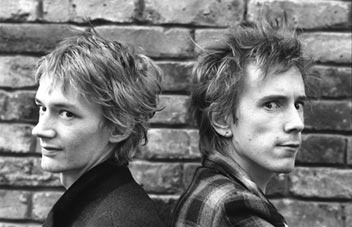 For some years the Sex Pistols Experience had been rounding off some live shows with the occasional 'Public Image Ltd' track as an encore to end the nights set. The band had often been asked to do more, & after many months of consideration we decided to 'go for it' properley in early 2009, & present, for a limited time only, the Worlds 1st & only PIL tribute show!
The band are well known around the World for their explosive shows & attention to getting the details just right, & now they applied the same standards to accurately re-create & re-produce the look, sound, energy & excitement of 80's new wave sensation Public Image Ltd, who's music, until recently, hadn't been heard live on stage in almost 20yrs.!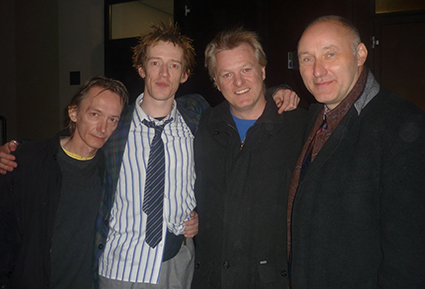 Anyone into their music throughout the Post-punk/New-Wave era of the early 80's, following John Lydon from the Sex Pistols into Public Image Ltd will remember that the band became far more influential & creative than the Sex Pistols ever were.We decided to call ourselves 'Public Imitation Ltd', or P¿L, & in April 2009 we began work in the studio rehearsing and mastering the sounds, look, and adding all the other essential elements it takes to make a PiL gig the exciting & original live show it once was back in the day..Ready to take to the nations stages in the Winter of 2009.

Over a 13yr career (spanning 1978 to 1992) PiL spent the 80's performing venues up & down the British isles, with extensive tours of Europe, USA & Asia. Instead of having just one album worth of songs (& some B sides etc) like the Sex pistols to choose from, PiL released several albums worth of material through a variety of line-up changes, from which 'Public imitation Ltd' picked out all the best bits & delivered them to in a totally new unique live experience ! ..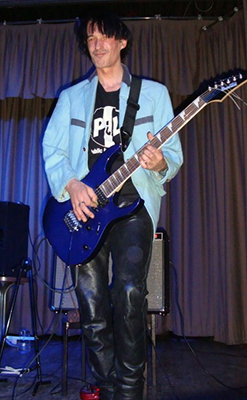 Including early album tracks like ' Religion', 'Annalisa', 'Death Disco', 'Solitaire','Flowers of Romance', 'Low Life', Memories, etc from the Metal Box recordings. Plus the later chart hits like 'This is not a love song' - 'Bad life' - 'Home' & 'Rise' . There were lots to choose from & we hoped crowds would like our live 'best of' selection.! ....

However, as coincidence would have it, John Lydon himself also decided to reform with a new line-up of 'Public image Ltd' himself once again, &, like us, also began rehearsing with a view to doing live shows also in late 2009.! So we fulfilled our live date commitments around the u.k, & then mothballed the show to make way for Lydon's new P.i.L who continued to tour through late 2010 & well into 2011. There's no room for both of us, & no point (we thought) in paying tribute to a once great band when you can catch the real deal live once
more.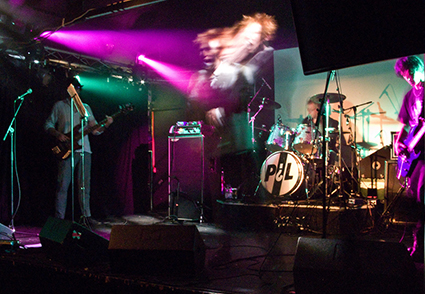 None of the original P.i.L members wished to be involved with Lydon's current band, Original guitarist 'Keith Levene' & bassist 'Jah Wobble' instead joined 'us' on stage for a few special guest appearence's - which was a real priveledge for us to share a stage with them, & many suggested we should go out on tour with them - being that we were "more P.i.L than P.i.L.!" but that wasn't to be - We might bring the show back in future if John Lydon's new P.i.L vanish again, leaving room for a tribute show, but for now just enjoy the 'memories' if you saw us, or enjoy the videos if you didn't.!
'Public image', Fuji Festival - Japan'
'Memories' - London 2012'
Keep up with all things Jah Wobble here:- http://www.30hertzrecords.com/

& We highly recommend you read Wobbles autobiography from his formative years & his early friendship with 'The johns' (Sid Vicious & John Lydon etc), his take on what went wrong with P.i.L, & lots of facinating & often funny Memoirs of this cockney geezer. If you ever wondered how he got his name, the answer is here, alongside his refreshingly disrespectful opinions of the great and the good. Throughout, Wobble tells it like he sees it, "buy it - it's brilliant.!" - (The SPE) .:- http://30hertzrecords.com/stores/index

Keith Levene often releases new ideas & unheard tracks on his youtube site, go check it out - but watchout - he bites.!! :- http://www.youtube.com/user/TheFamousGeorge

An in depth & really good Keith Levene interview via Fodderstompf:- http://www.fodderstompf.com/ARCHIVES/INTERVIEWS/guitar04.htm