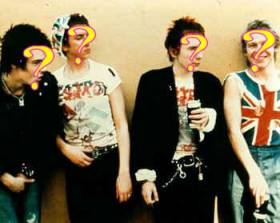 We're currently looking for a new Johnny Rotter due to the retirement of the last, so if you have that 'look', the voice,
then give us a photo or two, some youtube perhaps, let us know all about yourself via email sexpistols.exp@talk21.com
Could YOU be a Sex Pistol?? Do you want to have the 'Experience' of being a Sex Pistol?

Due to the constant high demand for the 'Sex Pistols Experience' band with high profile dates, & tours being planned,
the band management are always on the lookout & occasionally auditioning replacement look-a-likes of all the 4 members of the Sex Pistols!!!

Sometime's if you've seen the band before you may of seen a couple of differing guitarists, or Sid's in recent times & this because its a big commitment to get to every show when you have 'life' to deal with outside of the band.
As the workload grows, gigs/tours become ever more important, stresses & strains may take their toll on the band, or due to illness, family affairs, or whatever,
the show must go on & we call in our well trained stand-ins to help out & join the ride.!
So if you think you have what it takes to play the part, be it as Paul Crook on the drums? Steve Clones on Guitar/vocals? Johnny on vocals? or Sid on bass & vocals..
We want to hear from you if you think you have what it takes!!!?? So we are able to build up a shortlist of possible stand-in candidates,
and should one of the boys become unavailable for some unforeseen reason then you may well get the call to come and help out on a stand-in basis (which has lead to full time for most the current line up).
It'll also be a lot of fun checking out potential look-a-likes!! We want to hear from you via E-mail, a brief note explaining relevant experience, your playing abilities, tell us how much you love the Pistols?
Anything you would think could land you the part, let us know, & a current photograph or two.!

We DO want to hear from you if:-  
your a competent player, reasonable singer/ backing vocals

obviously enjoy the music & are very familiar with the Sex Pistols (a 'fan')
 hold a full passport & be prepared to travel, a lot.  
Have understanding family, be flexible enough in your 'work', & like to drink beer (after the show)

We DO NOT want to hear from:- 
Drug-heads (of any sort), alcoholics 
criminals, or anyone with a criminal history (you won't get work visa's out of the u.k), 
teenagers, wanna-be X-Factor stars, idiots, hippies, rock-gods, transvestites, bald people, dimwits, dykes, & doughnuts.

Fit the bill, think you got the minerals? Then get mailing!! & Good luck.

The Management.

P.S - All enquirers are dealt with in the strictest of confidentiality. Click Here To Send Your Email