31/08/15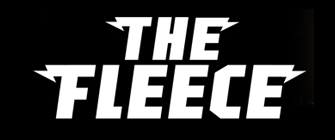 "Without doubt the best tribute band we've ever had at the Fleece,
& we've had them all."

The Fleece, Bristol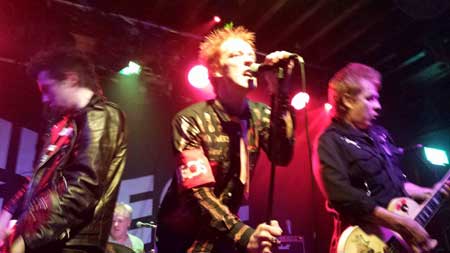 14/03/14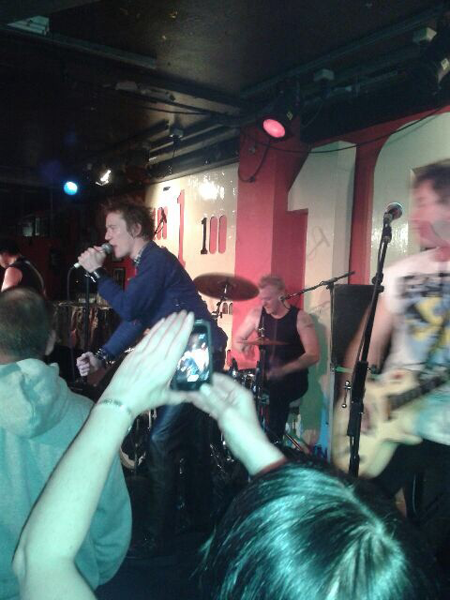 Review of The 100 club, London March 2014 - Ray Morrisey:-
Always nice to meet up with some old friends when SPE play London.
I have seen them around 20 times including some of their Thames Boat gig parties
and they always put on a fantastic show.
They are regulars at this legendary venue but tonight ends up being their first ever sold out show here. From the start to finish their 90 mins set is one Pistols related classic after another
with the front stage area a mess of sweaty dancing bodies.
The singer gives out plenty of Lydon type one liners to the crowd which is great fun.
Sid on bass is teasing the crowd and the band just whizz through the songs.
They are both deadringers for the real Sid and Johnny. Tonight really was one of those nights were everything just clicked.
The classic Pistols songs,the sold out crowd all up for it,a legendary punk venue,
a band who are playing the songs soooooo good it's unreal.
TONIGHT WAS NOT JUST THE BEST TIME I HAVE SEEN SPE BUT IT WAS THE BEST TRIBUTE BAND SHOW I HAVE EVER BEEN TOO AND I HAVE SEEN ALL THE BEST TRIBUTE BANDS OUT THERE.!
http://www.raysgigs.com/



17/02/14

Previously, it was announced that the venue would be packed. The pre-selling tickets were completely sold out and there were only very few left at the box office. The Indra was just bursting at its seams. "Menace" and "The Sex Pistols Experience" were going to bring the atmosphere in St. Pauli to a boiling point. At about 10 pm three elderly men took the stage. "Menace", probably not one of the most famous punk bands ever, but yet with quite some success during their long career. I must admit that I actually did not realize that they were still performing. Nevertheless they are still very much alive and kicking! They gave us great old school punk rock! Great shabby sound, political lyrics and great vibe in the audience. The temperature at the Indra kept rising. A whole hour of punk rock, not even broken strings could stop them, and the crowd was happy to answer with applause, shouts and pogo. These guys were a lot of fun. It's a good thing that bands like "Menace" still exist. "Menace" presented themselves and their new song material with a lot of raw power.

The temperature had easily passed 30° C. The crew behind the bar were incredibly busy and were struggling to maintain the drink supply. That is how it should be.
After rebuilding the backline the other main act of the night entered the stage. A band I have been longing to see live for ages. There is no doubt about why "The Sex Pistols Experience" is the most successful Sex Pistols cover band on the planet. Johnny Rotter and his mates are as authentic as possible. Johnny does not only sound like the original, he also moves, talks and he even looks like young John Lydon. The whole presentation is perfectly arranged from sound to looks. Bassist Kid Vicious even looks like his role model. I actually can not think of superlatives to describe this perfection. Taking pictures during the first three songs was actually a challenge, was great fun and left me with quite a few bruises. Just as if somebody had flipped a switch, the crowd went completely crazy. There was so much pogo and dancing and it felt like someone had turned on a sauna. You could actually feel the air humidity and water was almost dripping from the ceiling. Just like in the old days. It was fantastic.
Johnny Rotter pushes his role even further. He was even telling the audience that they were all cunts and look like Rostock Fans (which is not the nicest thing to call people who live in St. Pauli) and very rarely smiled. Always looking disgustedly at the partying audience, he really acted out his anger and arrogance on stage. Whoever had the privilege of watching the real Sex Pistols live or at least seen a concert on DVD will be able to confirm this. It was almost the perfect copy.
I can only recommend going to see them if they perform in your vicinity.They are touring Germany presently, so check their homepage for shows!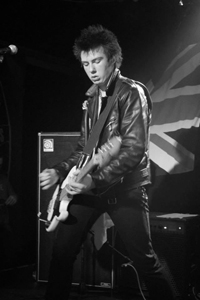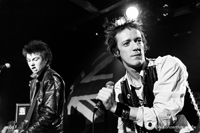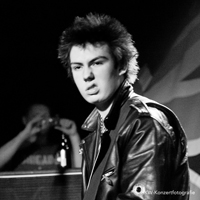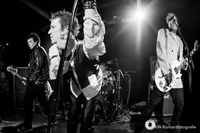 18/08/13
`"I never thought tribute bands were worth much consideration, but, the Sex Pistols Experience changed all that for me - absolutely blown away. See it to believe it. And deserving of the accolade of any true fans presence.
Take my advice. Dismiss at your own peril." -Angel of Suburbia TV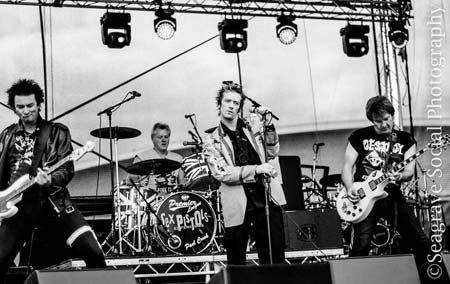 "I fucking love this band. Seen them a few times and NO ONE, in any tribute, carries it off as perfectly in music & stage presence. They are more like the Pistols than the Pistols are!!.. exactly what you want as a fan when you go & see them, which you all should."
Jay T.V
25/04/12
'Metal Box in Dub' April 2012,

The band featuring ex-'Public Image Ltd' Jah Wobble & Keith Levene, with Johnny Rotter & drummer Marc Layton Benett, performing the best of their hugely influential albums
'Metal Box' & 'First edition'- in Dub.!
Metal Box In Dub, Laugharne, 15.04.12 Hhhmmm. I've seen MOST of my musical heroes, now. And in some fairly IMPRESSIVE venues. The The at the Royal Albert Hall in 1990. The Velvet Underground at the Edinburgh Playhouse in 1993. Bruce Springsteen at Wembley Stadium in 1988. I COULD go on. Tonight, it's the original P.i.L.--- IN A VILLAGE HALL! IN THE MIDDLE OF NOWHERE! Hhhmmm. Actually, Laugharne in Carmarthenshire, South Wales, is a STUNNINGLY beautiful place. And "Jah Wobble, Keith Levene and friends play Metal Box in Dub" are only TWO members of the original P.i.L. But who cares? The favoured haunt of Dylan Thomas seems to be the most magnificent arena that this tired, old veteran has ever been to. This is a SERIOUS comment in case anyone was wondering. Suitably loaded with both cask and bottled real ale, I step into the Hall to pay homage to my heroes of yesteryear. Jah Wobble AND Keith Levene! Together again! On tour for the first time since 1980! And most intriguingly of all, they've roped in a mysterious singer, Nathan Maverick, who's gonna be the focal point of the whole enterprise. This could be a bag of shit or a revelation. I'm uncertain of which at this stage---. A set-list of old school reggae and ska numbers get us into the mood before M.B.i.D. take to the stage. First Wobble, then Levene, then the drummer and then--- the fucking GIMP ??? What the fuck is this? A masked bummer appears before us and they launch themselves into "Theme." WOW !!! This is UNBELIEVABLE !!! I'm in ecstasy. Wobble sits down to play that famous, rumbling bass as he leads his troops into action. Levene looks nervous and uncertain but the guitar-playing is as fresh as the day when we first heard that UNIQUE, U2-shaping sound. The drummer is as tight as a crab's arse. But that singer! Jesus. It's frightening- if he was a couple of stone heavier, I'd SWEAR it was "him" underneath that mask. AND WHY IS HE WEARING A FUCKING MASK, ANYWAY? Next up, we have "Annalisa". The crowd is going mental and I'm transfixed. All the memories of my student days are wrapped-up inside this music. It means a LOT to hear it live and played by the men who wrote it. AND STILL MR. MAVERICK KEEPS HIS FACE HIDDEN BEHIND THAT GIMP MASK! What on earth is he trying to say to us? Finally, our man behind the mask is revealed as the band begins "Poptones" and "Metal Box" commences in earnest. He's not a bad-looking chap, actually ( I'M not gay! But my boyfriend is). The guys are locked into their groove, now. Classic songs such as "Swan Lake?/Death Disco" and the first single "Public Image" are presented for our delectation. One MINOR complaint, though. I'd have liked the "ello! 'ello! 'ello!" bit before they played "Public Image---." However, it doesn't detract. I am a bit of a train-spotter after all! "Memories" is served up to us, next. Quite apt as it's all about nostalgia for most of the people here. At this point, I've GOT to mention the trumpeter, Sean Colby. His free-form playing adds that X-factor to proceedings and it's an INSPIRED addition to the established sound. Probably Wobble's idea and I can't FAULT the man. Keep him on-board, I say. At the end of "Memories", they carry on with what sounds at first like an improvised extension of the song. Soon, it becomes clear that we have a NEW song on our hands, "Understanding." Nathan is outstanding with its delivery. It sounds fresh, commercial AND familiar all at the same time. A kind of dub-reggae piece with "pop" style lyrics. Bodes very well for the future, guys. Get on with it in the studio, okay? Finally, our evening draws to a close with "No Birds" and the band leaves the stage for the first time. Thunderous applause hastens their almost immediate return with an instrumental "Graveyard/Another" ( and, thankfully, not a sniff of John Robb! ) (( Only joking, John. )) I feel drunk all over again and I haven't touched a drop since the gig started. Nathan rejoins the party for "Careering" and we all know that there will be only LIMITED time left with the guys, now. They go off and come back on again. Just time to tell you about how my man deals with an over-enthusiastic song-request. Expertly. "It ain't a jukebox." We're left with a SUBLIME version of "Albatross" and I get one of my all-time FAVOURITE P.i.L moments as a sign-off gesture, the "Only The Lonely" refrain from the album. Ha ha ha ha ha !!! Superb ( anti-) climax. I never saw the original line-up of Public Image Limited in 1979 (cos I was, er, nine) but I've watched many, many videos of them and I know the music intimately. "Metal Box In Dub" are as close as you're ever gonna get to that original sound and original ethos. They are unpredictable on stage. They play with a joy and passion that transmits to their audience; indeed, it's a labour of love if nothing else. Wobble looks on at the proceedings like some sort of kindly Uncle. Levene will get his shit together very soon and find his best form. And Marc Leyton Bennett, the drummer, and Sean Colby are INSPIRATIONAL additions to the organised chaos. But for me, it's the singer who binds all of these elements together. He's the perfect choice and I predict a bright and lucrative future for everyone concerned (as long as they don't all start falling out again). Loved the gig. Loved the place. Loved the venue. Loved the lady in the ticket office. Can I come back, please? Or I'll catch you in Northallerton. Goodnight, my Champions of post-punk music. It's been emotional.

07/09/11
Liverpool Mathew Street Festival September 2011:-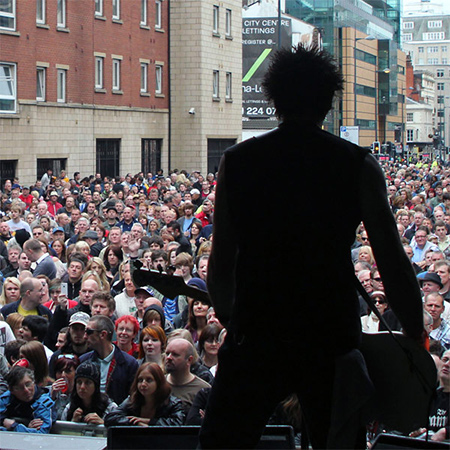 "....Over on the Superlambanana stage in Tithebarn Street, punk tribute act The Sex Pistols Experience drew in one of the biggest crowds of the day. Theses guys easily won best tribute of the weekend with 'Johnny Rotter' and 'Kid Vicious' delivering the snarls, vocal and banter perfectly."
Read More: REVIEW: Mathew Street Festival Day Two - Liverpool-Live
18/08/10
Sex Pistols Experience - Cardiff Barfly

Tribute bands are an odd concept. Who in their right mind would want to spend their entire life pretending to be someone else? Then again how would we now get to see long gone bands like the Beatles, the Clash or er.....the Nolans ? But having seen the Sex Pistols Experience several times before (most notably at the 100 Club last year) I know that Messrs Johnny Rotter, Kid Vicious, Steve Bones and Paul Crook are absolutely dedicated to providing an authentic recreation of the band that changed the face of British rock history in the late '70s.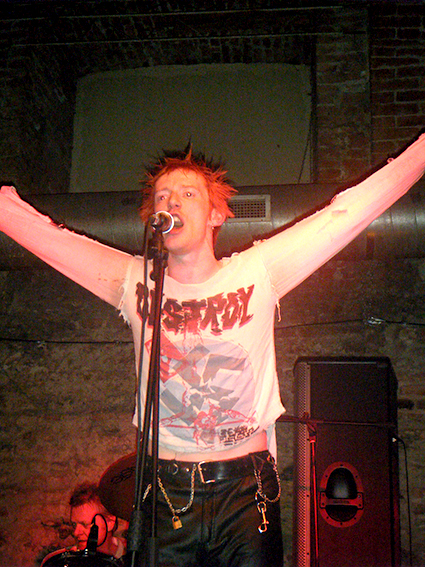 Most of the plethora of tribute bands have a fundamental floor in that whilst the sound like Green Day, U2 etc, they look very little like their heroes. This is not something that can be said of the Sex Pistols Experience, and I defy anyone to look at their Rotten/Vicious combination and not get a shiver down their spine. They take pride in presenting a vision of the Sex Pistols in all their pomp and glory (circa 1977) and every detail is minutely and lovingly recreated. But pride of place must go to Johnny Rotter who has every gesture, mannerism and idiosyncrasy of John Lydon down to a tee, and shows why he was once truly a voice of a generation (and not as he now appears some ego manic of an old duffer who flogs butter in the ad break of Coronation Street).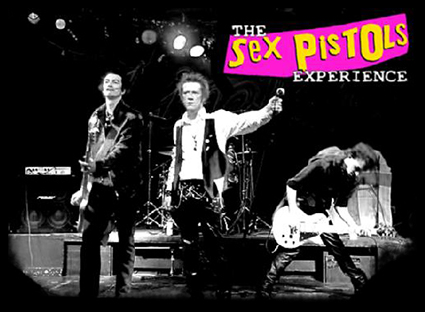 Their sound is perfect, and a lot of this must be down to the imperious musicianship of their 'Cook and Jones' who effortlessly recreate the quintessential Pistols sound that everyone knows and loves. They take you through a Sex Pistol history from the early halcyon days of Never Mind the
Bollocks, through the chaotic post Rotten era (with Rotter leaving the stage) and even finish with 'Public Image' by PIL. They even have their own 'Nancy Spungen', but sadly she only appears at their larger events so was absent tonight. I would thoroughly recommend their web page and Myspace, where you can hear them on the US radio show of original Pistol's guitarist Steve Jones, and see the countless world-wide gig photos of this constantly touring band.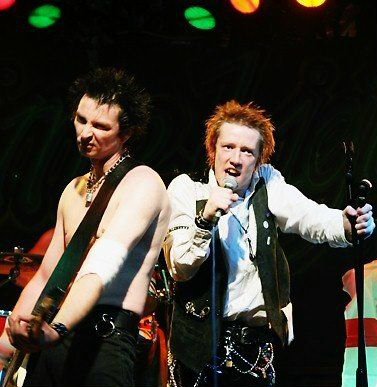 04/03/10
THE SEX PISTOLS EXPERIENCE: Ljubljana Media Park.
This story started for me in the beginning of May. Some friends and I were checking out the well-known shop amongst young punks, rockers, and metal-heads: Master of Metal. The guy working there greeted us and let me in on the best news I've had for such a long time: "The Sex Pistols Experience were coming to Ljubljana!"
To give you a bit of background, The Experience are the only Sex Pistols tribute band worth watching. I discovered them approximately two years ago on myspace. The detail of the band was so well done; I thought that the whole website was merely a fansite to the Sex Pistols, and the Mp3 flash player was simply playing some live gig recordings. I was impressed when I finally found out they were actually a tribute band, and those sneering pictures of the man I thought was Sid Vicious happened to be his replica, Kid Vicious, I immediately sent them some messages begging them to come to Ljubljana.
A huge part of May, 2008 was trying to get the permission, and get some friends to go. I got the permission with loads of effort, and I got two of my best friends to go with me: Jure and Janko (we also joined up with a few more friends at the actual concert place, Tony and Matej). We planned it all out and on May 31, there we were, on our way to Mediapark, ready to give the Sex Pistols Experience a pleasant welcome to Slovenia
There was an opening punk band with a female singer called Drek U Pest (which apparently means Shit in Fist), and the entire crowd (not much at the time) were simply sitting there on the seats. We, on the other hand, rushed to the front and rocked out with them. You'll never have any idea how moshing with approximately 5 people is until you actually give it a try. It felt weird having all that space in between ourselves, but other than that, I can say from my part I enjoyed it way more than an actual-sized pit. I was simply out of it, like I usually am at a concert, only this time I felt more positive than that kick-some-ass state of mind I usually get myself into (due to people punching, kicking, biting, and jumping on me) at a concert. When the opening band ended, the drummer chucked a drumstick at me, and I ran fast enough to get a hug from the singer before she left. After that, I walked back to the stage, waiting eagerly for the long-awaited Experience.
Smoke appeared on the stage and my friends and I nearly pissed ourselves with excitement. Within seconds, Johnny Rotter, Kid Vicious, Steve Bones, and Paul Crook appeared out of nowhere, and began their first song. We were immediately back in the 70's, jumping up and down and shouting out lyrics with the Sex Pistols.
There we were at last, and all I could think was, quoting Steve Jones "They really are the Sex Pistols!" which is exactly what I shouted out as soon as they had finished a song. Johnny Rotter simply scowled and said "No we're not!"
Rotter stood there, and said "You're a quiet crowd tonight! Get off your asses!"

I choked up a laugh and turned around, yelling "That's right! Get off your fucking asses!" as loud as I possibly could, and Kid went over to his microphone and asked "You American?"
I shouted "Yeah! Fuck all Americans!!!" jokingly back at him. As much as I don't agree with that statement, we WERE back in the Sex Pistols era, where dumb redneck Americans chucked trash at them, so I considered it appropriate. Rotter simply said "If you want to!" and began the next song.
EMI is somehow becoming my favorite Pistol song now, because what Rotter did made this concert even more perfect: He held out the microphone for me and let me sing along with him. The ending part "Hello EMI, goodbye A&M!" is still stuck in my head.
These kinds of little miracles happened throughout the whole concert. Rotter tossing me a water bottle, Jure and I nicking their beer, and the absolute cherry on the cake: Kid came over and swung the bass onto the top of my head lightly. Only one per Experience concert gets that, and I felt honored (As a matter of fact, he could have messed up and literally hit me with the bass. I don't think I would have cared). Jure's braid tore off and he threw it at Bones, who took it.
When the concert had ended, we managed to talk a bit with Rotter, who was simply a great guy. He burned a cigarette hole into my ticket, and tore off a bit of Janko's with his teeth as signatures. When the photo-taking had come to mind, however, we got chucked out by security. We playfully protested and yelled at them, just to get the last word, but when you come to think of it: What better way to end an amazing concert than getting thrown out by a guy who looks 100% like Sean Connery in a uniform?
THE DAY AFTER THE CONCERT:
Jure and I were sitting outside of a little pizza restaurant, when all of the sudden, he points at some guy not too far away from us, saying "Hey, is that Trmit?" I looked, and immediately saw that the "some guy" was not a fellow punk friend (Trmit). I said "No, but it's Johnny Rotter! Come on!!"
We left all our stuff at the table and dashed in order to once again talk to our heroes Rotter, Vicious, Crook, and we even got to meet Nancy Pungent, Spungen's replica. Bones, however, was nowhere to be seen.
We talked for a little more this time, and Jure wanted to know if Bones still had his braid. Rotter jokingly (or not) said "He probably smoked it. Either that or put it in his pants to make it look bigger".
As we walked back to Metelkova like we usually did, we spotted Steve Bones sitting in the grass. He waved and told us to sit down. We were simply honored to be able to talk with him face-to-face with no disturbances, and believe it or not: we didn't talk about the band as much as fans usually do. This time it was friendly-talk, which was even better.
Steve was getting ready to leave, so we bid him goodbye, and carried on with our path to Metelkova, and who did we meet not too far away from Steve? Kid, that's who, and, like with Bones, we were there with yet another perfect Sex Pistol replica and an amazing person.
He expressed a bit of shock due to the fact that I didn't flinch a bit when he swung the bass at me (he said usually people back away and stuff). I actually felt proud for not using my human instinct that enables me to avoid getting hurt (after all, if you don't get at least a little hurt, what kind of concert is it? Can never be a good one in our eyes).
When we said goodbye to Kid, we finally reached Metelkova, and I must say: we were shocked and at how much luck we had those two days, we 99% didn't even believe that had just happened!
The Sex Pistols Experience are not a bunch of high-classed bastard s. They're just like us. From Rotter denying their amazing attention to details, and Steve and Kid hanging out with us. They could have told us to fuck off more times than I can count, and yet they happily granted us the time of our lives.

I'll never forget that band, or that concert, because it was the best damn gig I've ever been to. My friends and I will await the next Experience gig we can attend, and the one after that, and the one after that. This will become a ritual to us.
Nearly two years of waiting for them to come to our town. Was it worth it? You bet Bambi's corpse it was! Whoever has the chance to go see the Sex Pistols Experience, I encourage them to go by all means necessary! Do not choose them over any band! You will not regret it. There is not a single good reason not to go. Find one good reason not to go, and I'll buy your ticket for you!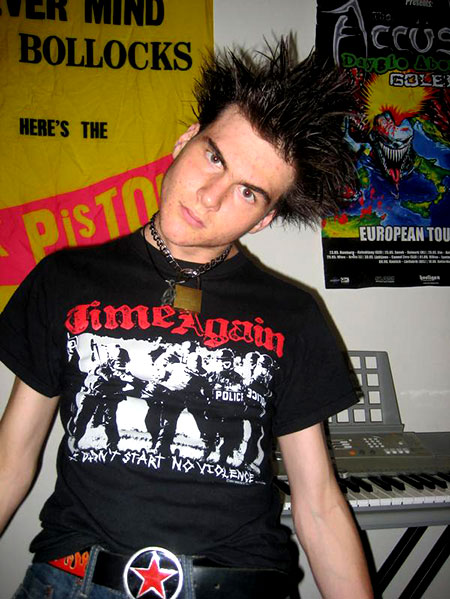 25/10/09
Review from a roving reporter in Milton Keynes...




Sex Pistols Experience , Corby Labour Club, September 25, 09

If surveyed, many people would be at pains to ascertain why four individuals residing in each of the following towns/cities: Wrexham, Tamworth, Norwich and Bridlington would have so much in common, to the extent they meet up on a regular basis.

If suffering each other's company wasn't painful enough, they have exacerbated the situation by giving themselves pseudonyms in the shape of Johnny Rotter, Kid Vicious, Steve Bones and Paul Crook.

The aforementioned aren't a travelling circus act, religious sect or kindred spirit. They are, to all intents and purposes, the world's number one Sex Pistols tribute act, hell-bent on bringing chaos, pain and delight to the lives of many, just like the original awesome foursome did all those years ago.

Originally formulated in 2001, they started out by playing the tough northern pub circuit, performing Pistols numbers to petit but enthusiastic gatherings. Four years on and a line-up change later, they had decided to model themselves on the Pistols by vigilantly leaving no stone unturned in their quest for perfection. Not only were auditions held to recruit the sound coupled with the look, but stringent vetting procedures to determine professional standards were being met as alcohol, drugs and criminal records were strictly a no goer, which is a tad ironic as the original line-up fully immersed themselves in that particular lifestyle.

But there was a method behind the madness as the bigger picture was always in their innermost thoughts.
'The Sex Pistols Experience' weren't going to tour the Friday night pub circuit forever, Instead, they looked to branch out into the wide blue yonder. Success story followed by another success story has been achieved by touring around some 15 countries worldwide including the USA and playing to an audience of 20,000 people in 2008 at the Trutnov festival in the Czech Republic.

It's not difficult to see why the slavery of the day job has been substituted for a professional contract, employing a number of booking agents in the process.

Their legacy has also burgeoned to the extent that they've been headhunted by the BBC, Channel Four, Sky News and Sky One to feature on various Sex Pistols documentaries; received rave reviews from local and national publications, encompassing the Daily Express and the Sunday Times, the latter citing them as one of the 50 hottest things to see in 2008, right behind Led Zepplin.!

To top this off, the Godfathers of punk themselves, mssrs Rotten, Jones, & Matlock have each given them the seal of approval; probably the largest compliment one could ever receive.

Needless to say, I was expectant as I stepped onto the beer-stained flooring of the Corby Labour club. Initial impressions of this old-fashioned Working Man's establishment could have easily lulled the punter into a false sense of security in the sense they were appearing on the film set of Peter Kay's Phoenix Nights.
Fortunately Brian Potter and his wheel chair were nowhere to be seen, as male and female, young and old brought colour, glamour, safety pins, hair dye and Mohicans as we stepped back into a bygone era.

Their build-up got underway with audio recordings of interview footage with the original band, just to give the punter a sample of the upcoming offerings.

Then, like a resurrection of all things great, they took to the stage like Emperors to the throne, revelling in the adulation that was being bestowed upon them from their disciples.

Without further ado, they delved straight into their repertoire of goodies, kicking off the proceedings with sharp deliveries of 'Pretty Vacant' followed by '17'.

Johnny Rotter, hunched, delivered that now iconic stare of Rotten that all Pistols followers have come to love, dressed in moth-bitten looking jacket and jumper, loose school tie and orange hair, delivered a multitude of cynical one-liners with venom and exasperation. The likes of Phil Collins, Cliff Richard and not forgetting the paying punter were at the heart of his disparaging.

Steve Bones donned a west London boutique look of black hair, black trousers and matching black top, delivered an exhibition of guitar potency so deadly that it's not difficult to see why Steve Jones has eulogised over him.

Paul Crook, with his Premier Union Jack drum kit, the organiser of the band, never missed a trick or a beat; the ultra professional at work.

Kid Vicious, his rancid pout, colourful repertoire of Queen's English, Vive Le Rock tee-shirt and the legendary dog collar and wrist band, gave a display that was to blot the band's copybook. Why? Because the Kid could play bass, unlike his now deceased predecessor, Sid.

For 90 minutes the audience were whipped into an orgasmic frenzy as pogoing and camera clicking dominated the proceedings. Twenty-one numbers from the Pistols catalogue were delivered in a manner so uncanny you could have been mistaken if you envisaged witnessing the real deal. All the blood, sweat and tears spent on the pub circuit, in the recording studio and on road journeys from the likes of Norwich to Barcelona, & El Paso to Seattle have certainly been worth the effort.

The final furlong began with Kid Vicious hijacking the mic from Johnny Rotter and treating us to a solo effort including My Way.

But the evening belonged to the Rotter himself, who not to be denied, once again grabbed centre stage by finishing off with a 'Public Image Ltd' number.

As the curtain came down I was left in no doubt the Sex Pistols Experience are the greatest band Milton Keynes has never seen!"
By Graham Suppiah

08/05/09
Sex Pistols Experience in Plymouth (review)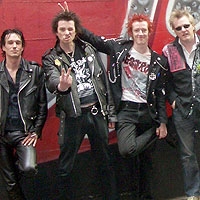 Maybe it was the fear of swine flu which kept people from turning up to watch this tribute to Johnny, Sid and company, but whatever, it was their loss because the Sex Pistols Experience are terrific.!
The brave 100 or so who did troop out into Plymouth enjoyed an evening of high-calibre Punk-Rock mayhem delivered with panache by a band that would be fantastic even if they were pretending to be the Brotherhood of Man.
But they're not. They're paying tribute to the Sex Pistols, one of the greatest bands ever to walk the earth and certainly the greatest ever to sing about a girl from Birmingham called Pauline.
And to think, this gig was going ahead almost on the very spot where the real Pistols played in 1977. Yes, almost the very spot, give or take a couple of hundred yards and a £200million shopping arcade.
And inside the sweltering human cattle-truck that passed for the bit in front of the stage it was like going back in time 32 years.
You could almost smell the Denim aftershave as you pogoed to brilliant opener Pretty Vacant.
The Pistols Experience, for those who missed them. are exactly like the real Pistols, exactly like them.
For a start they have a guy playing Johnny Rotten who is within a razor blade's width of being the real thing. He's got the voice, mannerisms, body posture and tartan bondage strides off to a tee.
And when he rips the proverbial out of the aging new wavers down the front it's just like being insulted by the real McCoy. What an honour.!
"Good to see Jimmy Saville's turned up," he jibed at one snow-capped geriatric punk to a heart-warming applause.
Then there's Sid Vicious. This bloke's honed Sid's charming, perpetually amazed, head shaking routine to perfection, although, and this is a minor criticism, he does actually seem able to play the bass and looks like he's not held together by safety pins and phlegm.
Naturally, these fellas are the stars, but don't underestimate the Steve Jones and Paul Cook. That lad can't half play guitar, and the drummer drives the whole thing like he's helming a super tanker during a tsunami.
And the music. Wow. I know it's hard to go wrong when your material includes the best song ever written, Holidays in the Sun, the country's other national anthem, God Save the Queen, and that old family favourite Bodies, but the Experience delivers them with brio and brilliance, and even find time for My Way and Public Image.
And it hit the spot with the fans, an eclectic mix of aforesaid pensionable punks and youngsters who couldn't stop filming everything on mobile phones, even in the lavs. What would Sid have made of that, eh? Kids today.
The Experience are at Plympton's Volksfest on May 22, and only if you've contracted the influenza C virus, possess a note from your doctor and your mum, and are confined to an iron lung should you be excused for missing them.
WILLIAM TELFORD
05/11/08
We had a really nice review in the Banbury Guardian recently thanks to roving reporter Steve Miller who caught The Sex Pistols Experience supported by our good friend Ed Tudor Pole at the Mill (5th September 08).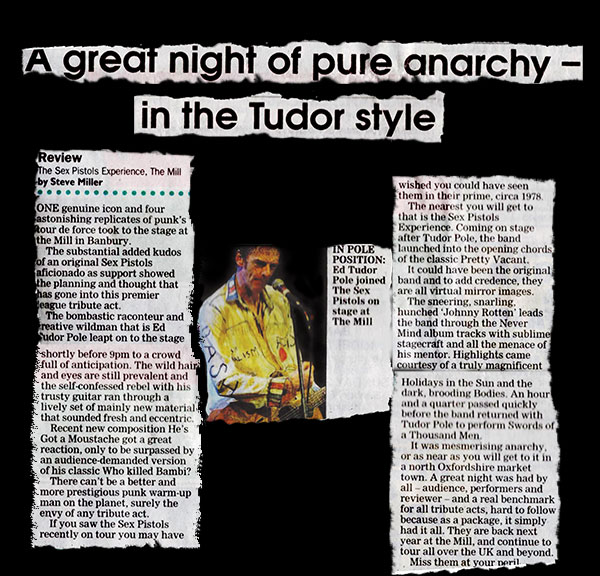 09/05/08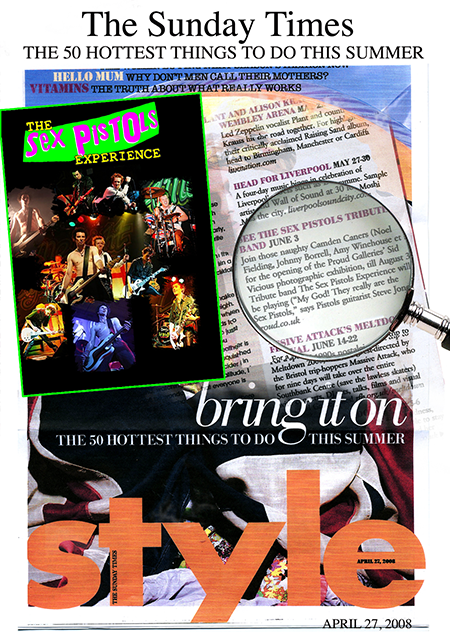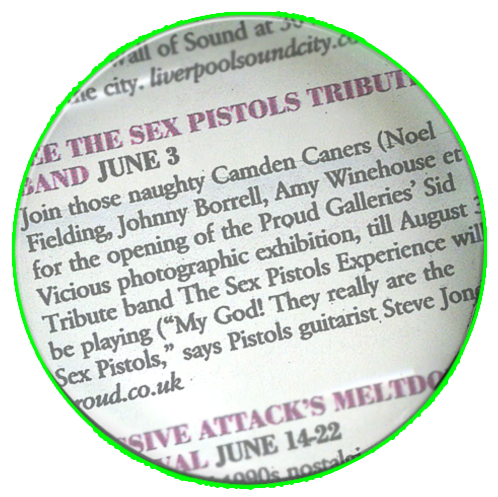 21/01/08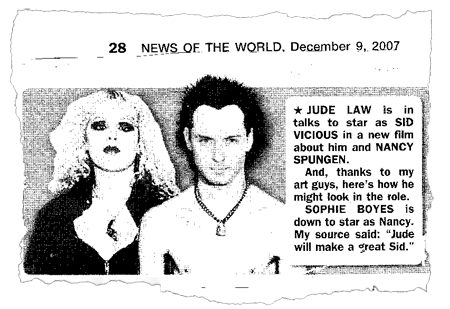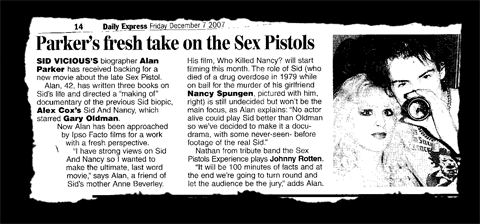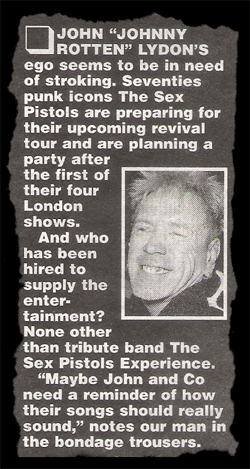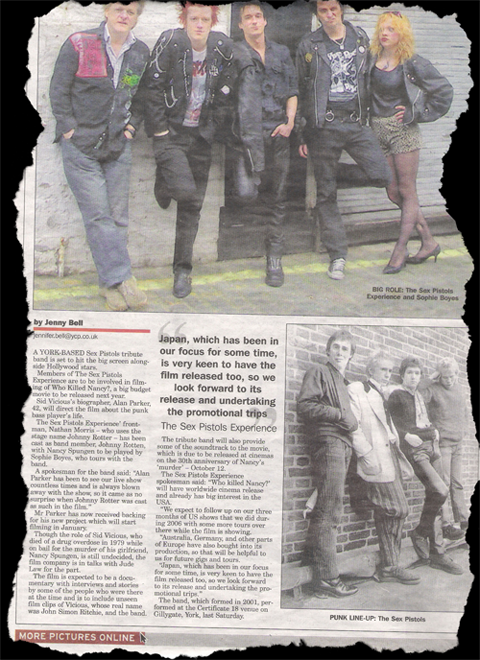 15/11/07
Sex Pistols Experience - Live, Loud and Superb!
The Guildhall, Gloucester. - Friday 5th October 2007

What do I remember about the "Sex Pistols"? They were definitely over the top, out to shock and anarchists. They are also the band I associated the most with being leaders of Punk Rock. They certainly shocked my Gran and I do remember my friend Steve telling me a story that he was singing "Friggin' In The Riggin' " on the top of his voice outside the School classroom waiting for lessons to start and that promptly landed him in detention! Obviously not the teacher's taste in music.

And here I am tonight, about to watch a tribute band called "The Sex Pistols Experience" and wondering if they would live up to the originals on stage and convince the audience that they are almost the real thing? Would Kid Vicious be playing guitar or would he leave it unplugged? After all that is what Sid Vicious did in the early days didn't he?

 

"Land Of Hope Is Glory" is the opening to an empty stage and then the band members walk on one by one looking mean, moody and rebellious. Kid Vicious shouts at the audience "Right you faggots!" and gives that Sid Vicious trademark snarl and Johnny Rotter is not far behind giving that mad stare into the audience. So we are off to a great start as my sister's jaw drops wide open. They start with "Holidays In The Sun" and Kid really is playing the guitar and looking the part whilst Johnny is prowling around the stage doing all the movements. Fabulous drumming and guitar and the lighting for the show is creative and blending with the sound. This is such a good opening for the show.

Then you get the Johnny stance looking into the audience and being modest is not a strong point but arrogance is. "17" also known to some as "Lazy Sod" is the next song and Johnny throws a strop during this only to shout out at the audience "We're f******* good aren't we?!" and the audience start shouting back at him. Talk about audience participation!

By the time they launch into "Dolls (New York)" Johnny is wiping his nose on his shirt sleeve - which he does several times during the show - and Kid Vicious is really getting into it whilst the drummer Paul Crook - who reminded of Kiefer Sutherland in the film 'The Lost Boys' - is going mad with his drum kit and Steve Bones is really rocking with his guitar.

We then get abuse from Kid "What the f***'s up with this lot? Is this a mannequin convention?" he shouts and it gets reaction from the crowd as they start the song "No Feelings" and the way Johnny is treating the mic stand something is bound to happen and it does. He broke it! Yep. He couldn't use it for the rest of the show much to the hilarity of the rest of the band "That'll teach you for buying a new f****** microphone stand" says Kid to Johnny!

 

This show certainly has lots of energy, almost explosive in some parts and the camaraderie from the band is electric along with their patriotism with Union Jack visible on stage. They emulate the 'Sex Pistols singing' to perfection but boy can they play those guitars and drums. Every song you can feel through the floor and the audience love it all. There's a big group of fans moshing in the centre of the hall and one punk who did have a high mohican, by the end of the gig it was almost flat. The age range was vast. Students who tried to emulate the era to the original fans who were there first time around, some still showing the same fashion sense of the time and how everything was done, well apart from the spitting. In fact I didn't see any spitting.

Johnny's preening his hair and Kid removes his jacket and T-shirt much to the delight of the women in the audience as he continues the show bare chested. Johnny clocks some of the audience and shouts "Is it getting old in here? Did you get your f****** pensioner discounts?" And during one song one fan throws a pound coin on stage only for it to be thrown back into the audience.

At one point Kid's rebellious facade slips with a laugh and smile because of some minor slip up on stage but that doesn't matter and he then starts throwing abuse at the audience to wind them up even more and he gets it back ten fold. And then Johnny shouts "Do you want to hear a Cliff Richard song? Well who likes us and who doesn't? There's the exit now f*** off!"

Songs such as "Pretty Vacant", "Liar!", "E.M.I", "Submission" and a cover of The Who song "Substitute" continue to feed the audience hunger with some fantastic guitar sounds. Apart from the drummer there is a lot of movement and interaction on stage too and Johnny asks advice "Does my hair look alright? I'm a f****** sex god" he shouts and they launch into "Problems" where Steve decides to play guitar behind his head and Kid starts spitting on stage. "Anarchy In The U.K" is the last song Johnny 'sings' dressed in black trousers, white shirt and great waistcoat. He's happy to get the lights on the crowd and hear them 'sing' for a change as they go crazy and he sits or rather crouches on stage to do a spot of 'audience/people watching'. After that he's gone and the opening chords of "Something Else" is met with great cheers. What a performance by Kid. "I'm a better singer than that *******" and "I'm a ******* superstar" after his rendition of "C'mon Everybody".

As we are entering the final songs of the show Paul, their drummer takes the lead vocal of "Oh You Pretty Thing" and performs it with great energy and more enthusiasm follows with Kid jumping up and down singing "My Way" with stomping guitar sounds. He then leaves the stage with the rest of the band giving a one finger gesture and that snarl but the audience don't let the 'Sex pistols Experience' get away that easily and the drummer is back on stage for a drum solo. One by one they return and Johnny saunters back on stage looking bad tempered and in 'Rotten mode' "We'll do one number only as this is no fun, here we go" and Kid is giving hand signals to the audience winding them up further and closing the show with the song "No Fun".

In a ninety minute or so set they performed twenty-one songs and they were absolutely brilliant! Live, loud and superb! This has to be the ultimate 'Sex Pistols' tribute and the best in the punk genre. Mannerisms, abuse, clothing, performance on stage - although Kid really does play the guitar - must have meant hours of studying. They don't take themselves seriously but really play out the character roles so much so next stop "Sex Pistols - The Musical!" and these are the guys to do it! What a show! What a night! This is one performance I will certainly remember for a long time. It was fun, it was entertaining and we loved it! If there is tribute band I recommend you must see then it is "The Sex Pistols Experience" and I've been an ABBA fan for most of my life! This punk band has left such a lasting impression that I will see them again and again without hesitation.

*I couldn't take any photos that night because the floor at The Guildhall vibrates with the music so photos with this review are provided by The Sex Pistols Experience. Thanks for the use of photos guys
The Sex Pistols Experience are playing the Ram's Head Live in Baltimore on Thursday, May 4, 2006, & if you are a huge Sex Pistols fan, this is the closest thing you're gonna ever get to seeing the band in their prime! The Sex Pistols Experience recreates the vibe, mood, energy, & looks of the original Sex Pistols with an un-canny likeness & devotion. I had the chance to ask the guys a few questions, & here's what they had to say:
Rock N Roll Experience: Why did you choose to start a Sex Pistols cover band?
Drummer Paul Crook:- We're not a 'cover' band, its far more than that, any half arsed musician can be in any old cover band, this is more of a show, or a piece of theatre. It had been on my mind since the early 90's when the tribute band scene started up in the u.k, all the bands were being done, the Who, the Beatles, ABBA, Queen, you name it, but no-one had done the Sex Pistols, one of the u.k's most visual , exciting and influential bands of all time.! I had to do it, being as i was a huge Pistols fan, & had learned to play the drums at the age of 12yrs by playing along to their album 'Never Mind The Bollocks'. But all the four charecters had to look right, & have the right chemistry,& contary to popular oppinion, they, the Sex Pistols band, could really play their instruments too, listen to Glen Matlocks bass lines on the early stuff, and Steve Jones's guitar sound is still today, unique, and incredibly powerful. And the drumming is that of the Beatles, straight down the line, simple, yet effective. The Beatles wouldnt be anything like they were without Ringo, and the same can be said of the Pistols without Paul Cook's drumming. After being involved with other bands over the years it wasn't until 2000 when i found myself free to be able to persue my idea, so i began to advertise & start the auditioning process. I soon found the right mix of people, also mad pistols fan's, who not only could play very well, & knew the songs inside-out, but also looked the part so well too. Then off we went.
Rock N Roll Experience: Has Johnny Rotten/Lydon acknowledged your cover band?
Johnny Forgotten:- We know for sure he know's of us, we sent him a live Dvd some time ago, and he sent some of his close friends over to see us perform on our last U.S.A tour when we played in L.A, - they loved us, thought the show was fantastic, came out the back stage area to meet us & were going crazy about it all..! Then we were invited to appear on Steve Jones's Radio show in L.A, 'Jonesy's Jukebox on indi 103.1, we had a great time on air with him, singing & playing the song's on air, it was only a couple of day's later that Johnny Rotten Lydon then came on his show too, & Steve would most certainly have talked to him about us. So we've had good feedback from Glen Matlock, Steve Jones & Paul Cook, but no direct word from Rotten yet, we hope he'd see it as a huge compliment, that anyone would go to so much trouble to do what were doing. At least he can rest assured that we do it well enough to tour the world on it!! I'm sure he'd have something to say if we were doing it badly & therfore not doing the Sex Pistols any justice.!? There was rumer, in fact Steve Jones asked us, to go along to the Rock'n'Roll hall of fame awards to collect the induction award on their behalf, Johnny would have had to have been in on that, we saw it a great 'joke' on the ceremony, turn up secretly, as the announcement was made "here's the Sex Pistols" we then would of walked out..! but in the end we ran out of time to get it all arranged. We're heading back out to L.A this fall, so perhaps he might cross paths with us then. But we oftern expect him to turn up at one of the England show's, just unnexpectedly turn up, that'd be cool... so long as he liked us..!?
Rock N Roll Experience: What do you think of the "new" punk bands like Greenday & the Offspring?
Steve Clones:- Call them what you like, but they've kept the 'Punk' flag flying on both side's of the atlantic for far longer than the sex pistols did.! They've also been responsible for turning a whole new generation onto the Pistols, the Clash, Ramones etc, & that can only be a good thing, without bands like these the 'spirit of punk' might be just that, a spirit, an old long forgotten ghost.!? They keep music exciting, keep it alive, their live show's are great, and its all good entertainment. Green Days 'American Idiot' is probably THE best album i've heard in the last 5 years. Nothing wrong in that.
Kid Vicious:- Too much eye make-up for my likes, are they gay or what?
Rock N Roll Experience: Does the band also write & record original material, or are you strictly a cover band?
Paul Crook:- We're the worlds No'1 Sex Pistols Tribute show, there's no room to deviate at this level, although we are all capable of writing & performing our own stuff should we ever need to in the future, but & all of us have been down that road to varing degree's of success, and on the whole its very difficult to get the breaks, especially coming from the northern regions of England, there's just not the audiences there, no money in it, no talent scouts, it a constant up-hill battle that most likely will lead to nowhere. I spent 12 years with a good band doing all original stuff, paying money to play at most venues! To next to no audience, waste of time unfortunatly. But that was in the early 90's, a time before computers & scanners, before email, everything was done by telephone, and much harder to get the word out. Which is why i decided that the Tribute band thing would be a way forward, you have an instant audience, all the hard work making a name for yourself has been done. So its not like we didnt try that route, to be original, come up with new material, but at our age, we're all almost 40yrs of age, whats the point?? We just want to have some fun with the music now, & there's nothing better than seeing a full crowd going nuts to something we're doing, all -be-it to another (great) bands music. I know for a fact that I'd never of been able to tour the world & wouldnt have so many great stories & experiences had it not for playing in a covers/tribute band, so to my mind this is/has been a successful music career for me.
Rock N Roll Experience: Have you seen the KISS, led zeppelin, queen, etc., cover bands & what do you think of them?
Johnny Forgotten:- We dont often get a chance to see too many of them as were always out playing ourselves, but we do occasionally get to see them if we're sharing the bill at a festival or something. Generally, most of them at our level are great, it really is a good way to experience your favorite band up close for less than half the ticket price.! The problem is though, there's so many of the Kiss, Queen, Led zep bands out there, all doing the same music, fighting over who's going to play the venues first, some are good, and most are terrible, there's varing degree's to the quality of these bands. Some are just 'cover bands', 4 or 5 guys hammering out the music, not always correctly, so long as it sounds something like it should, then it'll do..! Thats not good enough to my mind, it has to be done right & presented well, with attention to detail, solid rehearsals to be sure that everthing is spot-on, then you rise above that 'cover band' status, and become a worthwhile tribute show. Set a high standard for yourself & the band, that way your ensuring people who come to see the show will be impressed & return again & again, and go away from the show talking about your band for days afterwards. Thats what we want, the whole Sex Pistols 'Experience'.! By having these high standards your also doing justice to your chosen band. With the Sex Pistols - there is only 'us' out there doing it as far as i know, or the 'real' sex pistols...! But you won't see them playing live anymore, the sex pistols torch is now in our hands & we'll continue to do our best to portray it as 'they' would like it to be, powerful, dynamic, exciting and most of all, just down-right good fun.!
Rock N Roll Experience: What is the most chaotic thing that has ever happened on stage during one of your performances?
Kid Vicious:- Every show something happens, we get so many incidents, you just never know whats coming next, all the gigs tend to get quite lively, we get quite a few involving 'girls' type incidents, which is always nice.! But i don't want to go into too much detail about some the crazy things that happen through not wanting to encorage any repeate actions.! The exciting part, for the crowd, is not knowing whats going to happen next, maybe nothing.!?? Who know's.
Rock N Roll Experience: What did you think of the Sex Pistols "reunion" tour?
All band:- We all though it was great, they still had relevence in 96 as much as they did in 76'.
J.Forgotten:- And good on them for admitting it was all for the money -the'filth lucre'. They we're long overdue their pay day, their ex manager took off with all their money at the end of the 70's, so i'm happy for them that they did the tours, healed old wounds, earned some money, and raised their status to a whole new generation. AND gave a chance for all those who missed out the first time to get a 2nd chance to see the band. I'm also glad that they didnt keep quiet over the Queens golden jubilee celebrations.! There was more uk press about the Sex Pistols playing in London, than there was about the Queen turning 103 or whatever she is..!?
Rock N Roll Experience: Do you have a favorite Sex Pistols song?
Paul Crook:- The whole of the Never Mind the Bollocks album has stood the test of time, every song is a classic, one after another. It still sounds fresh today, and still influences bands the world over, if i had to choose one, purely on a favorite to 'play' on drums - 'New York'.
Johnny Forgotten:- 'Bodies', say's it all to me.!
Kid Vicious:- 'Belsen was a gas' just cos it gets the best reaction, we played it recently in Berlin, Germany, we though the place was going to explode..! or "Holidays in the Sun", when the guitar solo come's in, makes all the hairs stand up..!
Steve Clones:- I dunno, im just in it for the beer & women...and not in that order..!
And on that note, I don't think you could end an interview more appropriate than that! The Sex Pistols Experience are playing May 4, 2006 at Ram's Head Live in Baltimore...you can check out the bands web site at: SEX PISTOLS EXPERIENCE. & you can get show in at Ram's Head Live. Tix are $10 in advance & $12 the day of show...See you guys at the show!
<![if !supportEmptyParas]> <![endif]>