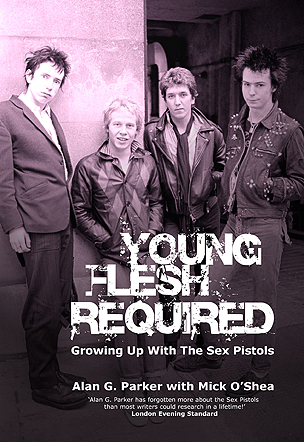 Alan G. Parker and Mick O'Shea have spent much of their adult lives following the Sex Pistols and their names are almost synonymous with them. Both have previously written bestselling books on the subject and Alan has also directed the critically acclaimed film Who Killed Nancy. Young Flesh Required brings together extensive research, exclusive interviews and personal reflections to tell the stories behind the newspaper headlines and get to the heart of the band.
Alan and Mick's contact books read like a Who's Who of Punk Rock and here you will find first-hand accounts from Glen Matlock and Malcolm McLaren, behind-the-scenes anecdotes from Roadent (who jumped ship as roadie for the Clash to work for the Sex Pistols) and interviews with contemporaries such as Captain Sensible, various Buzzcocks and many more.
Young Flesh Required charts not only the formation, early years and break-up of the group but also their numerous reunion gigs, right up to the present day doings of the band members. There are many rare and previously unseen photographs, along with images of hard-to-find memorabilia, making this a unique and fascinating book.
The Sex Pistols were the 'young flesh' that Malcolm McLaren required to satisfy his artistic and financial ambitions. Here is their real story.

The year is 2005; the place is Foyle's Coffee Shop, where Alan G. Parker and the late great Sean Body of Helter Skelter Publishing are talking music. The talk turns to the Sex Pistols and Alan reels off a string of anecdotes. Sean laughs and suggests Alan should write a book on the subject; after all, his life has been inextricably linked to the band since 1984 when Anne Beverley asked him to write a book on her son Sid Vicious.
Alan enlisted the help of Mick 'Only Anarchists Are Pretty' O'Shea, another self-confessed Pistols nut and, two updates later (to include stories on the latest Pistols' reunions and a poignant lament on Malcolm McLaren's death), here is the long-awaited Young Flesh Required. This is definitely Alan's final word on the subject as he has other irons in the fire. He has saved his best until last as the book is the definitive work on the band.
This very personal account has to include all the important events in the band's history, but of more interest to Pistols' fans will be the stories which only '12 blokes down the pub know' as Alan puts it. One of those blokes is Roadent, who roadied for both the Clash and the Pistols, so is uniquely placed to comment. There are fascinating tales from Glen Matlock, John 'Boogie' Tiberi and Malcolm McLaren amongst others.
Brian 'Sixth Pistol' Jackson has kindly supplied images of memorabilia which are scattered throughout the text. Many of these have never before been published in a book.
The only regret is that Sean Body never lived to see this work come to fruition. However, Phil and Sue Godsell who run Soundcheck Books were friends of his and have bought the rights to produce the book. They, and Alan and Mick, hope they have done Sean proud.
For a limited time special offer price of £10.00
(normal price will be £12.99)
Limited to only 1000 copies & all sold out, you might find it on Ebay etc.!