Dave Goodman R.i.P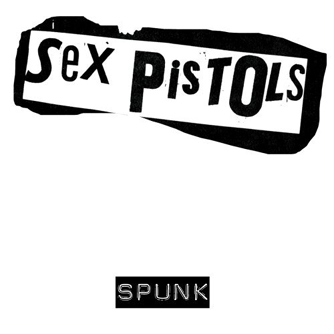 (Dave Goodman was a long time musician and renowned 'Punk' producer & sound engineer of artists such as the Sex Pistols, The Vibrators, UK Subs and the Cash Pussies to name but a few, clocking up over 100 albums produced plus many singles as well. Also co-founder of his own indie label, simply called "The Label" with his old friend Caruzo Fuller. He later went on to produce music videos as well as organising 'Solar Powered' stages at Glastonbury and other festivals, in 2003 he 'retired' to Malta. )
The 'Sex Pistols Experience' were saddened to hear that Dave Goodman, Sex Pistols sound engineer & producer of early Pistols recordings, suffered a heart attack and died at his home in Malta early 2005. Dave was responsible for the legendary Pistols recordings of '76' & early '77'. His recordings resulted in one of the most celebrated bootleg albums of the punk era, 'Spunk'. He also contributed some of the 'Great Rock'n'Roll Swindle' soundtrack. Dave Goodman had been in touch with the Sex Pistols Experience band fairly regularly over the last few months of 2004 & into 05, we sent him off a box full of our live C.D's, D.V.D's, T-Shirt, (which he apparently wore proudly down his local Pub in Mellieha,Malta!), and of course one of our tour mug's! In exchange had also given the 'Sex Pistols Experience' some helpful tips, guidance & constructive criticism based on his early experience working with the Pistols to help make us a better live band, & what we are today is partly down to Dave Goodmans inside knowlage.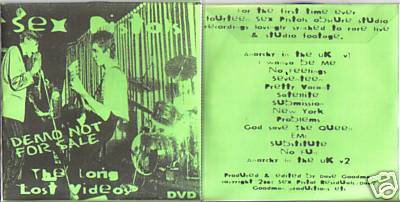 In early February 05' he sent us the first copy of his latest project 'The Sex Pistols Long Lost Video's' the new D.V.D he'd been busy working on, editing and putting together, sending us the 1st copy to get our feedback on it, see what we thought, and return any 'constructive criticism' we might have. It was basically fourteen 'obscure Sex Pistols' early demo's put to rare (and some not so rare) live & studio footage, the film was due for Dvd release sometime later in 2005. Following Dave's death it now looked as if it'd never see mainstream release, and at that time we seemed to be in possesion of the only copy. We had many emails requesting a copy of the DVD in exchange for just about anything & everything. Not wanting to be seen to be profiting out of the situation we found ourselves in, we hung on, and all temptation resisted.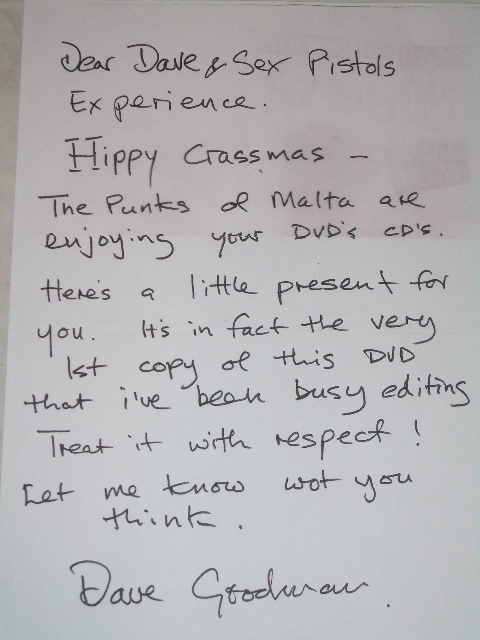 But we soon discovered the Sex Pistols (& Lydon in particular) were somewhat pissed-off with Dave's endless profiteering & exploiting on his brief association with the band on countless unofficial album & single releases, & so who were 'we' to deny this footage to the world's Sex pistols fan's when Dave was well known to be the biggest bootlegger of them all?? So, the Pistols most famous 'bootlegger' got 'bootlegged'!! We felt it only right to get this footage out into the public domain, so you too could judge for yourselves the rarity of the films footage, & we flogged copies out for £10.00 with all profits going to the Ifaw charitable trust www.ifawct.org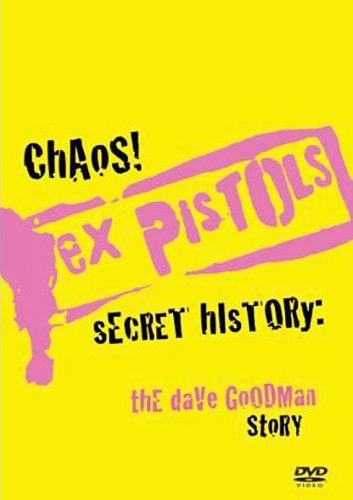 His last words to us were ...." Good luck with the band, Keep the spirit alive!" ... and we fully intend to!
Dave Goodman -29th March 1951 - 10th February 2005. Rest in Peace.

The film was infact added to & released later as 'Chaos - Ex-Pistols Seacret History' available on Amazon & other on-line retailers, >>HERE <<

For more on the 'Ex-pistols recordings check out these great myspace sites: - www.myspace.com/sexlesspistols & www.myspace.com/theexpistols

Take a look at his website off our 'links' page for a great insight, and some good stories on the pistols early days.


The Following transcript from www.punkglobe.com gives further insight to the world of Dave Goodman...

Over my many years as a Sex Pistols fanatic, many stories of people involved in their inner circle have come to the fore, and one of the most interesting is that of Dave Goodman, producer of the famous Denmark Street 1976 and Goosebury Studios 1977 demo tracks. A man who also ran many a good con in the Pistols name during the Eighties, which may not be familiar to many of you out there.
Dave was born on 29th March 1951, and throughout the early Seventies played bass in a few pub rock / blues based bands. Having his own P.A. system and knowing a little of sound engineering, he started working for the Albion booking agency, hiring himself as a sound man with bands at pubs and clubs.
His first encounter with The Sex Pistols was at the famous Nashville Rooms show, when the band supported Joe Strummer's 101ers, he did their sound on the night, and was approached by Malcolm McLaren to continue working with the band. This led to him recording the band at their Denmark Street headquarters between 13th and 30th July 1976. These demo tracks helped the band secure the EMI Records deal. After an Abortive attempt at producing "Anarchy In The UK" as a single, the next session he did with the band was in January 1977 at Goosebury Studios. Again, these tracks secured the A+M deal for the band, his 1976 "No Feelings" was due to be the b-side of the "God Save The Queen" single.....some copies of this were even pressed before the band were dropped from the label after one week, and are now extremely rare collectors items, changing hands for a small fortune.
As The Sex Pistols seminal album "Never Mind The Bollocks" album was being prepared by Virgin Records for release, the first Swindle was being set in motion.
Dave and McLaren masterminded the huge selling bootleg album "SPUNK," using the demos Dave had produced in '76 / '77, many questioned where it came from, but one look at the LPs run out groove showed it was pressed at Virgin's own pressing plant, Lyntone, and as the material had come from a master source it wasn't hard to work out who was behind it. In a radio interview on the subject, Sid Vicious even threatened to "go round and nick his television".
After helping to produce the "Great Rock N Roll Swindle" album in 1978, Dave Goodman then released the single "Justifiable Homicide," under the name Dave Goodman and Friends. The track dealt with the story of black boxing trainer Liddle Towers, who was arrested and beaten to death by the police in an unprovoked racist attack. Early copies state that Cook and Jones of the Pistols play on the single, while others leave the drums and bass section of the line up blank.
There is no proof the guys played on the single.
It was 1979 when the real Swindles began, with Dave forming a band of session musicians, calling them the Ex Pistols. Issuing a single on Virgina Records, a synth-swamped version of Sir Edmund Elgar's "Land of Hope and Glory." This led to many believing it was a real Pistols outtake due to its sound-a-like appearance. The release saw Dave in legal trouble with the songs publishers Boozey and Hawkes, as copyright licenses were not sought.
During the Eighties, Goodman masterminded many grab bag releases of Sex Pistols material, using his demos, live tracks, interviews and even some Ex Pistols tracks thrown in, re-mixing his '70's demo sessions so many times and re-selling them for more cash.
In 1988, he worked with former Pistol Glen Matlock, whose band CBI Goodman was producing. Getting Matlock drunk one evening, Goodman decided to get him to play bass on some ex-Pistols tracks for a new album. Released as "The Swindle Continues" in Japan, one track was even a recording of the Pistols version of the Small Faces song "UNDERSTANDING" - re-written as "Judging Minds," (the real Pistols only having performed it live early on). The album also included some Cook and Jones tracks, namely "Black Leather," "Here We Go Again," and Paul Cook's
"Silly Thing." The ex-Pistols tracks are actually well written and performed, and the only downfall was the 'closeness' of the Johnny Rotten sound-a-like vocals, performed by Dave Slave.
It was 1992 before the band re-surfaced, sometimes re-named as the SEXLESS PISTOLS, with an album of re-recorded "Swindle Continues" tracks called "DENY" on Dave's own Mandala label. The whole set is linked by spoken word, based around New Age Radio, another Goodman project. Owning to an injunction against Dave by John Lydon, the album was not marketed, and was given away to Sex Pistols fans, and also left in Virgin Megastores with a sticker telling the consumer the album was FREE to anyone who picked it up. The sleeve image looked a lot like John Lydon, but was in fact Goodman's friend and current Buzzcocks bassist Tony Barber.
After making a music video to the track "Don't Fear You Life Will Come To An End (Only Fear It Wont Begin)," Dave started work on his last album, "Diary of a Good Man," which featured the track "Wedding Da"y - the music being the familliarly re-mixed Sex Pistols 1976 demo of "Anarchy In The UK," with terrible lyrics about George W. Bush and Tony Blair.
Dave Goodman died of a heart attack at his home in Malta on 10th February 2005, and shortly after the remaining pressings of Diary....were sold via his website. As was a leaked, unfinished project he was working on, the DVD, "Sex Pistols - The Long Lost Videos," which saw run-of-the-mill Pistols footage with his demos from the "Spunk" album overlayed. It also features the re-mixed "Anarchy In The UK" with the correct lyrics, performed
by the singer of the "Wedding Day" track, and not by John Lydon.
A DVD has since been released, entitled "CHAOS!" - the Ex Pistols secret History. This is actually another re-telling of the Sex Pistols story, using ex-Pistols name and music because of legal issues.
At the time of his passing, Dave was also working on another remix of the Spunk demos,
entitled "X=SPUNK," but this was never released.
Both Ex- and Sexless Pistols albums should be checked out, but any Sex Pistols' releases on CD these days bearing the "Produced by Dave Goodman" or "Live In the North of England" legends should be avoided.........if you are a fan, you have the material contained within.
Don't be Conned.......because The Swindle Continues!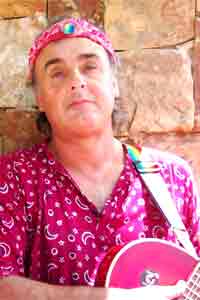 <![if !supportEmptyParas]> <![endif]>