NEWS ITEMS




Longhorns Ballroom, Dallas, Texas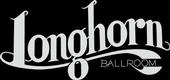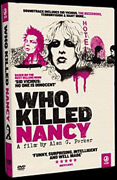 'Johnny (gone but not) Forgotten'

<![if !supportEmptyParas]>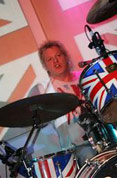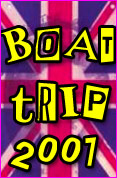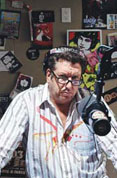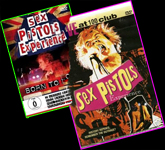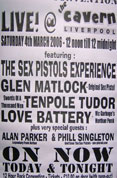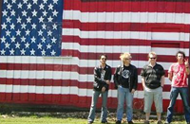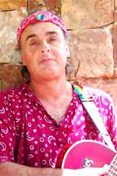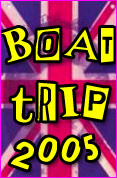 <![if !supportEmptyParas]> <![endif]>

The band decided, after years of constantly performing every weekend up & down the UK, & touring inbetween across Europe, & recently throughout Australia & New Zealand, that they all want a break from it for once. We've been busy & having a lot of fun, but there never seems to be an end on the horizon, they only way to get a breather would eventually mean cancelling some of the upcoming gigs, so that's what has happened at the start of 2020.
When your burnt out and been playing the same 25 or so songs for over a decade (nearly 2 decades for some of us) there comes a time to say - "enough!" And, as coincidence & irony would have it, that came after performing Huddersfield recently.
The band have done pretty much every corner of the u.k & Europe over nearly 20 years, it's not like you Punks haven't had plenty of opportunity to see the group, so it shouldn't be the biggest-blow.! We may, or may not, pick it up again after a suitable bit of time out.
Meanwhile, the band web-store remains 'open' and we're mailing Sid Padlocks, Nancy guns, Sid belts C.ds etc daily around the Globe, and remaining stock of the latest tour t-shirt whilst stocks last. So get in there..
Just for fun we will have a few gigs as a trio doing 'Sid Sings' & all those 'Post pistols' favourites, and you might see some of the band (irony again) in the current band line up of 'Tenpole Tudor'! Watch also for our other associated origional bands 'Hazard' & 'Zero-u.k' we'll advertise any dates on the various Facebook pages. So still lots to look forward to..
"Cheers" til next time, until then we're gonna be..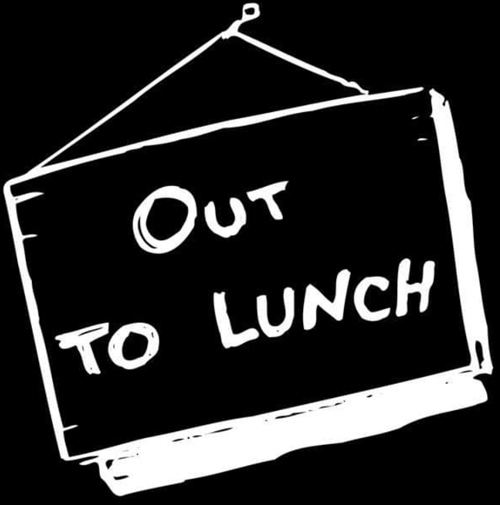 September
6th - Grimsby, Yardbirds
7th - Warrington, Glastonferry
13th - Oldham, Uppermill Civic + Ramona's
14th - Brighouse, Venue 73 + Ramona's
27th - Weston-Super-Mare, + Ramona's & London's Calling
28th Waterlooville, Cowplain Social club

October
4th - London, 229 Club + Ed Tudor-Pole
17th - Wallsend, Beer festival
18th - accepting offers north
19th - Wigan

November
1st - Coundon The Durham Ox
2nd - Stockton-On-Tees, Georgian Theatre
15th - Preston, Continental
22nd Warrington, The Club Burtonwood
23rd - Manchester, 02 Academy
29th - Dundee, Beat Generator + Cherry Bombz
30th - Bathgate, Dreadnaught Rock

December
"The Bollocks down-under" Australia/N.Z Tour
6th - Melbourne, Max Watts
7th - Sydney, Factory Theatre
11th - Perth, Rosemount Hotel
12th - Adelaide, The Gov
13th - Brisbane, The Zoo
17th - Wellington N.Z San Fran'
18th -Auckland N.Z Tuning Fork
27th - Keighley (U.K) Exchange
28th - Huddersfield Parish
29th Corby, Talisman

Adv' Tickets for all are advisable, links on the venues website, so go get em'!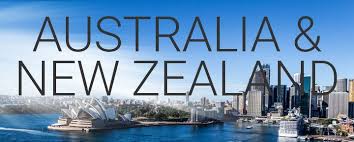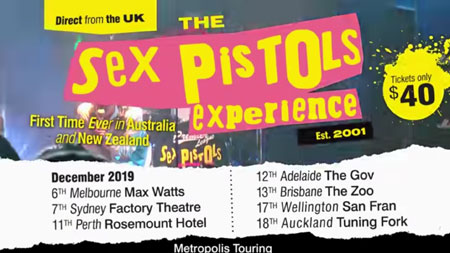 The Sid Rabbit Padlock, & Nancy pistols neck chain are now back in stock, for all those who've been patiently waiting we can send you your Sid 'R' padlock & 19" chain, plus x2 keys, or a Nancy pistol chain now, head on over to the store page to get yours...
hit the link here for 'R' locks..
https://www.sexpistolsexperience.co.uk/shop/index.php?act=viewProd&productId=7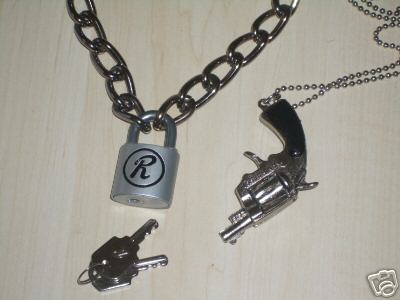 & Nancy's pistols chain here:-
https://www.sexpistolsexperience.co.uk/shop/index.php?act=viewProd&productId=8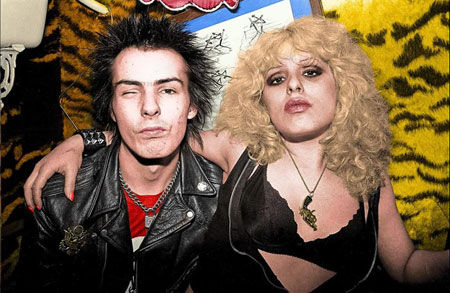 "Anarchy in the E.U" Germany tour, Mai / May 2019
In May we head back out for a bit more 'Anarchy in the E.U.' see dates pages for further detail..
Thursday 9th - Osnabrück, Bastard Club
Friday 10th - Essen, Freakshow
Saturday 11th - Cottbus, Chekhov
Sunday 12th - Berlin, Cortina Bob,
Monday 13th - Hamburg, Yoko
Tuesday 14th - TBA (accepting offers)
Wed's 15th - TBA (accepting offers)
Thur 16th - Wien/ vienna,
Friday 17th München, Glocke
Saturday 18th - Landgraaf, Oefenbunker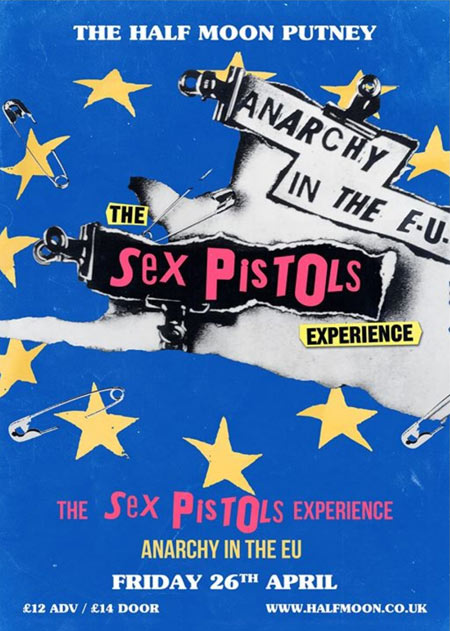 "Due to illness 'Lizzie and the Banshees' have had to pull out of shows for a while, so we've had to replace them on the following 3 dates:-
- Sat' 6th April, Newcastle 02 Academy now with 'Curtain Call' - The best of The Damned.
- Bristol Fleece on june 1st we're please to be bringing along Ed Tudor-Pole.
- London 100 club on March 2nd we have special guests 'A band called Malice' who are the most exciting Jam tribute on the circuit right now.
All gonna be great shows with some brilliant new bands to see. We wish Lizzie & her poorly Banshee a speedy recovery, & we'll be ready to do some more together as soon as their match fit again.
Further in for & ticket links are over on the dates pages.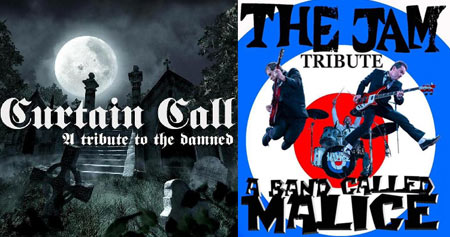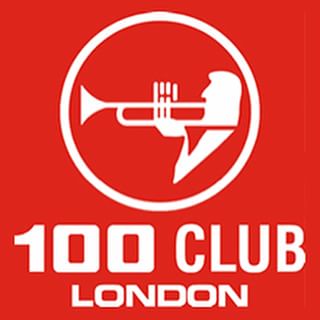 There's a new date for a return to the 100 Club, London on Saturday 2nd March, is always a popular event when we do gigs down there, so please be advised to get advance tickets asap, & look out for our special guests' who'll be announced very soon.. . Here's the link:- www.wegottickets.com/100club
For those of you south of the river, we'll also be at the Half Moon Putney on Friday 26th April.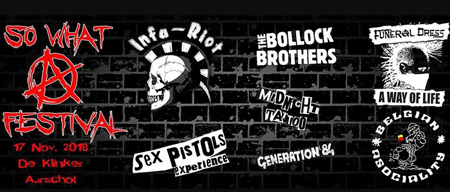 Ireland, at last we go our arse's in gear & sorted out a tour to Ireland.! We'll be over probably twice in 2019 & regularly thereafter, starting with 20th to 24th February, go look out our 'tour dates' pages for further info..
Ireland Tour... ⤵️
Wed' 20th Feb - Antrim, Johnny.B.Goode's
Thur' 21st Feb - Dublin, Voodoo lounge
Fri 22nd Feb' - Warrenpoint, N.I
Sat' 23rd Feb - Limerick, Dolans Warehouse
Sun' 24th Feb' - Dublin, Drop dead twice (3pm)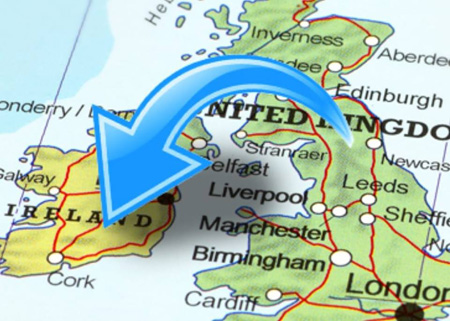 We have 2 shows in Belgium coming up in November, & our last festival for this year...
Friday 16th Nov - B52 club, Aartrijkestraat 92, 8480 Ichtegem, Belgium
Saturday 17h Nov - "So What" festival, De Klinker. Aarschot, Belgium
www.facebook.com/deklinkerclub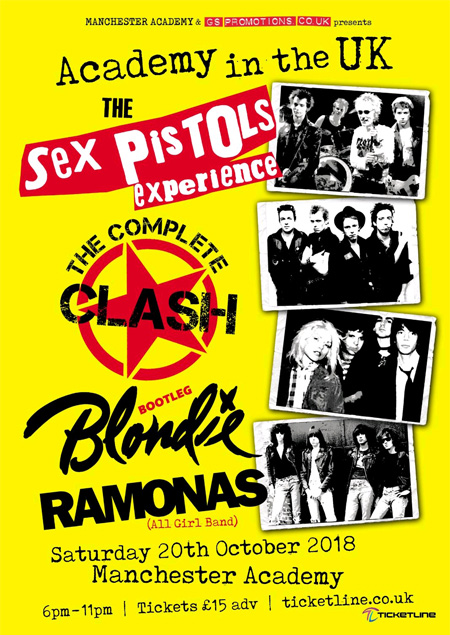 13th/14th July we head over to Poland to headline this huge Punk festival..
cheap flights for a great weekend!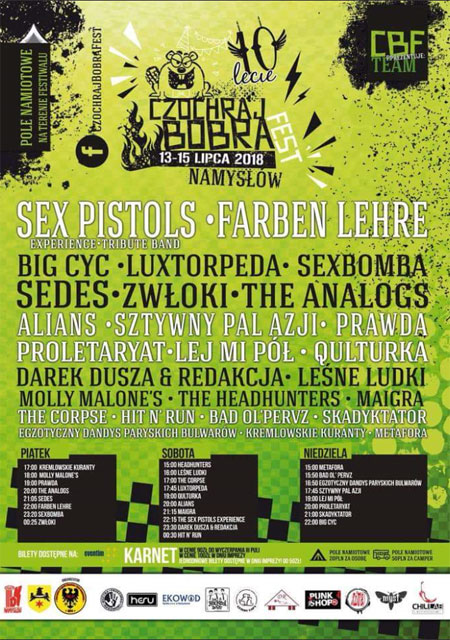 We have some new "Anarchy in the E.U" T-shirts in for 2018. Available in medium, large, X-large, & XX-large, £12.00 inc u.k postage, if your outside the u.k please add £3.00 to your paypal payments. The first 50 to go will also get a limited edition free matching badge.!
hit this link:- www.sexpistolsexperience.co.uk/shop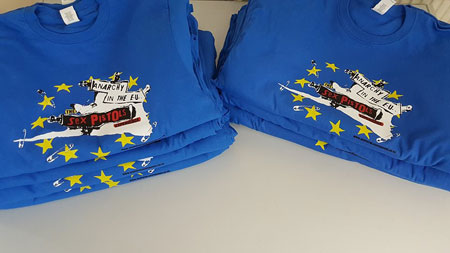 -----------------------------------------------------------------------
Our next load of dates for Scotland are below, & tickets are available now from all the following venues, or search in TicketsScotland, & your gonna need to get tickets for some of these, don't expect to be able to walk-up on the night & get in, most of these we can confidently say will sell out.
6th October - The Windsor, Kirkcaldy
2nd Nov' - P.J. Molloy's, Dunfermline
3rd Nov - Krakatoa, Aberdeen
23rd Nov - Warehouse Falkirk
24th Nov - Bellfield Tavern, Kilmarnock
25th Nov - EH6 fest' Edinburgh
7th Dec -Audio Glasgow,
8th Dec - Beat generator Dundee
2019
3rd May - Le Belle Angele, Edinburgh
special 'Celebrating Sid' night

After 4 great nights in Avesta, Stockholm, Linköping & Helsingborg to round off the Sweden dates, we're making plans to return, & we'll announce further dates & for Norway & Finland soon...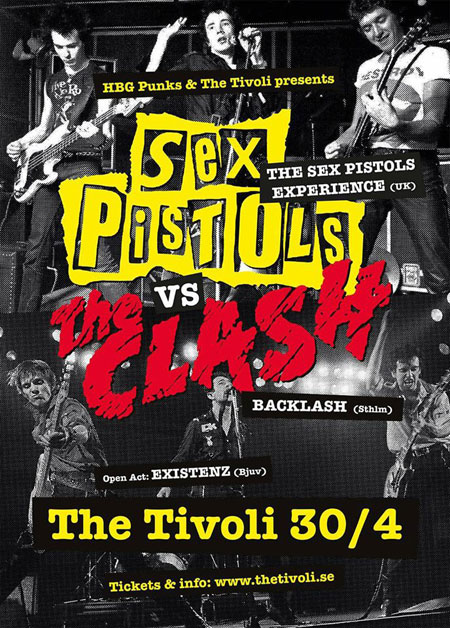 Sweden

Friday 27 april - Avesta, Kulturgaraget.
Strandbacksvägen 12,
774 61 Avesta,
Sweden
Sat 28 april - Stockholm. The Southside Cavern
Hornsgatan 104,
1 17 26 Stockholm

Sun 29th - L'Orient, Linköping, Sweden
L'Orient
Drottninggatan 18,
582 25 Linköping,
Sweden
www.lorient.se
Mon 30 April - Helsingborg. The Tivoli
The Tivoli
Köpenhamnskajen 1,
252 21 Helsingborg,
Sweden
www.facebook.com/events
"We've had to admit defeat to the severe / red alert weather warnings
given for the South East of the u.k over the weekend.
Bristol fleece with Lizzie and the Banshees is rearranged to Friday 22nd June.
Pontypool The Dragonffli is rearranged to Saturday October 13th."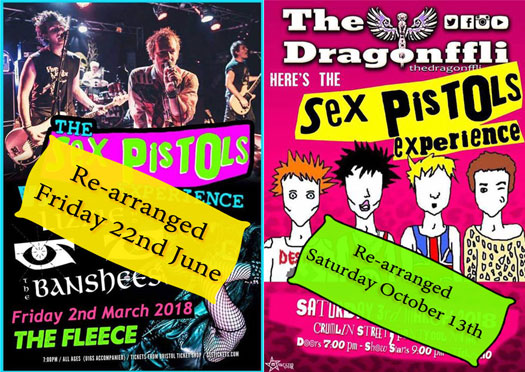 Tickets bought still apply.
#freezingournutsoff
January sale / special offer,
get youself a SPE T/shirt & the live C.D at a discounted rate...
Store LINK , payment via paypal
T/shirts in Ladies/ medium / large / Ex-Large / 2-XL
In black, blue, & pink men's & ladies (Men's 2-XL only in black)
Remember to add a note to your paypal payment telling the size shirt you want.
Oversea's buyers, you need to add the correct shipping cost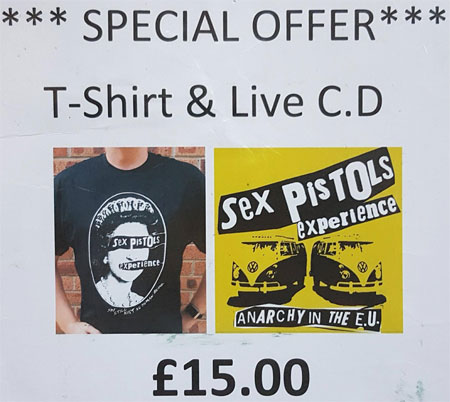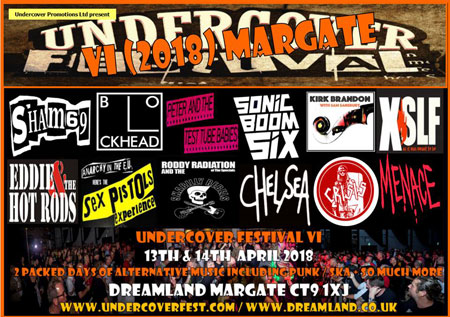 2018 is already beginning to look busy, we've lots of shows lined-up, & plenty more to confirm & figure out. A couple we should just warn you about in advance, we'll be back to the 100 Club, London on 24th Feb' & is already over halfway sold out, so get tickets early if you can come. Same for Newcastle 02 Academy 23rd March, & Edinburgh Liquid Rooms on 24th March, both are already show strong early ticket numbers, please be advised to not wait too long if your considering coming. Also, there's some early festival action with Yarmageddon, Vauxhall Holiday park, Gt Yarmouth, 9th to 11th March - always sells out in advance, a fantastic 4 day weekend of the best Classic rock bands, & us.!
Then we're also pleased to announce a return to the 'Undercover' Festival at Dreamland, Margate, Kent. Always a storming line-up, mixing old & new bands over two days 13th & 14th April, see website or their event facebook for full details. https://www.facebook.com/UndercoverFestival/
Yarmageddon

Did anyone catch the Sex Pistols Experience on T.V again tonight?? From our little outing along the River Thames last year (2017) & filmed for use in the 'Conspiracy' T.v series, this episode about the rigged charts of June 1977 to keep 'God save the Queen' off the top of the u.k charts spot. Sky Spike channel 160, but will no doubt be repeated or available on catch-up somewhere, do a 'Sky search' or find it on youtube, its only fleeting glimpses to fill out the story - nothing to get excited about..
Our next T.v job will be heard on the soundtrack to The Smiths frontman 'Morrisey', a biography film in which we performed doing 'Steppin' Stone' for the scene in the Lesser free trade Hall Manchester, & on the outro credits, this film is due out on u.k T.V screens around the end of October/early November sometime, look out for that too..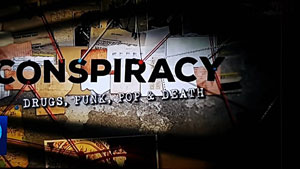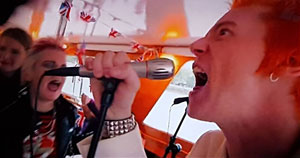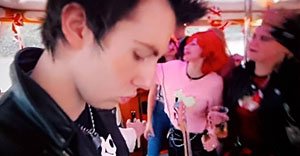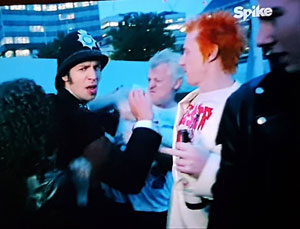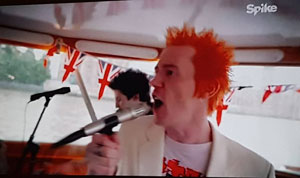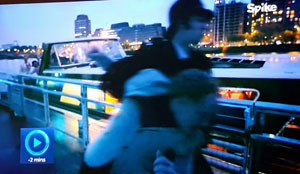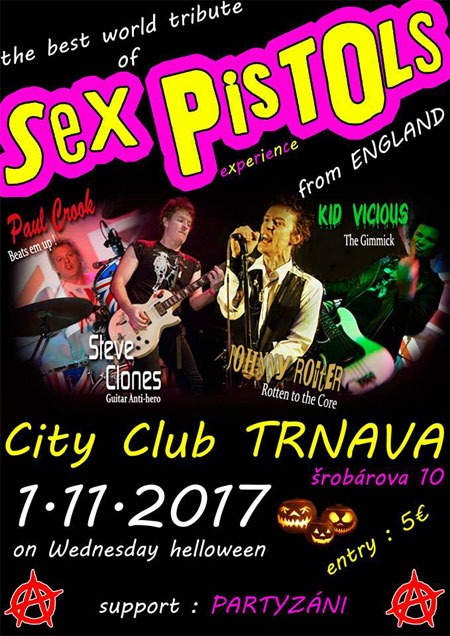 Welcome to our news page update, we had a great summer 2017, gave ourselves much of August 'off ', which was a rare treat, but given what we knew was coming upon us, a well earned rest was much needed, but we're back on the road now with a renewed energy & Punk-passion, so here's whats coming this autumn, & we do advise checking our dates pages, or the venue webpages for ticket links if your coming along to one or more of these...
8th Sept - Coventry, Arches + Tenpole
9th Sept - Watford, Old Brewery (Flag) + Tenpole
15th Sept - Reading Sub89 + Tenpole
16th Sept - Sheffield, Plug + Tenpole
22nd Sept - Cheltenham, Frog & Fiddle
23rd Sept - Merthy Tydfil, Redhouse
29th Sept - Leicester, Musician + Tenpole
30th Sept - Wigan, Old courts + Tenpole
7th Oct' - Portsmouth pyramids
13th Oct - Selby
14th Oct' - Sunderland town hall
20th Oct' - Buckley Tivoli
21st Oct' - Manchester club academy
27th Oct' - Liverpool 02 academy2
28th Oct' - Leeds Brudenell club
29th Oct' - Brighton Prince Albert
31st Oct' - Vienna Arena, Austria
1st Nov - Trnava, City club, Slovakia
2nd Nov - Linz, Kulture, Austria
3rd Nov - Weinheim, Cafe central, Germany
4th Nov - Ösnabruk, Bastard club, Germany
5th Nov - Hallè, Gig, Germany
6th Nov- off visit to Colditz Germany
7th Nov- off, visit Nordhousen Germany
8th Nov - Göttingen, Exil, Germany
9th Nov - Hameln, K3, Germany
10th Nov - Vakuum , Bad Bevensen Germany
11th Nov - Musikscheune, Pollhöfen Germany
17th Nov - Dundee, Beat Generator Scotland
18th Nov - Bellfield Tavern, Kilmarnock
24th Nov - Leamington Spa, Zephyr Lounge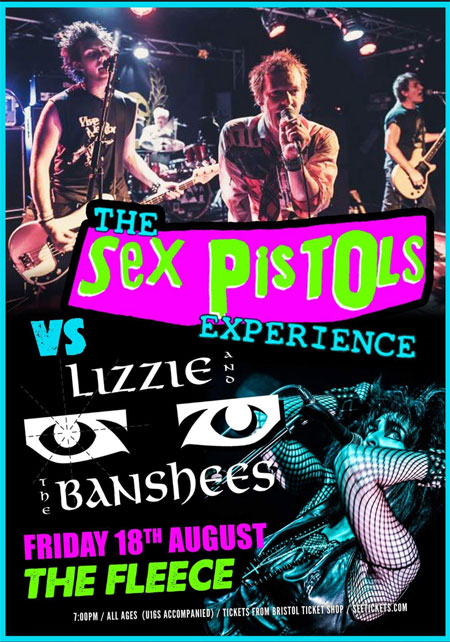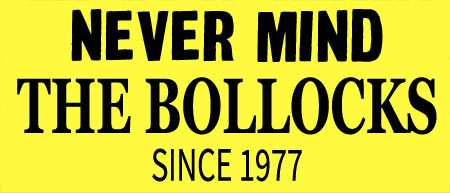 Gigs are coming in thick & fast throughout the year now,
but we'll be doing a lengthy run of u.k dates through the latter half of the year,
including a European Tour,
in celebration of the 40th anniversary of the seminal Punk album 'Never mind the Bollocks'
which arrived in the record shops amid much controversy in October of 1977.
For a limited time, at select gigs, our set list will be split into 2 halves,
one being the Swindle/B-sides/& everything else not on the album,
& the 2nd half will be the bollocks album in its entirety, & in order.

Keep up with the gig listings on our website 'tour dates' tab,
or perhaps through ents24 where you can click the 'alert me' tab into the 'on' position
& get an email if we visit a town near you.
https://www.ents24.com/uk/tour-dates/sex-pistols-experience
Either way, be sure to get advance tickets where possible to avoid people being left out in the cold,
as we've seen happening again recently as some venues are selling out.
See you out there, enjoy..!
------
The Liverpool & Manchesr 02 Academy date's
that were due to happen in March 2017 have been postponed
until October 2017 due to the conflicting dates with The Stranglers shows.
Liverpool: Original Date: Fri 31st March New Date: Friday 27th October. (Venue Unchanged O2 Academy 2)
NEW TICKET URL: www.seetickets.com/event/sex-pistols-experience/
_______________________________________
Manchester: Original Date: Saturday 1st Apr New Date Saturday 21st October, New Venue: Club Academy
NEW TICKET URL: www.seetickets.com/event/sex-pistols-experience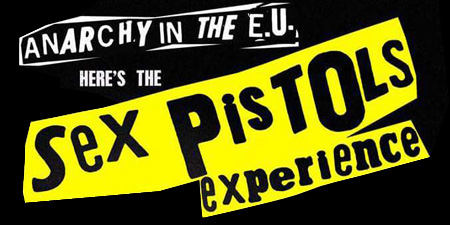 Just a quick " Cheers! " to everyone who supported us through a fantastic 2016, lots more to come in 2017 & we're busily filling-up dates now throughout the year, Friday 23rd Dec at Cromer is 'Sold out' don't come if you don't have tickets, Birmingham & Mansfield on 29th & 30th December are also usually very busy so we advise advance tickets for those too if your travelling, (last year Birmingham Roadhouse had to turn people away).
2017 we have date all across the U.K & Europe, possibly further afield too, keep checking back for up-dates.
We also have a new C.D coming out which will feature live favourites from 'The Broken Hearts', 'Public imitation Ltd', & some studio tracks, & special guests inc' Steve jones, Tenpole, look out for that..!
Meanwhile....
"ANARCHY IN THE E.U." continues in January 2017:-
10th - The 100 club, Oxford st London
18th -Musikbunker, Aachen Germany
19th - Rosenkeller, Jena, Germany
20th - Mad Club Hamelin Germany
21st - Freak show Essen Germany
22nd - Club B52, Ichtegem, Belgium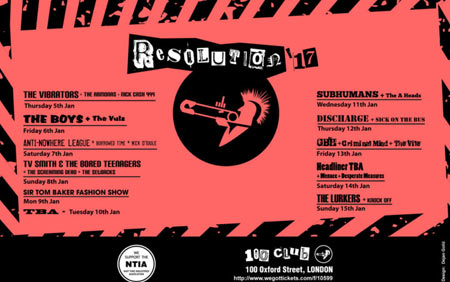 The 100 club in London are holding their annual 'Resolution festival'.
An 11-day festival of all things punk returns to it's spiritual home, the 100 Club, for the third time in January 2017. Resolution celebrates the bands and musicians who kick started the movement and those who continue to breathe new life into it today. Featuring artists including The Vibrators; The Boys; street punk band, GBH; Subhumans; Nick Cash (999); Anti-Nowhere League; TV Smith; Discharge and many more to be announced, it promises to be one hell of a way to welcome in the new year...
FULL LINE UP
Thursday 5th THE VIBRATORS + The Ramonas + Nick Cash 999
Friday 6th THE BOYS + The Vulz
Saturday 7th ANTI-NOWHERE LEAGUE + Borrowed Time
Sunday 8th TV SMITH & THE BORED TEENAGERS + The Screaming Dead + The Setbacks
Mon 9th SIR TOM BAKER FASHION SHOW
Tuesday 10th SEX PISTOLS EXPERIENCE + ED TUDOR-POLE
Wednesday 11th SUBHUMANS + The A Heads
Thursday 12th DISCHARGE + Sick On The Bus
Friday 13th GBH + Criminal Mind + The Vile
Saturday 14th Headliners TBA + Menace + Desperate Measures
Sunday 15th THE LURKERS + Knock Off
FULL FESTIVAL TICKET LINKS
http://www.wegottickets.com/f/10599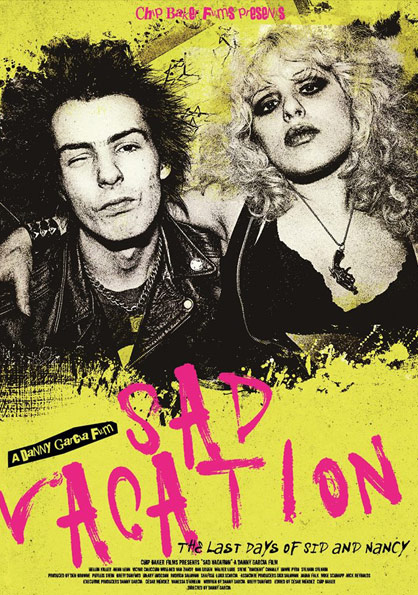 'Sad Vacation' - The new movie documentary telling of the last days of Sid Vicious in N.Y hits the big screen through November & December 2016,
featuring our very own 'Kid Vicious' in the starring role of course (who else could do it as well??)
Catch it in the cinema's listed below,
or request the Dvd for your Christmas stockings due for release from December 9th ...
London, UK - Westbank (screening party) 11/3
London , UK - Doc'n Roll Film Fest (World Premiere) 11/6
Los Angeles, CA - The Regent (US Premiere) 11/9
San Jose, CA - The Ritz11/12
San Francisco, CA - The Roxie 11/16
Anchorage, AK - Koots 11/17
Philadelphia, PA - MOCA 11/18
Toronto, ON - Reel Indie Film Fest 11/18
Norwich, UK - Norwich Arts Centre 11/18
Washington DC - Black Cat 11/19
Dallas, TX, - Texas Theatre 11/20
New Orleans, LA - Zeitgeist 11/19- 21
Brooklyn, NY - St. Vitus 11/23
Austin, TX - North Door 11/27
Chicago, IL - Brew & View at Vic Theatre 12/1
Nottingham, UK - Broadway Cinema 12/2
Boston, MA - The Regent Theatre Arlington 12/9-15
Tokyo, JP - Sinjyuku K's cinema + Shibuya Eurospace 12/17
Portland, OR - Hollywood Theater 1/14
Manchester, UK - Home - 1/21

Here's Kid Vicious enjoying the big screen debut in London earlier in November,
We hope you enjoy it too..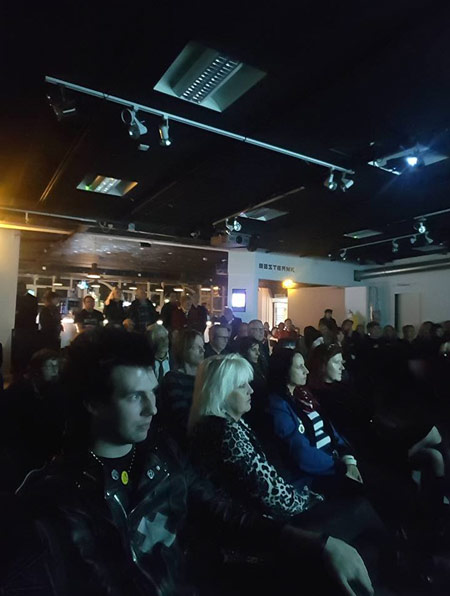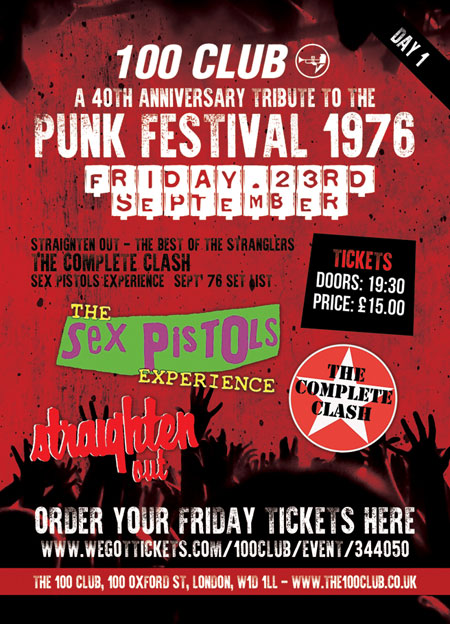 Ticket link for this event is:-
www.wegottickets.com/100club/event/344050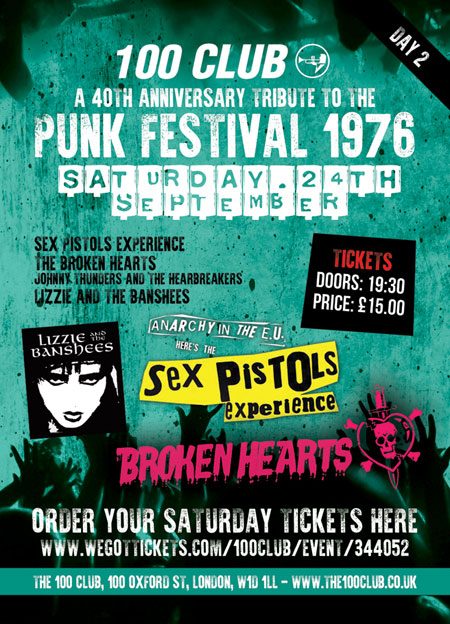 Ticket link for this event is;-
www.wegottickets.com/100club/event/344052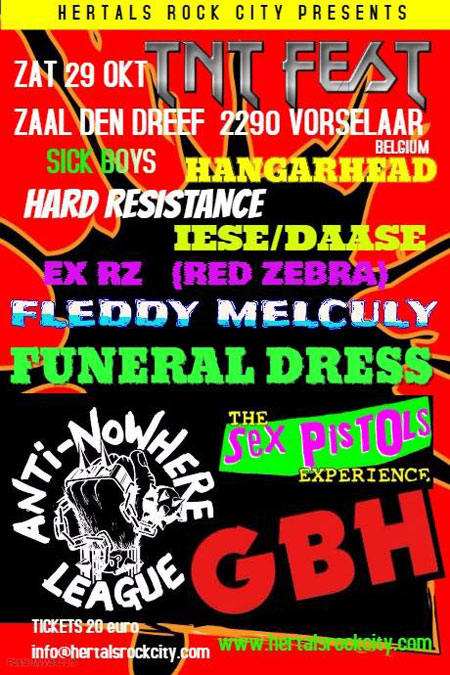 TNT Fest - Zaal De Dreef - Vorselaar
'T Hof - Herentals
Grote Markt 41
Herentals, Belgium

Tickets 20 Euro, follow the event page here:-
www.facebook.com/events
" Some festivals coming up soon, further details on the 'Tour Dates' pages.."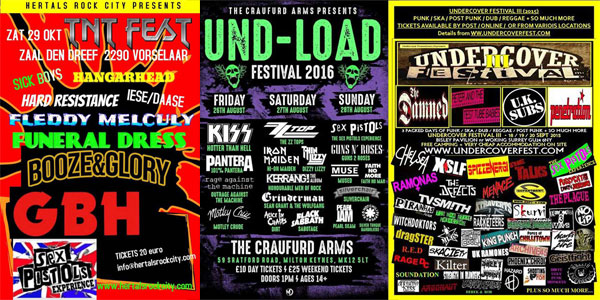 We're looking forward to some more 'Anarchy in the E.U" date's
coming-up on the next mini- tour of Germany & Iceland
(& yes, we know Iceland is not in the E.U)
.
30/09 - Gaukurinn, Reyjavik, Iceland
01/10 - Græni Hatturinn, Akureyri, Iceland
26/10 - Musik-Scheune-Pollhöfen, Ummern, Germany
27/10 - Monkey's music club, Hamburg (+ guests The Members)
28/10 - Sonic Ballroom, Cologne, Germany
29/10 - TNT Fest, Vorselaar, Herentals, Belgium, + GBH, & many more

We've lots more Euro-tour's happening in 2017, so keep watching for updates..

Anyone heading to the upcoming 'Rebellion' festival in Blackpool, we'll be over there making our usual appearance at the Tache' rock club on the Sunday afternoon, upstairs at the 'Rose & Crown' corporation st', just yards from the festival. Always a popular choice & often sold out. Doors open at 3pm, we suggest getting there no later than 4pm to be sure of getting in, all done by 6pm so you can head back to 'Rebellion' to catch the last night of Punk-Rock action.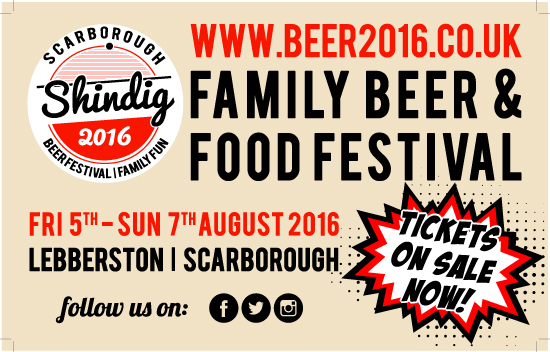 Scarborough Shindig Beer, food, & Music festival
Come along to the regions biggest and best annual beer festival, showcasing the finest local, beers, ciders, wines and food in Yorkshire.
Redcliffe Farm, Lebberston, Scarborough YO11 3NT
http://www.scarboroughshindig.co.uk/
https://www.facebook.com/scarboroughshindig/
Michael Evis (Glastonbury festival) came along to a show recently...he had a good time, can't say anymore than that.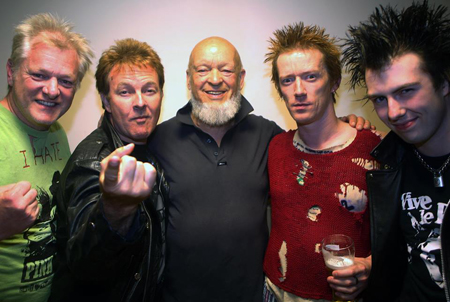 To celebrate the 21st birthday of 'Kid Vicious' on May 10th (yes - the same date as Sids!) we ran a limited edition T-shirt whilst we were over in Germany, we've brought a few back to the u.k, so if you want one get them in quick, £12.00 inc' P&P into u.K/Europe
www.sexpistolsexperience.co.uk/shop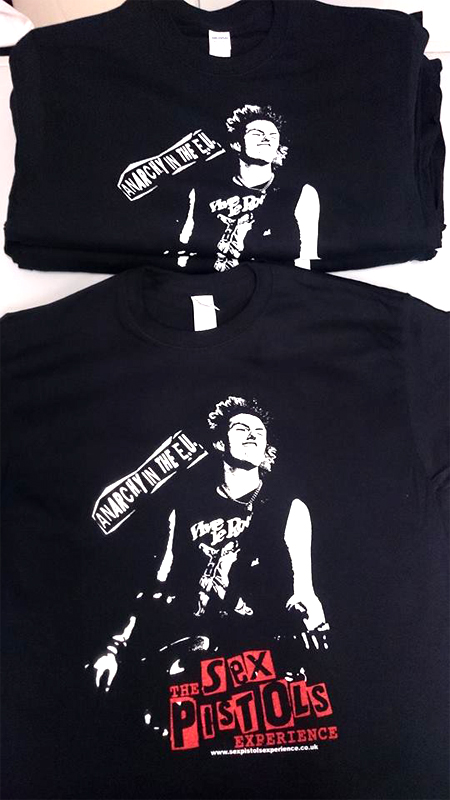 Here's a quick review of the next few shows coming up which will include Iceland, England, Scotland, Wales, Germany, Bosnia & Serbia, with Brazil, Argentina, Chile, & Peru coming in June....

March
3rd - Bar 11, Reykjavik, Iceland
4th - Græni Hatturinn, Akureyri, Iceland
5th - Íslenski Rokkbarinn, Hafnarfjörður, Iceland
11th - Glasgow 02 ABC + 'Lizzie & The Banshees'
12th - Aberdeen, Moorings bar
18th - The Globe Cardiff + Ed Tudor-Pole
19th - Manchester Academy + Lizzy & The Banshees
25th - - Loveshack, Durham
26th - The Snooty Fox, Wakefield
27th - The Nag's, Macclesfield

April
1st - 02 Academy, Liverpool
2nd - 02 Academy, Sheffield
16th - Southampton Punk-Fest' @ The Engine Rooms
21st - Woolpack, Doncaster
22nd - Cowpen club, Cleveland
23rd - 'Bangers & Mash' event Notts'
29th - The Nine's, Barrow-in-furness
30th - Newcastle 02 Academy + 'Complete Clash'

May:-
3rd - Dusseldorf, Pitcher, Germany
4th - Gütersloh, Weberei Werk 2, Germany
5th - Hamburg, Hafengeburtstag festival
6th - Trompete club, Botchum
7th - Halle, Gig venue, Germany
8th - Berlin, MS Stralau - BOAT PARTY.!
12th - Serbia tour (Venue To Be announced)
13th - Serbia tour (Venue To Be announced)
14th - Serbia tour (Venue To Be announced)
15th - Serbia tour (Venue To Be announced)
20th - Northallerton town Hall (40th anniversary date)
21st - Pilton WMC Glastonbury
27th - The Arches, Coventry,
29th - Civic Arts Centre, Oswaldtwistle, Lancashire

There's Lots more coming up so keep checking back, for all ticket links, & further info go to our 'Tour dates' page, & DO get advance tickets where available, we don't want to see people turned away at the doors again as we have all too often recently... Cheers.!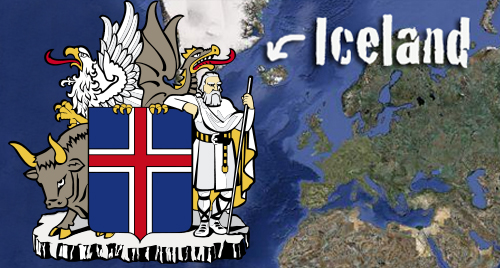 First week of March 2016 we make our debut in Iceland, just three venue's to start the ball rolling up there,
but we'll be back again later in the year too, & hopefully be making more regular appearances there in the future"


Thurs 3rd March 3rd - Bar 11, Reykjavik
Friday 4th we're at the Green Hat Akureyri
Saturday 5th we do Íslenski Rokkbarinn, Hafnarfjörður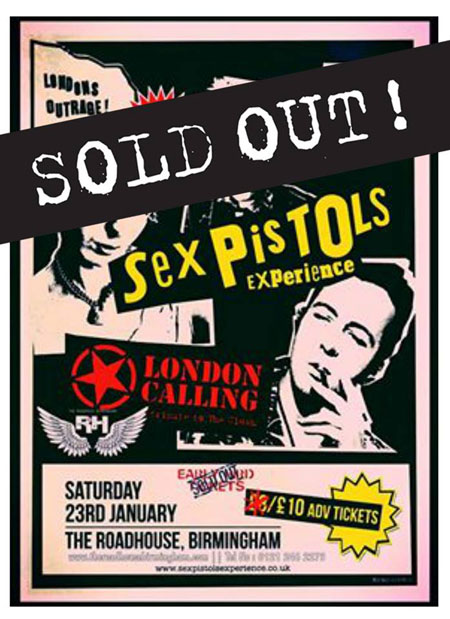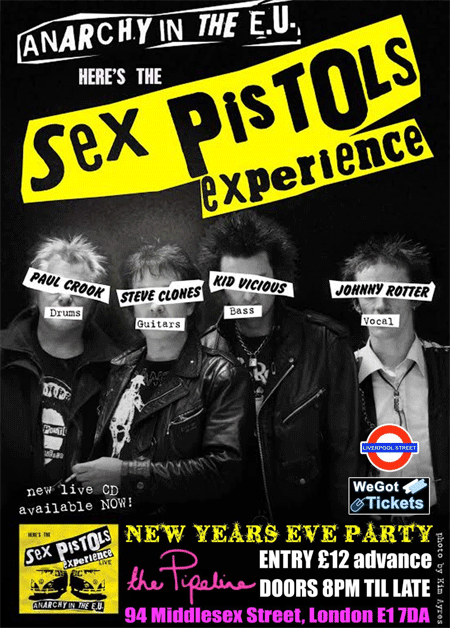 Early March 2016 we'll be flying north for our first tour of Iceland,
dates will be between 3rd to 7th & we'll be returning for a 2nd tour in summer.
Check out our 'tour dates pages for venue's & further information.
So gigs are rolling in thick & fast for 2016, we're going to be up & down the u.k, into Europe, over to South america within the first six months, & no doubt lots more to add, so do keep checking back.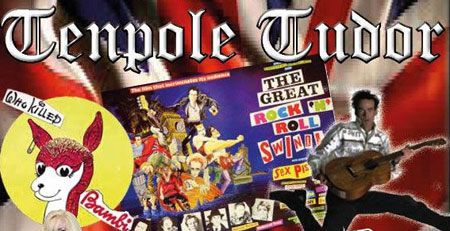 Here's a list of just some of the up-coming 2016 shows we have with 'Ed Tenpole Tudor'
Sat 12th Dec - Voodoo lounge, Plymouth (Sold out)
Fri 19th Feb' 2016 - Diamond The Diamond, Sutton-in-Ashfield, Nott's
Sat 20th Feb' - Lincoln Imp, Scunthorpe
Fri 18th March - The Globe, Cardiff
Fri 1st April - Liverpool 02 Academy
Sat 2nd April - Shefield 02 Academy
Sat 16th April - Southampton Engine rooms
Adv' tickets are available for all now...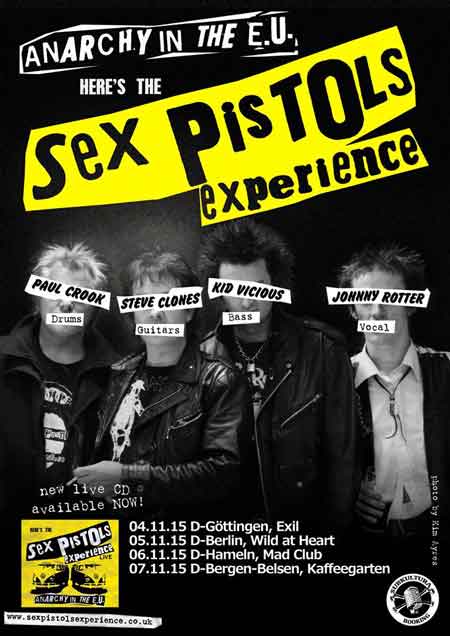 Here's a quick up-date on the gigs coming up through next November / December 2015, we're busily planning & plotting through 2016, which is shaping up nicely with lots of gigs throughout the uk, further tours into Europe, & another tour of South America midway through the year.
Look out for our T.V appearance on Ch5 'Conspiracy' airing at 8pm Friday evenings through October & november, we were filmed on the River Thames on the Boat party for the programme about the 70s rigged Pop-Charts & how 'God Save the Queen' was blocked from the top spot in June 77'.
There's loads more tour T-Shirts & 'The 100 Club Live' C.Ds etc over on the 'store' page to fill your Christmas stockings, so if we don't post a further update, have a great winter, hopefully see you down the front of another sweaty gig somewhere, & think about joining us for New Years Eve in London's Pipeline club!!
Come back & visit this page again soon, keep up with us also on the facebook page, cheers for now - SPE

24th Oct - Hillview Community centre (with guest T.V.Smith)
4th Nov - Göttingen, Exil Club
5th Nov - Berlin, Wild at Heart
6th Nov - Hamlin, Mad Club
7th Nov - Return to Belsen, Bergen - OT Sülze, Kaffegarten
8th Nov - End of tour party Cafe Banana, Dortmund
13th Nov - Coventry Arches, with guest Ed' Tudor-pole
14th Nov - Keighley Arts Exchange, with guest Ed' Tudor-Pole
20th Nov - Robin2, Bilston Wolverhampton
21st Nov - Dorchester S.W.Scooter Club, Warmwell Holiday Park
27th Nov - The Garage, Highbury, London, with guest Ed' Tudor-Pole
28th Nov - Brighton, The Hope
4th Dec - Accepting offers
5th Dec - Cottage of Content, Chasetown, Staff's
11th Dec - Accepting offers south-west
12th Dec - Plymouth, The Voodoo lounge (Sold out) with Ed' Tudor-Pole
13th Dec - Accepting offers south-west
17th Dec - Leeds, New Rosco, with guests 'Absolute Dissent'
18th Dec - Accepting offers North?
19th Dec - Huddersfield, The Parish
Accepting offers through the rest of December?
31st Dec - The Pipeline, London. N.Y.E Party
See the 'Tour Dates' page for ticket links & further info'.
We've lots more coming in daily so please keep checking back.
Hit this 'Ents24' link for a list of confirmed dates & ticket links, remember if you look to the top right you'll see the on/off 'tracker button', turn that to 'on' & you'll be notified if we're coming around your way.! https://www.ents24.com/uk/tour-dates/sex-pistols-experience

15/09/15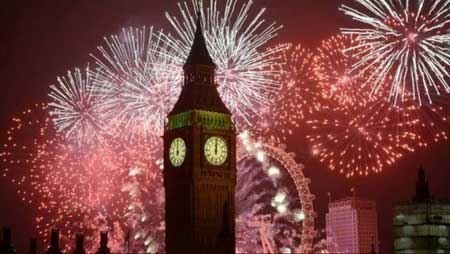 NEW YEARS EVE

New Years Eve celebrations - London
Come & join us for a Punk-Rock Party on New Years Eve
The Pipeline, 94 Middlesex St,
London E1 7DA
Advance tickets £12.00 (limited to only 300)
Ph:- 020 7377 6860
www.thepipelinebar.co.uk/
27/08/15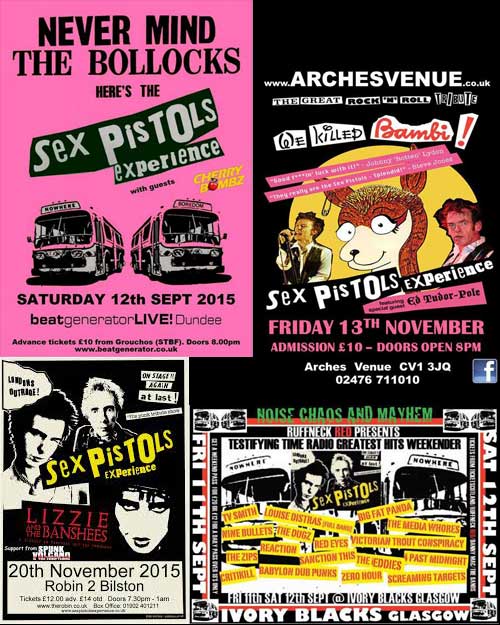 Thanks to all those who bought the new tour shirts & live C.Ds, we're stunned at the numbers going out & fantastic responses coming back from the 100 Club c.d, & all the recent live shows.! We've go alot more to come, with more exciting plans (at least for us) for 2016 - please keep checking back here, or keep up on the facebook:-

So coming up for September, Germany & Scotland & U.K:-
Thurs 3rd Sept' - Aachen, Musikbunker,
Fri 4th Sept' - Spirit from the Streets Festival
Niedergörsdorf, Eastern Germany
Sat 5th Sept' - Monkey's Music club, Hamburg
Thur 10th - Bellfield Tavern, Kilmarnock +Rat Patrol IV
Fri 11th - Glasgow, Ivory Blacks (see poster)
Sat' 12th - Dundee, Beat Generator + Cherry Bombz
Fri 18th - Undercover festival, Bilsley, Surrey
Fri 25th - The Cricketers, Southend-on-sea
Sat 26th - The Donkey, Leicester + 'Ramoned' & 'Shrink'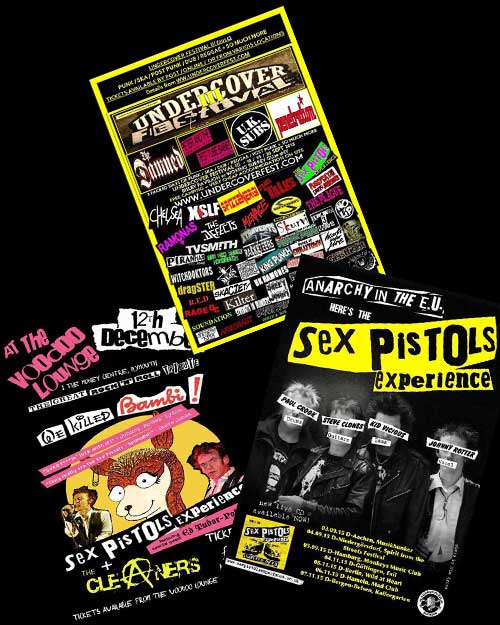 07/08/15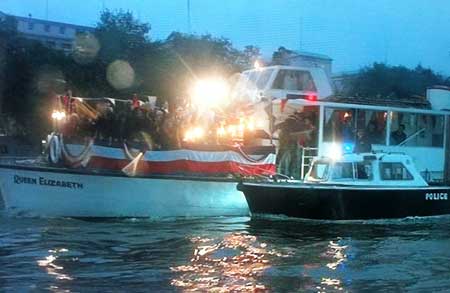 Wednesday 19th August - Thames River boat Party
Filming for Ch5 'Conspiracy' T.V programme
Closed to public, invites only (from Ch5)
On the river outside The houses of Parliament
7pm til 10pm
(we'll be doing a public boat trip in 2016)

Wednesday 19th August the 'Sex Pistols Experience' will head into London, unravel the old bunting, & take to the water to re-enact the Jubilee boat-trip again, but not for the public, this time we're in-front of the camera's for Ch5, as part of the T.v series 'Conspiracy', currently being broadcast on Friday nights at 9pm.
In this episode we are filming as part of four stories about hidden histories/conspiracy in the music industry from the 1960's to the present day. This film will focus on the conspiracy that the Establishment prevented the Sex Pistols' 'God Save The Queen' from being Number 1 during the Queen's Silver Jubilee week. So they hired us to play the parts, & play that 'banned No1' single right outside the houses of parliament again.. this will be our 14th time on the boat causing a bit of chaos, so we're well versed at it.! Ch5 have also enlisted the help of the local constabulary to come aboard & arrest us all doing the 'show' - you'll see it all on ch5 at the end of September, we'll keep you informed & take some behind the scene's photos, & post it all up on our facebook... sounds like fun.!
Facebook link:- www.facebook.com/sexpistolsexperience
05/08/15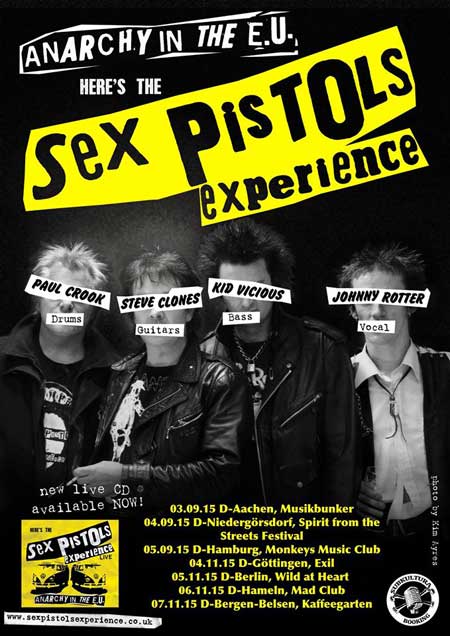 Germany next tour up-date;-
kommen im September und November für insgesamt 9 Shows dieses Jahr zurück nach Deutschland!
Tour Dates:
03.September D-Aachen, Musikbunker
04. September - Niedergörsdorf, Spirit from the Streets Festival
05. September - Hamburg, Monkeys Music Club
04. November - D-Göttingen, Exil
05.November - D-Berlin, Wild at Heart
06. November - D-Hameln, Mad Club
07. November - D-Bergen-Belsen, Kaffeegarten

https://www.facebook.com/events/1410709339251763/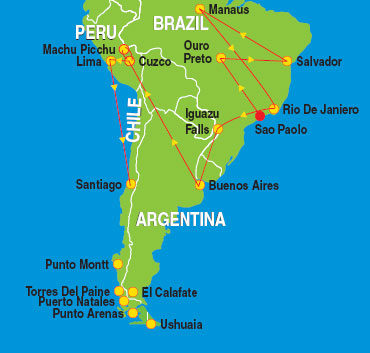 "The Biggest Blow?" Brraaaaziiil..
yeah, its been a while since we toured South America, but we're making plans for some dates in 2016 now.! So, any interested parties best get in-touch, calling into Brazil, Chile, Argentina and possibly Peru, & who knows where else, all will be revealed in due course.. plans are a-foot (but we hope no broken ones this tour!!) for June 2016.
check back for up-dates.
28/07/15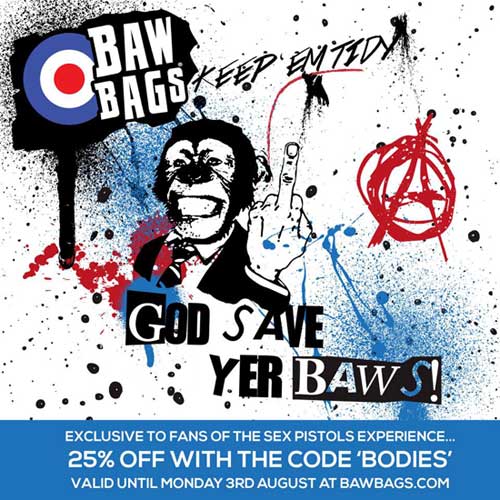 As any of our lady-friends will know, we like to look after our Bollocks, & there's only one product we will trust with the duty of keeping em safe these days - 'Baw-Bags' !
Never heard of em? Well, we have a special promotion running for ONE WEEK only (expires 2nd August) in association with 'Baw-Bags' so you can give em a go for yourself at a special discount courtesy of us -
either male or female brands.
Bawbags are the no1 specialist in underwear manufacturing, with some exciting designs so you're baws are kept tidy in the finest style! But, more importantly, Bawbags Underwear are on a mission to keep the nation's baws tidy AND raise money for cancer charities at the same time! Since 2007 they have raised well over £25,000 for charity and continue to support 'Orchid' , & more recently Medical Detection Dogs.
Anyone who's known the 'Sex Pistols Experience' well enough over the last couple of years will know we've had our own issues to deal with & the dreaded 'C' word in recent times, a concern that has adversely affected our friends & families, & is therefore very close to our hearts too.
So hit the links below & Enter our special promotion code "Bodies" & Give em ago, & look after your nuts & help look after others who are facing tough times right now.!

http://www.bawbags.com/
facebook U.K:-
https://www.facebook.com/BAWBAGSunderwear
facebook usa:-
https://www.facebook.com/pages/BawBags-USA/374318489305309?fref=ts

21/07/15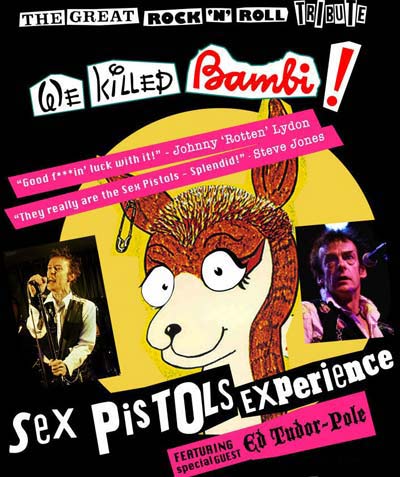 Ticket are now on sale for the next London show on November 27th at
The Garage, Highbury / Islington (main room)

with Special guest Ed' Tudor-pole. Hit this link & save enough on the door price to have a beer on us.!

Sex Pistols Experience | The Garage | The Official Site for The Garage |
We'll also have Tenpole guesting with us at :-
The Riverside Tavern, Newport - Friday 9th October
The Arches, Coventry, Friday 13th November
Keighley Arts Centre, Saturday 14th November
Plymouth Voodoo lounge - Saturday 12th December
+ more to come - keep checking back..
03/07/15
The band have been enjoying a couple of weeks off for some holidays in the sun,
so back to business on;-

July 10th at The Rhondda Hotel, Porth,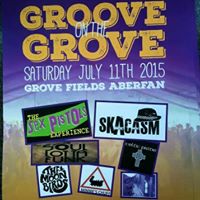 11th july Groove on the Grove, Merthyr Tydfil.
www.facebook.com/pages/Groove-on-the-grove

17th july - Hole in the Roof - Deal, Kent**
18th july The music Room Ipswich**
**Plus guest - Ed Tudor-Pole.!

If you really cant bare to be without us you can always treat yourself to the new live c.d we have out now, Live from the 100 Club London, available now on the store page:-
Sex Pistols Experience Store - "Anarchy in the E.U" - Alive at the 100 Club 2014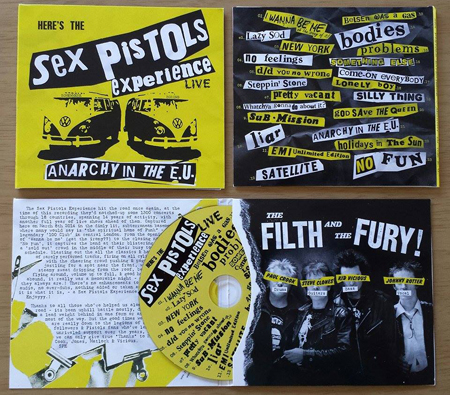 05/06/15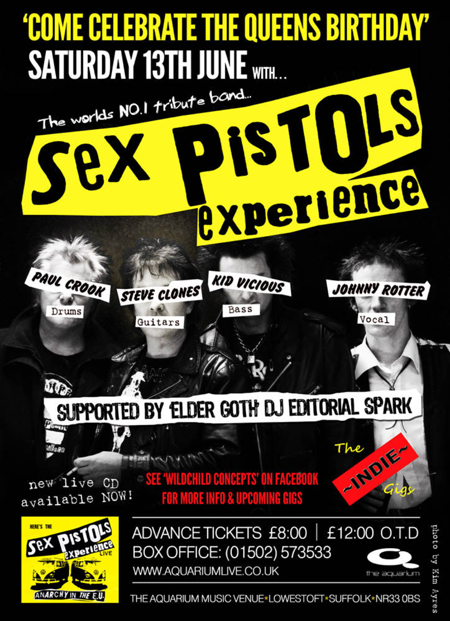 21/05/15
Lots of dates rolling in now for the summer & Winter months, including visits to all corners of the u.k, & more Euroean dates in September & November. We still have one or two weekends to fill-up, so if you've any suggestions for likely venues near you then get emailing us with your suggestions & we'll try make it happen!

"Searching for Sid" -
We're currently looking for good Sid Vicious candidates to help fill in on a few shows over the coming months, our new 'Sid' (Conor Hazard) is committed to some u.k gigs with his original band so we need potential Sid Stand-in's to visit our 'recruitment' page & get mailing now if you want to join the fun.!

We have some stock of our latest t-shirt design which is now available on our store page:-
Sex Pistols Experience Store - Queens head t-shirt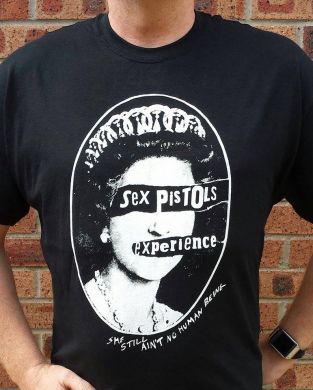 We have some 02 Academies coming up...
Friday 27th March - Liverpool 02 + Guest 'Ed Tudor-Pole'
Sat' 28th March - Manchester 02 + Guest 'Ed Tudor-pole'
Sat' 20th June - Newcastle 02 + Guest 'T.V.Smith (The Adverts)
Ticket links for Liverpool :-
http://www.o2academyliverpool.co.uk/…/sex-pistols-experienc…
ticket link for manchester:-
http://www.manchesteracademy.net/Arti…/sexpistolsexperi.html
ticket link Newcastle:-
http://www.ticketweb.co.uk/…/sex-pistols-experience-…/143047

Then the Sex Pistols Experience make their Dubai-debut flying in for 2 shows to the united Arab emirates. We're having to call ourselves 'The Pistols Experience' - with the word "SEX" being a banned in Muslim Arab-land.!
(although they still manage to have about 13 kids in a family! )

The 10th April at The Majestic Hotel tower, Dubai.
The 11th April at Le Royal Meriiden Hotel, Abu Dhabi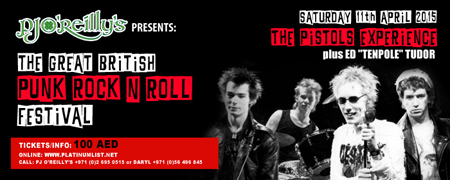 Saturday 18th April - Clithero Grand is just about 'Sold out' -
there was around 20 tickets left last we heard, hurry-up if your coming.!

Thursday April 23rd its St George's Day, & we're celebrating all things England! And where better than at the seaside, the nation's Fish & Chip capital & No1 seaside holiday destination in the U.K - Blackpool.! The old Bridge House Lytham Road will be the venue (right by the Footy ground), only 200 capacity so advance tickets are highly recommended, ticket info over on the dates pages.

We follow that with a dash up to Carlisle Brickyard on Friday April 24th, & then south to Derby Flowerpot for a last minute fill-in gig that came up on Saturday 25th April - again, adv ticket info is on the dates pages.

Towards the end of April & into May we hit the channel crossing for another
tour Germany & Spain, taking in:-

April 29th - Cologne, Sonic ballroom
April 30th - Munich, Kranhalle steht
May 1st - Straßkirchen, Plutonium klub
May 2nd - Austria, Bregenz, Between
May 3rd - Buchloe, Hirsch Lindenberg
May 4th - free for booking (Austria/Swiss/Germany)
May 5th - Mannheim, 7er Club
May 6th - Frankfurt/Main, Das Bett
may 7th - Zweibrücken, Gasthaus Sutter
May 8th - Essen, Freakshow
(+ aftershow @ Cafe Banana Dortmund)
May 9th - Dusseldorf, Pitcher
May 14th - Pamplona, ​​Zentral, Spain
May 15th - Sanagustin, Kulturgunea
May 16th - Campus Verano Escenario Santander

Links & ticket info on the dates pages..

After a couple of storming nights over in Czech Republic we're rounding off February with three shows down south, in Portsmouth Wedgewood Rooms on Friday 20th with special guest 'Ed Tudor-Pole' close to a sell out last year, so we do suggest getting advance tickets if your coming. Then over to Brighton on Saturday 21st for the annual Tattoo convention at the Metropole Hilton Hotel, tickets are available for the whole day convention & gig, or just for the gig itself.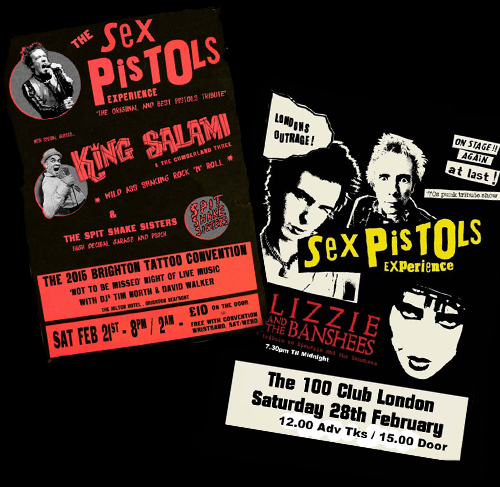 End of the month - 28th February - its one of our favorites in the yearly calendar as we hit the well trodden boards of The 100 club, 100 Oxford street, London. We're bringing along 'Lizzy & The Banshees' again this year & with it being oversold last year again we must advise getting advance tickets sorted out. Links & further info over on the dates page.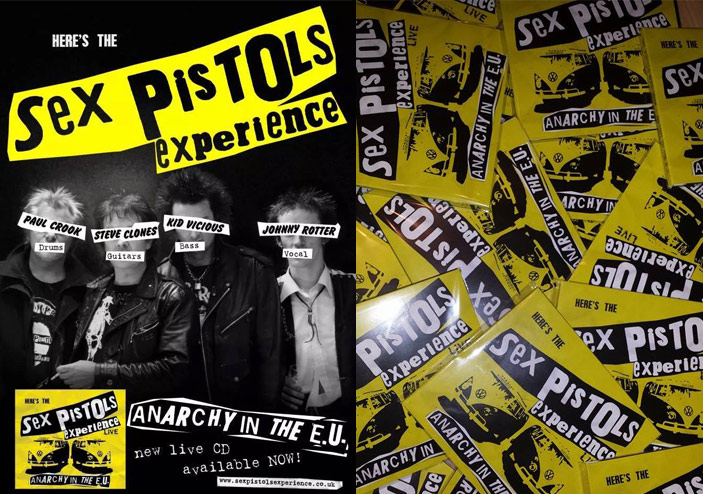 The New Live album for 2015 "Anarchy in the E.U." is available now!! We're mailing them out Worldwide daily. Recorderd directly through the desk live at the legendary 100 club in London to a 'sold out' crowd in 2014 An entire show with 23 tracks including all the hits, B-sides, & some rarely heard live tracks. Available from the SPE webstore (link below) or you can get a copy from any of the up-coming shows.
For track listing & further detail, go here:-
http://www.sexpistolsexperience.co.uk/shop/index.php?act=viewProd&productId=44

January
So, holidays over & back to the grindstone, here's some further U.K & European 2015 Tour Dates confirmed so far, please feel free to 'SHARE' this or any dates amongst your 'facebook friends' & we look forward to seeing you & your mates somewhere out there..!

16 Jan - Dragonffli (Hog & Hosper) Pontypool
17 Jan - 'private event - invite only'
30 Jan - Coventry Arches (+ Ed' Tudor-Pole)
31 Jan - Hillview centre, Cheltenham (+ Ed Tudor-Pole)
06 Feb - Punk nene mrkev" festival, Brno, Czech
07 Feb - Umrti Sida festival, Pilsen, Czech
20 Feb - Wedgewood Rooms, Portsmouth (+ Ed Tudor-Pole)
21 Feb - Brighton, Hilton Metropole, Tattoo Convention
28 Feb - The 100 Club, London (+Lizzy & The Banshees)
21 March - Birmingham Roadhouse (TBC)
27 March - Liverpool 02 Academy (+Ed Tudor-Pole)
28 March - Manchester 02 Academy (+Ed Tudor-Pole)
05 April - Naggs Head Macclesfield
09-11th April - Dubai, UAE, mini tour
18 April - Clithero Grand
23rd April - Blackpool, The Old Bridge
24 April - Brickyard, Carlisle
29 April -Cologne, Sonic Ballroom, Germany
30 April -Munich, Kranhalle (w. Burning Lady) Germany
01 May -Straßkirchen, PLUTONIUM-Klub, Germany
02 May -Bregenz, Between, Austria
03 May - free for booking (austria/swiss/south germany)
04 May - free for booking (austria/swiss/south germany)
05 May -Mannheim, 7er live club, Germany
06 May -Frankfurt/Main, Das Bett, Germany
07 May -TBA Zweibrücken, Germany
08 May -Essen, Freakshow, Germany
09 May -Dusseldorf, Pitcher, Germany
14 May -Pampalona, Zentral
15 May -Basque country, Azpetitia
16 May -Santander, Escenarios
23 May - Polish club, Barnsley
29 May - Dreadnaught Rock, Bathgate
30 May - Moorings Bar, Aberdeen
05 June - Penicuik WMC
12th June - O'Neils, Birmingham
13 June - Thames River cruise, London (TBC)
20 June - Newcastle 02 Academy
17 July - Hole in the Roof, Deal (+Ed' Tenpole Tudor)
25 July - Wigan, Old Courts Theatre
14 August - Festival, Towneley Park, Burnley
03 September -Belgium / West Germany TBC
04 September - Spirit from the Streets Festival, Niedergörsdorf, D
05 September -Monkey's music club, Hamburg, Germany
11th September - Glasgow
12th September - Dundee
18 September - Undercover festival, Bilsley, Surrey
10th October - The Spice Center, Dorchester
As always further details on all the gigs can be found over on the tour dates pages, & there's plenty more rolling in that will be added over the coming days/weeks.. please keep checking back...