<![if !supportEmptyParas]> <![endif]>
04/12/06
The new & first issue of 'Distorted' magazine is out now & features our very own Mr Vicious on the front cover, there a nice review of our
October '100 Club' gig on page 38, & interview with our mate Alan Parker on page 11., aswell as plenty of other stuff to check-out.
We had a great time at the Butlins show's recently, the Reunion festivals were amazing with 4 & half thousand people going nuts for two long weekends, thanks to D.J Eddie Lock for getting us on the bill. And also great to be back in whats become another 'home' town for us, York last week (25/11/06) sharing the stage with Eddie Tenpole Tudor & the UK Subs made for a riotus night and afew broken bones in the mahem of our mosh pit (sorry Annie!?) To give us all enough time on stage & due to a 10.30pm curfew in the venue we only got a half hour to let rip, but what a mad half hour it was, we get to play York again for our new year bash on Dec 28th with the fantastic 'Rebel Truce' (Clash tribute) we're taking over the 'Certificate 18' venue on Gillygate and will have a great night! Advance tickets are recommended & available only from the venue.
http://www.certificate18.co.uk/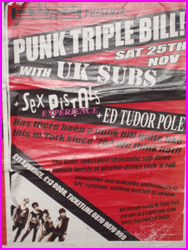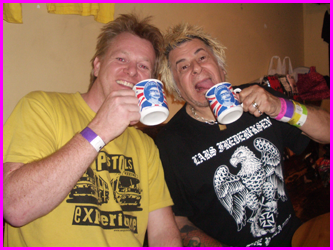 The recent European tour was a great sucess for the band, after barely getting our feet in the door from the long usa tour in Sept/Oct, the thought of heading back out on the road again so soon was a bit daunting to be honest, Kid Vicious having hung up the bass & quit after the usa tour left us having to borrow 'Bomber-on-bass' from the 'No future' band to stand in on bass duties for the first couple of europe dates, & taken over by one of our 'stand-in Sids' 'Tom' who's playing the current bunch of December gigs, (thanks to them both for keeping the show on the road) The long drive down to Barcelona was rewarded with a show at one of Europe's biggest record fairs in the Olympia stadium, opening up the whole weekend event up gave us the time to browse the stall's afterward & pick up some rare pistols vynal, followed by a 2nd gig that evening in Villareal to a sell-out crowd of mad Spaniards! Madrid & Bilbao in Spain followed & proved to be a lot of fun to packed venues, the Sex pistols Experience have already been re-booked for some festival dates next summer in spain & we look forward to getting back over there to play em.! France had been waiting a long time for us to come over, we've had many emails requesting us to go do some dates, the show's in Montpellier & Saint Ettienne made us feel very welcome and pursuaded us to make arrangements to return for more French gigs during 2007 too.
Orchies gig near Lille, France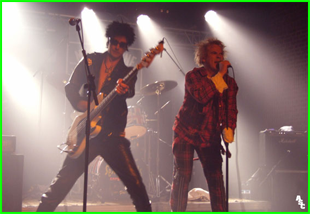 Southern Germany has been getting the S.P.Ex quite alot recently with 4 gigs during november, we were amazed how good the gigs were for us on our first trip that way, and a little trip to the Austrian town of Bregenz secured us another summer festival date in the Austrian mountains for 07'. Here a link to some more cool photos from the Orchies gig near Lille, France 27/10/06. (thanks Carl)
We got to say a big thanks to Mr 'Johnny Rotter' who did a brilliant job fronting the band in J.Forgotten's absence around some of the European gigs.
Johny Rotter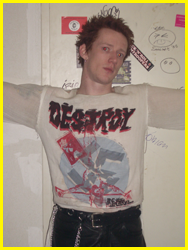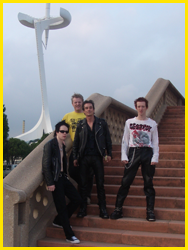 Barcelona.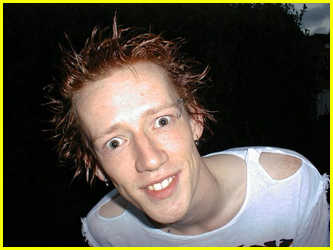 12/10/06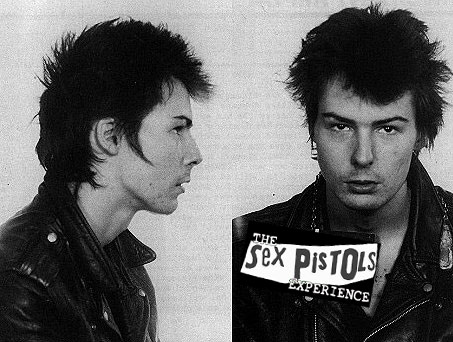 Sid Wanted, due to personal circumstances Kid Vicious is taking a step down from the band and settling back into reality, so auditions are open now for a replacement bassist, Sid requirements are obvious, we need someone with good bass playing abilities, also will need to sing the famous 'Sid' songs. Get in touch via email now for further info, send a couple of email photos if you think you have what it takes to portray the icon of 70's punk.!.
27/07/06
U.S.A. TOUR
The 3rd U.S.A tour is gaining momentum now, we're all set to leave the U.K early September to begin 5 weeks of back-to-back dates across the pond starting in Chicago, and going south-west through Illinois, Missouri, Oklahoma, to Dallas Texas, then working across west, taking in Houston, Austin, El Paso, up to Phoenix Az, possibly Las Vagas again, San Fransisco, Eugene, Portland, Seattle, Spokane, then jet down to San Diego, & L.A. For a bunch of dates, before finnally heading over east for 3 or 4 dates starting in Boston Ma, Allentown Pa, & New Jersey to Finnish up. It should be a lot fun and we're looking forward to catching up with everyone again, any offers of SPONSORSHIP will be considered, and the final line up of dates will be announced very soon right here.
We hope your all having a great summer, the hot weather in the U.K has made for some hot & mad gigs over the last few weeks, thanks to all for showing your support & keeping the spirit of 76' well & truly alive!! We're especially looking forward to heading back up to Scotland again during August, More & more dates seem to be selling-out too these day's, so we would always recommend getting those advance tickets where possible. And don't forget the new Sex pistols album is in the shop's now, the remastered 'Spunk' session's from 1976, recorded in the day's when Glen Matlock was in the band, giving an insight to the fact that never mind what the press would have you belive, the Pistols really could play their instruments! It was always a great album, but it's sounding even better having been remastered onto C.D in 2006. Check-out the press release....
18/07/06
'Pistols, Damned & Clash' 2006
What a weekend of nostalgia we just had..! 30yrs to the day, the Sex Pistols (Experience) & the Damned (well half of them) appeared again at one of the worlds most famous venues, London's '100-Club' to recreate the heady days of the 70's, it was an honor to be invited to play the show & we had a great night out besides the gig, the crowd was full of many 70's faces, highlight for us was meeting Soo Catwoman who made an all too rare appearance & still looks fantastic 30yrs on.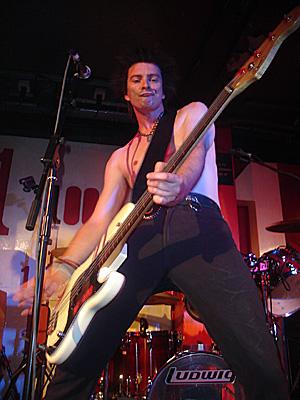 On the scene reporter Ray Morrissey had this to say:-
06 July 2006.The Damned + TV Smith + Sex Pistols Experience live at The 100 Club , London. This was a special one off show to celebrate the 30th anniversary of The Damned's superb debut album "Damned Damned Damned" with two Damned members Rat Scabies and Brian James joined by Casey Chaos(Amen) and Mani(Stone Roses and Primal Scream).A great sold out atmosphere in this perfect venue made sure their set of tracks from that debut album went down a treat .Punk rock classics like "New Rose" ,"Fan Club" ,"Born To Kill" ,"Stab Your Back" ,"Neat Neat Neat" and "I Feel All right" etc.Its hard to think of the Damned without Dave Vanium on vocals but singer Casey Chaos is a real punk rocker at heart and he spends half of each song writhing on the floor while singing as the bodies fall over the front of the stage .Rat Scabies has kept his glasses on while playing the drums and its pretty chaotic and then after some 42 mins it was all over. Great fun it was .The two support bands also went down a treat The Sex Pistols Experience are tighter than ever and their 45 mins set of Pistols anthems like "Pretty Vacant","God Save The Queen" and "Bodies" was a perfect start to the evening. Loads of great one liners and they even manage to slag Rat Scabies off for having a drum kit that took up so much stage space.Close your eyes and its the real thing as the vocals and guitar are spot on. Next up was TV Smith who has a lot of bottle to do an acoustic set in front of this crowd but he pulls it off easily with a great set Inc his "Punk Rock Poem" and "No Time To Be 21" and "Gary Gilmores Eyes" . Another great punk rock evening.......
http://www.raysgigs.com/raynews.php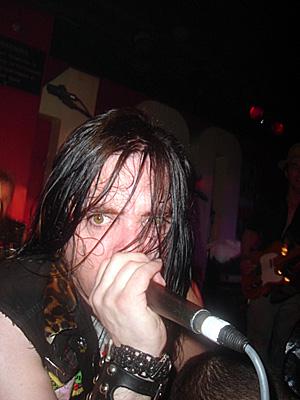 Thanks to all those who came along, & for those who couldn't get tickets for this sold out show, you have another chance on Thursday 12th October, this time at the 100 Club its the Sex Pistols (Experience) + The Clash (By Brilliant Clash Tribute 'Rebel Truce') tickets for this show are already hot, so if you can make it, please don't leave it until last minute as its sure to sell-out again. Advance tickets are £10.00/£12.00 on the door (if there's any left)
http://www.wegottickets.com/event/11460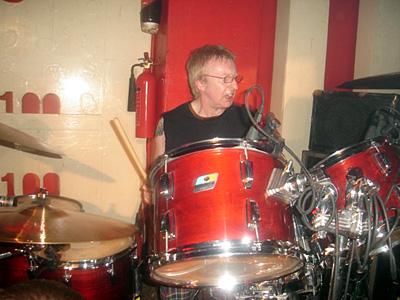 And some more 100 club photos on this link:-
http://smg.photobucket.com/albums/v170/stepintothenight/100%20Club/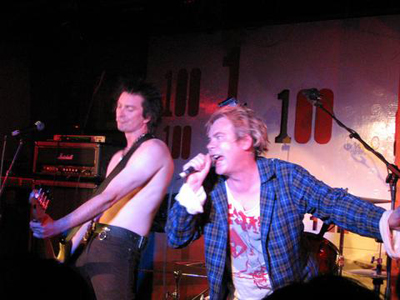 Friday was also a fantastic evening, better, we thought, than the 100 club gig, Sheffield's 'Boardwalk' venue (formally known as 'The Black Swan') again 30yrs to the day, hosted the S.P.Ex & the Clash performed brilliantly by 'Rebel Truce', it was also the Rebel Truces 1st gig with their new line-up, and my god, could they play!! Everyone blown away with the accuracy of the band, and fantastic renditions of all the Clash classics. It made a hard act to follow for us, but I recon we won the crowd over in the end! We hope to do a few more date's with Rebel Truce soon, and a return to Sheffield Boardwalk is on the cards for us both on Thursday 21st December. http://www.theboardwalklive.co.uk/ Pistols & The Clash Christmas punk-party.!
21/06/06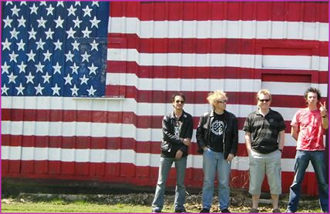 After a 2nd U.S.A tour covering much of the east (tour diary coming soon) its back to business as usual, the S.P.Ex will be playing dates in the u.k for the rest of the summer, with some cool show's lined up to come, a few more with our mate Ed Tudor Pole which we always look forward to.! And of course the Damned show at the 100 Club, which will be, for those with tickets, a night to remember. Tickets are selling too for our own 100 club date in October, popular opinion seem's to be for us to invite a top 'Clash' tribute as support, so we probably will do. Then Back to America for us in September, with dates pencilled in for a return to California. Keep a check on the 'tour dates' page as gigs are being added, & sometimes swapped around all the time, please check with us or the venue before travelling out
.
Plan's are to finally in place to release the live dvd from Dallas, it was a great show in a great venue, & includes all the song's you'll want to hear with sound straight from the sound desk. 'Live from Assassination city' will be available at gigs & on the 'store' page soon.
Also new to add to the 'store' will be a new c.d, something the band have always steered away from in the past, referring anyone wanting C.D's to go buy the 'Bollocks' album. But we have gathered up some good recordings recently, with many venues offering to record show's for us, so we're going to air some tracks from different gigs, including music from Seattle's Studio 7, & Baltimore's Rams Head gig, we're also adding some footage from the Jonesy's jukebox sessions, with Steve Jones back in February. Some more of our ever popular G.S.T.Queen T-Cup mug's are coming by the end of June, and we have our new 'Somewhere Boring' white tour t-shirts on the way, featuring the pretty vacant busses, all coming out soon.!!
<![if !vml]> <![endif]> 08/05/06 100 CLUB RETURN DATE THURSDAY 12th OCTOBER SUPPORT TO BE ANNOUNCED http://www.the100club.co.uk/ tickets: http://www.wegottickets.com/event/11460
<![if !supportEmptyParas]> <![endif]> 11/04/06
<![if !vml]>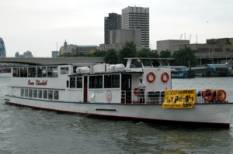 <![endif]>
Just a side note being as we're getting asked lots..
No, I'm afraid there will be no river boat party this year, due to the ever increasing pressure from the London river authorities regarding the noise levels, we decided rather than risk giving them the power (through gaining enough complaints from riverside residents) to ban all live music on the Themes after 8pm, and risk the 'Queen Elizabeth' boat owners loosing their licence to operate, we decided to call a halt to it this year... in favour of doing it next year instead!! So next June, being 2007, will be the 30yr anniversary of the trip, and we've got the vessel (pencilled-in) booked. Then that will be the last ever Sex Pistols boat trip,..Well by us anyhow, but I can't imagine anyone else pulling it off successfully in future, certainly not on the Queen Elizabeth boat. So we'll make that a good send off.
<![if !supportLineBreakNewLine]>
<![endif]> Also, Thanks to everyone who turned out to the 100 Club gig, we didn't make it into the party it was.. you all did.! Aside from a couple of dickheads who just didn't 'get it', it was great fun, & hopefully a memorable night? We lost it a bit, and dropped a couple of 'clangers' as the beers flew, & the monitors got ripped away from the stage, Johnny lost his voice through not having monitors anymore & having to scream the songs out to hear himself, but that's rock'n'roll..! There's a fair chance we'll do another at the '100 Club' before the years out.
<![if !supportEmptyParas]> <![endif]> <![if !supportEmptyParas]> <![endif]> <![if !supportEmptyParas]> <![endif]> 05/04/06
<![if !vml]>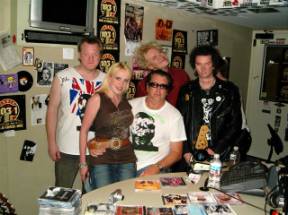 <![endif]>
The January U.S.A tour was a blast, we had an amazing journey and met some great people along the 5 week tour, none more so than Pistols guitarist 'Steve Jones' who invited us over to appear as special guests on his L.A. radio show 'Joney's Jukebox', an obvious highlight of the tour, along with playing the Cain's Ballroom, & getting a look around the Longhorn Ballroom in Dallas.! (Photos & transcript can be found on the 'Jones Jukebox' & 'Tour diaries' page.) The next U.S.A tour is set now on to commence from May 3rd, covering the north-eastern side, with a few dates still up for grabs...as follows:-
05/03/06 Wed PA Kingston Backstage Enterprises CONFIRMED
05/04/06 Thu MD Baltimore Rams Head Live CONFIRMED
05/05/06 Fri
05/06/06 Sat
05/07/06 Sun OH Cleveland/Struthers Beachland Ballroom CONFIRMED
05/08/06 Mon PA Pittsburgh (Millvale) Mr Small's CONFIRMED
05/09/06 Tue Travel Day
05/10/06 Wed NC Charlotte Amos' Southend CONFIRMED
05/11/06 Thu WV Huntington The Monkeybar PENDING
05/12/06 Fri Travel Day 05/13/06 Sat NY New York City BB King's Blues Club CONFIRMED <![if !supportEmptyParas]> <![endif]> After the U.S.A tour the band will head over to tour Spain/Portugal throughout June 06'. Taking in many of Spain's major cities, north & south coast, and many towns in-between. Dates will be updated on the 'tour dates' page as they come in. The remainder of the summer will be mostly playing around the U.K. September is California & U.S; Autumn will see a more thorough Germany tour. There are other plans for tours too, but more on that when we have some confirmations.!? The Cavern Club convention (4/3/06) was an 'interesting' day, cool to catch up with everyone, and say 'hello' to original pistols bassist 'Glen Matlock', we enjoyed ourselves although a few of the days plans seemed to not work out as intended, & despite our van breaking down along the M62, with a little help from the A.A, we did mange make it onto stage as planned, and although struggling with a terrible on-stage sound mix, played the set to an enthusiastic response. We wish the Cavern the best for the future conventions, and hope you all enjoyed the day. <![if !supportEmptyParas]> <![endif]>
<![if !vml]>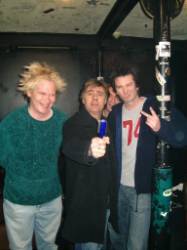 <![endif]>
<![if !supportEmptyParas]> <![endif]>
Thanks to all who turned out in York (11/3/06) to make for a sell-out show at the Barfly venue, door staff having to turn people away at the door (we've said it before, but please try get tickets in advance where possible to avoid missing out?) The Barfly venues in Birmingham & Cardiff have booked the S.P.Ex, so hopefully we'll have a similar story to tell from there later? The York gig made for a good send off for S.P.Ex guitarist 'Steve 'Tony' Clones', who's decided that touring wasn't for him and wished to settle back into a normal life, we wish him all the luck, & welcome along our new recruit 'Steve 'Dave' Clones' who'll be playing his first show at the 100 Club show, & joining the ranks full time from May. Dave is a very accomplished guitarist & sights Jonesy's as his main influence, coming from a healthy pedigree, who amongst other things, has previously lent his guitar services to Glen Matlock, including a rehearsal in the early days of the Philistines, that aptly took place off Denmark St, 27 years after, to the day, that Anarchy in the U.K was released!'' And he came recommended from good reliable sources to be the new 'Steve Clones' !!? <![if !supportEmptyParas]> <![endif]> A big thanks to our stand-in's Steve'Nick'Clones who'll be helping us out again soon. And 'Paul' who covered the Germany mini-tour at short notice (one half day rehearsal!) and did the best he could under the circumstances, but we apologise to the German audience if it wasn't up to our usual high standards, it was either that, or cancel the tour.!?
<![if !vml]>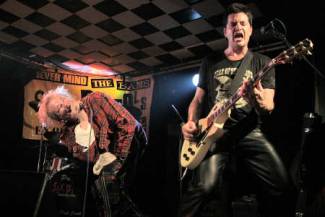 <![endif]>
Steve 'Nick' Clones, on duty in London recently
<![if !supportEmptyParas]> <![endif]> The Sex Pistols Experience will be releasing two live DVD's in the near future. Firstly the Granada Theatre show in Dallas, Texas, from the 2nd date of the January usa tour was professionally filmed, with inserts of the band hanging out around Dallas, and with sound directly from the mixer desk, a snippet of the gig, 'No Feelings', can be seen on the 'Audio' page, the full show on DVD should be ready during May. <![if !supportEmptyParas]> <![endif]> Secondly, a deal has been done to have the London 100 Club 30th anniversary show filmed & recorded, the DVD footage will be available from a well known high-street music & video store, & and our own 'Store' page as soon as its ready. More information on its distribution will follow shortly, check back here soon. <![if !supportEmptyParas]> <![endif]> <![if !supportEmptyParas]> <![endif]>
The 100 Club, Oxford street, London
<![if !vml]>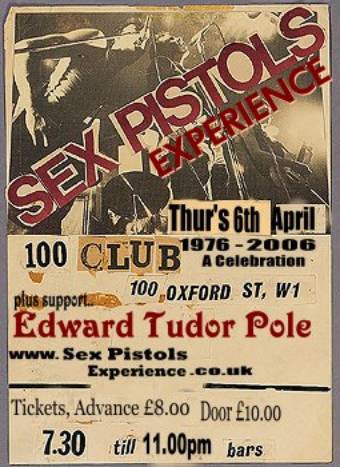 <![endif]>
<![if !supportEmptyParas]> <![endif]> Although the Sex Pistols had played a hand-full of dates before, the '100 Club' is regarded as the birthplace of the beginning of the punk rock movement. The venues heritage is as famous for the Pistols & punk music as the Liverpool Cavern Club is for the Beatles. Between March & September 1976 the Sex Pistols played the 100 Club a total of ten times. The infamous 100 Club 'Punk festival' on September 20th/21st 1976, bringing together the Pistols, The Clash, Subway Sect, & Suzie & the Banshees (with Sid on drums) was the very last time the music of the Sex Pistols was played live down the 100 club, as during the 2nd night, the 21st, Sid lobbed a glass, smashing it accidently onto a concrete pillar, and blinding a girl in the crowd, leading to the banning of any such bands, (including the Pistols who were in Cardiff at the time!) from ever playing there again. The 100 Club have since never looked back, always being known to look forward, to find, & promote the latest up-and-coming bands to play there, be it jazz, indie, whatever, Punk bands & the music became a thing of the past as far as the 100 Club were concerned. However this coming year, 2006, & exactly thirty years down the line, the clubs legacy will not fade away, and so the time is now right to propose a Pistols/100 Club recreation! But with as much chance of getting the Sex Pistols back to play, as the Cavern have of getting the Beatles back together, the venue have called upon the services of the 'Sex Pistols Experience' to help the '100 Club' celebrate its heritage & past for one last time! Ideally the date would of been March 30th, 30yrs to the day since the Pistols first played there, but as the S.P.Ex will be in Germany that week, so the next nearest available date has been set. Thursday 6th April, 2006, will see the 'Sex Pistols Experience' perform their full set live, loud & proud down the 100 Club, in a celebration & recognition of the importance the music once had, and still has today, continually influencing the latest teeny-punk copyist the world over.
<![if !vml]>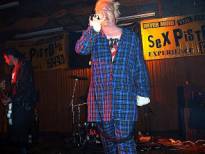 <![endif]>
<![if !supportEmptyParas]> <![endif]> So if you fancy being part of the party, embracing the legacy left behind of those hazy, crazy day's of 1976, come along for a night in London's famous '100 Club', book the Friday off work, and let your hair down (or 'up'!?) and join us for what will be a hot, sweaty, ear-achingly great nights recreation of the 'Sex Pistols, live at the 100 Club' for just one more time. Then you'll really be able to say " I Swear I was there..!" We expect demand to be high in London as the boat trip probably won't happen this year, so, Tickets are strongly recommended in advance, priced £8.00, or (if there's any left on the night?) £10.00 on door. Door's open 7.30, support will come from our good friend, former (all-be-it short lived..) ex Sex Pistol, & star of the Great rock'n'roll swindle movie - 'Edward Tudorpole', who'll warm you up with his own unique one man & a guitar show.! He'll be on stage 8pm sharp, S.P.Ex on stage at 9.pm sharp. Venue closes at 11.pm To get your adv tks go to http://www.wegottickets.com/event/7934 Enjoyyy..! <![if !supportEmptyParas]> <![endif]> <![if !supportEmptyParas]> <![endif]>
<![if !supportEmptyParas]> <![endif]>