3rd  August 2005
Filming 'Death by excess' for Sky1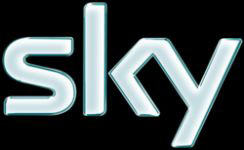 Filming was completed during July 2005 for the Sid Vicious episode of 'Death By Excess' a series shown on Sky1, each episode detailing how the excessive lifestyle of various rock stars lead to their untimely passing, featuring the likes of Jimmy Hendrix, John Bonham, & Jim Morrison. 'Kid Vicious & Nancy Pungent' played the part of the two departed Punks arrived at the studio's just after a looki-alike Curt Cobain had blown his head off again, a few minutes in the make-up chair and Kid & Nancy were looking like they'd not slept for a month, with heroin tram-lines, blackened eyes, looking drugged up & weary, they took to the studio floor with a passion, re-enacting the murder scene in room 100 of New York's Chelsea hotel, with all the drug's, mess, and mystery surrounding the death of Nancy in October 1978. Also with graphic scenes of drug abuse, Sid 'self-harming', and strumming a bit of Bass guitar, it all looked good, with the whole studio bursting into spontaneous applause upon the director's shout of "It's a wrap"
<![if !vml]>

<![endif]><![if !vml]>
<![endif]><![if !vml]>

<![endif]><![if !vml]>

<![endif]><![if !vml]>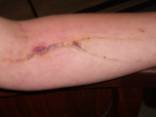 <![endif]>
<![if !vml]>

<![endif]><![if !vml]>

<![endif]><![if !vml]>

<![endif]><![if !vml]>

<![endif]>
Want Bigger Pics? All these are available in the Photos Part of Our Site
<![if !supportEmptyParas]> <![endif]>
Toward the end of the day's shooting Sid Vicious biographer Alan Parker called by to say 'Hello' and cast his eye over the reconstruction scenes. Looking suitably impressed, but saving any constructive criticism for his own project, when in summer 2008 filming began for 'Who killed Nancy' featuring members of the 'Sex Pistols Experience', with the starring roles again going to 'Kid Vicious & Ms Pungent'. Filming for that was all done by the end of October 2008 in London & destined, once & for all, to be the final word, and the truth as much as we know, on the whole Sid & Nancy story.
After the Death By Excess filming was all done, with the sun still shining, we all took a walk around Maida Vale, on a guided tour led by Mr Parker to see Sid & Nancy's old flat on Pindock Mews, and having (quite-a-few) beers in Sid's ex local pub, the same boozer where Glen Matlock & Sid came up with the idea of 'The Vicious white kids' project in July 78', which led to Sid's only ever u.k solo appearence, the 'Sid Sod's off' gig at Camden's Electric Ballroom, and then leaving later that same week bound for a new life with Nancy in New York.
Onwards then after the pub shut to Alan's apartment, giving us a good opportunity to have a dig through the old Pistols memorabilia collection, certainly one of the finest collections we've seen to date, pride of place going to the A&M God Save The Queen 7"single (see below). After a good long natter, & many a laugh later, saw the band wandering off in the early morning daylight hours, completely pissed, and staggering back toward the hotel. A great day/night was had by all, and not a note played for once! We looked forward to doing it all again soon for 'Who killed Nancy'...
For more on the Sid story, try going here:- http://www.popmatters.com/music/features/011108-25up5.html
or for in-depth report on the murder etc..:- http://www.trutv.com/library/crime/notorious_murders/celebrity/sid_vicious/index.html
<![if !vml]>

<![endif]><![if !vml]>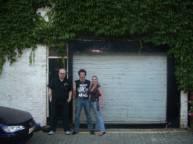 <![endif]><![if !vml]>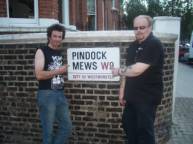 <![endif]>
<![if !vml]>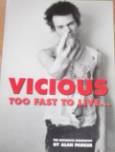 <![endif]><![if !vml]>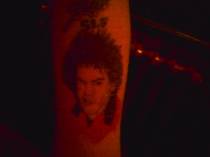 <![endif]><![if !vml]>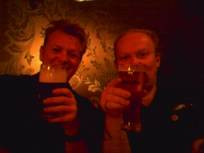 <![endif]>
Want Bigger Pics? All These are available in the Photos Part of Our Site
Sid Vicious
'Vicious: Too Fast To Live'
In July 1988, author Alan Parker, was approached by Anne Beverley (Sid's Mum) to write a book on her late son. By September 1990 Parker had written 'Sid's Way' (Omnibus Press), helped out on the set of the Alex Cox movie 'Sid & Nancy' and generally launched himself onto a path that would mean every year from then to present day included the name Sid Vicious at least twice! His 2004 publication 'Vicious: Too Fast To Live' (Creation Books) was named book of the year by NME readers. While Uncut magazine said; "This is the last written word we need on Sid, this time Parker turned in near perfection, his writing takes you inside the dark lives of Sid and Nancy".
A radio documentary produced by Wise Buddah, for BBC Radio 2, and based on the book, was voted radio doc of the year at the Sony music awards, and it pulled in BBC Radio 2's biggest number of listeners to a documentary in 5 years! But Parker's dream was a part reconstruction, part drama, documentary on Sid Vicious, in this case the final word on the subject, period.
Nobody has done more research in the last 17 years on Sid Vicious. Nobody has revealed such interesting new evidence, this documentary will even re-create Sid and Nancy's last night together, its time the REAL truth were made public knowledge...
Filming will take place (including re-constructions) in London, New York, Paris and Swadlincote!
Sid and Nancy will be played by Kid vicious & Nancy Spunked'on
(from the incredible tribute band Sex Pistols Experience) while the rest of the guys in the group will be on hand to re-enact gigs and events.
Interviews will include:
Malcolm McLaren (Sex Pistols manager) Paris
Glen Matlock (Sex Pistol)
Alan Jones (mate/worker @ 'Sex')
Steve English (minder)
Steve 'Roadent' Connolly (mate/roadie)
Peter Kodak (photographer/present on last night)
Bob Gruen (photographer) USA
Roberta Baily (photographer) USA
Ten Pole Tudor (cast member 'Rock n' Roll Swindle')
Alan Parker (biographer)
Don Letts (film maker)
Julian Temple (film maker)
John 'Boogie' Tiberi (mate/road manager)
Jamie Ried (artist)
While archive film will be taken from: BBC, ITN, Don Letts, Granada and Carlton.
We hope to start shooting in mid-October, with the Sex Pistols Experience already in the USA, it will be easier to join them out there. If this is the case we can be fully finished by no later than April 2006.
Alan
<![if !supportEmptyParas]> <![endif]>
<![if !supportEmptyParas]> <![endif]>
<![if !vml]>

<![endif]>