22nd June 2005
Well we got away with it!!! (Boat Party Review)
The River police didnít arrive, no one got arrested, and we're all recovering from big hangovers, and knackered from the longest day & night in rock n roll history!! Having been knocked up for breakfast at 8am at the Gillingham hotel Saturday morning, we set off the hour drive to London with Ed' Tenpole Tudor keeping the band's spirits high, & entertained with tales of past exploits all the way to the 'Spice of life' pub in Cambridge Circus, central London, Sid Vicious' chosen hang-out during his pistols days in London, where he met Nancy, also used in filming of Alex Coxís Sid & Nancy' movie. The Sex Pistols Experience met up with Alan Parker (Sid biographer), Ray Morrissey, Phil Singleton (www.sex-pistols.net) for a few 'liveners', before all heading down to the Thames to board the 'Queen Elizabeth' to set up the equipment for the 2005 Queens Birthday Boat party.
<![if !vml]>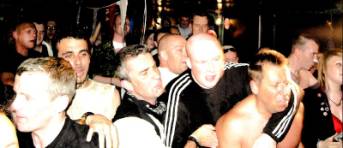 <![endif]>
It was good to see so many familiar faces in the queue, many coming back for more after last year, as well as welcoming aboard well known Clash roadie 'Rodent', 'The Bips' all the way from Holland, Neal, the top guy, & staff of Sony music, responsible for the re-release of the 'Swindle' film, (thanks for the freebies!) Brian Jackson (also thanks for the Freebies!), Vic of Punk F.M., Mick O'Shea (go buy his pistols book!) The Daily Star newspaper group (see at the bottom of this page!) Channel 5, who are producing a tribute documentary about the life of Dave Goodman, who as you may know became a friend & guiding advisor with the Sex Pistols Experience early day's also, Craig, of Anorachy in the U.K (see links page) Steve Diggle of the Buzzcocks sent us a text message to "wish us luck" with the gig, unable to make this years trip after having been whipped off to Spain on a surprise holiday, so his ticket was up for grabs & quickly taken by one the 20 odd followers who came down from the 'kings Arms, Acton, (cheers Lee!)
<![if !vml]>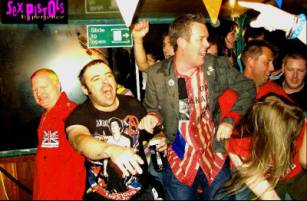 <![endif]>
We were soon loaded up, with every ticket gone, 150 capacity of Sex Pistols fans, and sailing off west along the Thames, under Westminster bridge & past Big-Ben & (arses at the ready...) the parliament buildings, into the sunset. Time for a few beers and catch up with everyone since last year, Ed Tenpole Tudor started the warm up spot for us, but was cut short after busting a couple of strings, worked loose no doubt from last nights show in Gillingham? He turned out a cracking performance as ever, full of energy, jokes, quips & one liners, "25 years later, and STILL NO FUTURE!!", & "If there was No Future then, - what we all doing here!??". His new single to be 'Made it this far' began proceedings, followed by more new songs, expect a new album out later this year, he's writing new material now, and the boat party punters were the first people to hear some of them. A 20 min interval whilst Nancy fleeced fivers for the 'raffle', look out for Nancy in Alan Parkers Channel 4 film 'Too fast To Live', the documentary based on his last book, revealing new evidence surrounding the life & death of Sid & Nancy. The Leading role's going to the Sex Pistols Experience's 'Kid Vicious' & merchandise girl 'Nancy spunked'on', filming begins in London & New York this summer, and once the Sex Pistols Experience had fired up into 'Wanna be me, Lazy sod, New York, it was easy to see why Alan was so impressed he decided to use the whole of the band for pistols footage & soundtrack recording!!
<![if !vml]>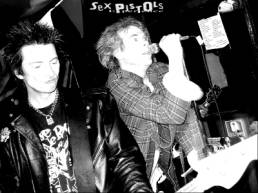 <![endif]>
People were soon falling around in the tight confines of the Queen Elizabeth, beer, spit & saw dust, bodies slipping over in a heaving sweating mass as 'God Save The Queen' blasted out, quickly followed by No Feelings, Pretty Vacant, Liar, it was soon too hot, lights throwing out more heat, the low roof leaving little room for jumping about, piles of sweaty bodies tumbling over the monitors down the front, E.M.I, Problems soon followed, & by the time the band got to 'Anarchy in the U.K' it had all reached fever pitch, Johnny knackered, clothes all torn, retired out the back, as 'Kid Vicious' had to strip off, bare chested, with padlock swinging, ripped into 'Somethin' Else', 'Come on Everybody', Steve Clones was next with 'Silly Thing', "'Where's my Nancy'" echoed out the P.A to the opening chords of 'Wanna Be your dog', Sid joined on stage once again by Nancy, Rodent (Clash roadie & old friend of Sid Vicious) stood right at the front, looked visibly moved seeing his old mate there in the dim light once again, skinny, & snarling out the words with Nancy swigging out of a vodka bottle & joining in on the chorus..." I just Wanna Be you Dawg...". 'Born To Loose' was next, the old Heartbreakers song from the 'Sid sings' album, reminding everyone how it must of been in 1978 at the Electric Ballroom, Nancy wrapping herself around Kid, sharing the mic on the chorus again.
<![if !vml]>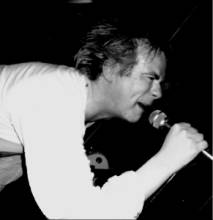 <![endif]>
Just as everyone thought that was it...out came the opening bass line and massive drum roll from 'Paul Crook' as 'Swords of a Thousand men' took everyone by surprise, Ed' Tenpole Tudor leaping out on stage, full of energy, everyone aboard singing along, echoing under parliament bridge into the city lights once again as we docked back at embankment, that was it...time had ran out, there was still songs to do, 4 or 5 more had been penned onto the set list, but they'll have to wait now until the next Sex Pistols Experience show!
<![if !vml]>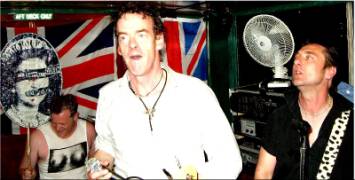 <![endif]>
The trip seemed a massive success, full to capacity, many leaving before even checking their raffle tickets! All the prizes being quickly handed out, as everyone began to disembark the 'Queen Elizabeth', much of the nightís events captured on film by channel 5, and various video cameras during the night. As the people wandered dazed, sweating, up embankment pier, the band staggered into the van, called in at a late night off-licence & kebab shop, then headed out to 'Tenpole Towers' to begin what was to be an all night party, digging through Ed's record collection, knocking back wine by the bottle, laughing, getting pissed, before falling into various states of unconsciousness in the daylight hours all over Ed Tenpole Tudors house!
<![if !vml]>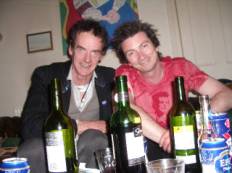 <![endif]><![if !vml]>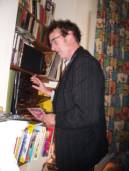 <![endif]>
Thanks to everyone who came along, especially those who'd travelled so far from the likes of Aberdeen, Holland, Bolton, Italy, Ray Morrissey, who had tickets to see Download festival with Black Sabbath & Velvet Revolver, but chucked em in to come on the Sex Pistols Experience boat trip!! Cheers to you all.... Will it happen next year???? ....Fuck knows!
<![if !vml]>

<![endif]>
| | |
| --- | --- |
| <![if !vml]><![endif]> | <![if !vml]><![endif]> |