23/12/11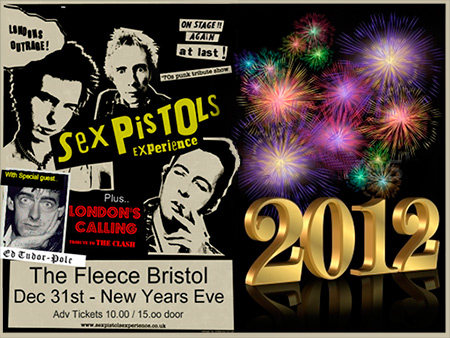 So we just wanted to say a big thanks to all the Pistols fans who've supported us over our tenth year of activity. 2011 has been another great year for us filled with live shows in Pubs, clubs & for the first time a few Theatres, also some great festivals, & lots laughs & fun along the way, & we hope you enjoyed yourselves half as much as we did.
Before we get down to business in 2012, we're seeing out 2011 with a New Years Eve bash at the Fleece in Bristol with our now regular special guest 'Ed Tudor Pole' + 'London's Calling' - we know some people are travelling far & wide to come along to Bristol, with fans coming from South Wales, London, Birmigham & wherever else.. we hope you can make it along too, but if not - we hope see you at one of the upcoming shows over the coming year. There's already loads booked & confirmed, & many more shows coming on an almost daily basis, so please check back regularly to our dates pages, save this site to your 'favorites' tab, or mail us with your local venues & suggestions & we'll see if we can make it happen.. you can also keep bang upto date on our facebook pages :-
www.facebook.com/sexpistolsexperience

New Years Eve 2012..
The Fleece, Bristol
Sex Pistols Experience + Ed Tenpole Tudor
+ London Calling (The Clash)
New Years Eve party for all the Bristol Punks who supported the Punk gigs at The Fleece over the last year..
The Fleece,
12 St Thomas St,
Bristol, BS1 6JJ
www.thefleece.co.uk/
Advance tickets £10.00 from Ents24 LINK
20/12/11
Our Birmingham date on Saturday 25th February has been switched from the (hopelessly useless & unhelpful) HMV venue to the far better Birmingham Ballroom www.birmingham-ballroom.com still on the same date & with special guest 'Ed Tenpole Tudor'. Advance tickets are "very advisable" from the above venue website.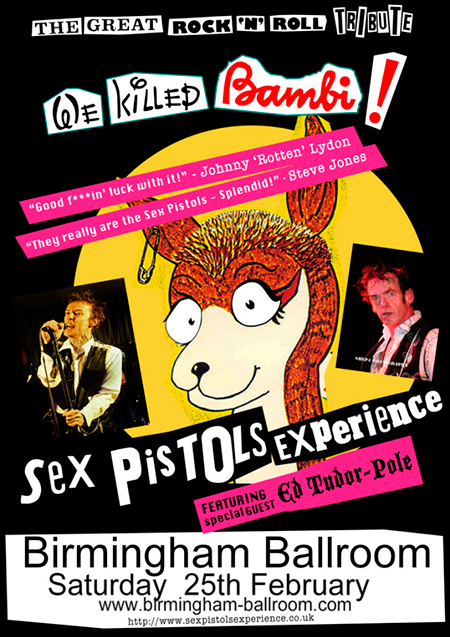 17/10/11

This Autumn, the two surviving members of (Johnny Thunders &) The Heartbreakers return to the UK, some 35 years after they first arrived from the USA for the 'Anarchy Tour'
with the Sex Pistols, Damned & Clash.
WALTER LURE, guitarist, co-frontman and songwriter of many of the 'L.A.M.F.' classic tracks, and BILLY RATH, the bass-player who's reappeared after over 25 years out of the music scene, have both announced UK tour dates. But although they've played together recently in the USA,
their UK dates have been booked separately – coincidentally over consecutive weeks!
BILLY RATH has teamed up with STEVE DIOR, of London Cowboys and Sid Vicious & The Idols fame, along with Sex Pistols Experience drummer Paul Cook as BILLY RATH'S BROKEN HEARTS. They'll be performing the best of Johnny Thunders & The Heartbreakers, The Idols, The London Cowboys & Billy Rath's Street Pirates, on tour here: -
October 2011
20th SWANSEA The Garage SA2 0NP (w/ Sex Pistols Experience)
21st CAERPHILLY Workman's Hall CF83 1NY (w/ Sex Pistols Experience)
22nd LONDON 100 Club W1D 1LL Punk Fest (w/ Sex Pistols Experience)
23rd BRIGHTON The Hydrant BN1 4JF
25th LONDON Archangel Kensington W8 5NP
26th LONDON Boston Arms Tufnell Park N19 5QQ (+The Skuzzies +Role Models)

Walter Lure's show's in November 2011
3rd NOTTINGHAM The Old Angel NG1 1LG (+ The De Rellas)
4th LONDON The Purple Turtle, Camden NW1 1TN (+ The De Rellas)
5th BIRMINGHAM Actress And Bishop B3 1EH (+ The De Rellas)

15/10/11
'Billy Rath & the Broken Hearts' had a great time over their handful of u.k live dates, both Billy Rath & Steve Dior are in the process of doing some studio time with a view to getting some new recordings out, in the mean time both wanted to say a big 'thanks' for the warm welcome they recieved after their long absence from the live scene, & hope to be back for more live shows in 2012. There's a handful of tour T-shirts left over available now on the store page.
Please state your size when ordering, Medium / Large / Ex-Large. LINK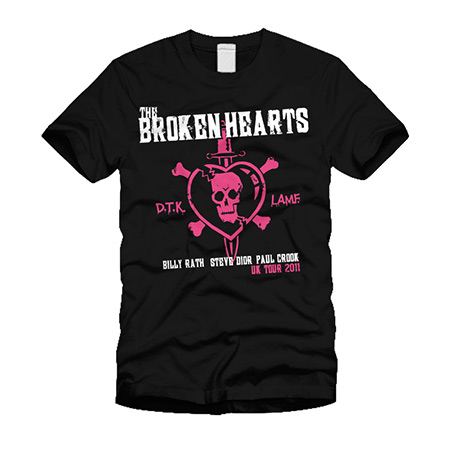 07/10/11
The Sex Pistols Experience studio version of 'Anarchy in the u.k' has passed over a thousand downloads on amazon & is quickly increasing - we make bugger-all out of the sales, but still, nice to know the younger generation of fan's out there (who know how to download songs) appreciate it.!

www.amazon.co.uk


05/09/11
CAERPHILLY WORKMANS HALL 'Friday 21st october'
35th Anniversary of the infamous Caerphilly Castle Cinema gig.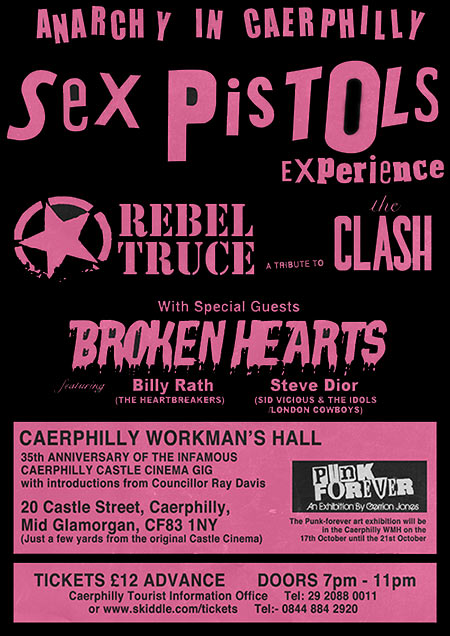 25/08/11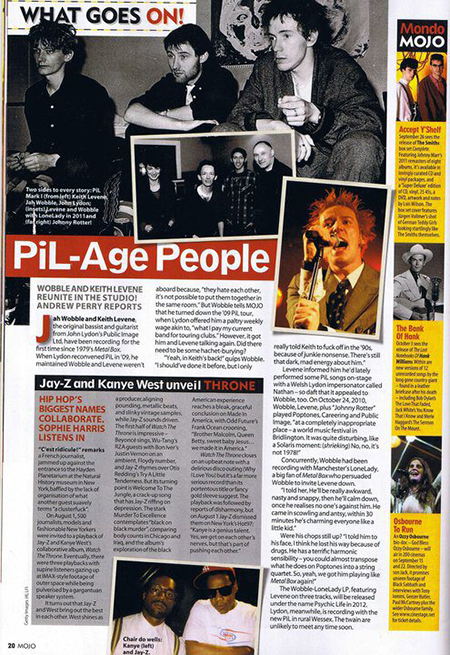 A 10 date tour of Japan for Jah Wobble - which will include a P.i.L section with special guest appearences from Keith Levene & our very own Johnny Rotter - is planned for Febuary 1st to the 11th 2012. See dates for further info.
Wobble & Levene back in the studio
The October edition of 'Mojo' magazine has let the 'cat out the bag' about former P.i.l (Public Imitation Ltd?) bandmates Jah Wobble & Keith Levene getting together in the studio recently to record 3 tracks for Wobble's upcoming new album 'Psychic Life' due out in 2012. Thanks to us performing the P.i.L shows last year, & doing one or two with Keith Levene as special guest, which then brought about the reunion appearance with Jah Wobble, along with our 'Johnny Rotter' http://www.sexpistolsexperience.co.uk/pil.html , the pair have now patched up old wounds & recorded some new material, we look forward to hearing that, & who knows, if Levene can get over the past, maybe we'll work together in future..
31/07/11
If you happen to be around London on September 3rd, Soundcheck books are having a book reading from 'Young Flesh Required' and author Q&A with Alan Parker at Rough Trade West, 130 Talbot Road London, W11 1JA. T: 020 7229 8541 from 5 to 6.30 pm - thats the 3rd Sept'. www.sexpistolsexperience.co.uk/youngflesh.html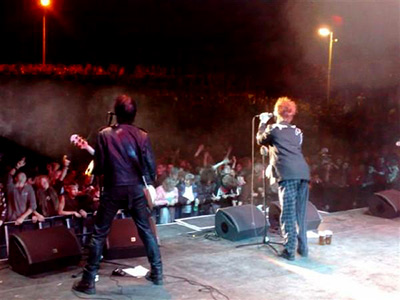 The Sex Pistols Experience are making a few choice festival appearances during the coming summer 2011, we got off to a good start with the Veusseleir Calling (Belgium) in March, & The Dirty Dozen festival (Cumbria) back in April, more will possibly be added over the coming few weeks, but confirmed so far over you can catch the band at the following summer festivals..

15th July – The Shed Weekender, Peterborough www.shedmag.com
16th July – Guilfest, Guilford, Surrey www.guilfest.co.uk
6th August - Old Punks Festival, Prague, Czech Republic www.oldpunx.cz
20th August – Biker/Tattoo festival U.K (secret location)
28th August – Mathew Street Festival, Liverpool www.mathewstreetfestival.org
22nd October – Punk Fest'2, London www.wegottickets.com


No, we're not doing Rebellion. We've been asked in the past, but a suitable deal seems to be not forthcoming, so for this year at least – we won't be there, so please stop asking us.. - ask them!
18/05/11
Big thanks goes out to uber Pistols fan, & Jonesy fanatic 'Big Bobe' (who we christend Fatty Jones) for helping us out on guitar duties recently. You may of spotted our friend from the highly rated Edinburgh punk band 'The Threats' standing in on guitar for us at recent shows, this was due to our regular guitarist 'Steve Clones' rounding off 3yrs of hard study with some intense exams at his university degree, which finally, & thankfully (for him), came to an end this week. Unlike Steve Jones - our Clones did learn to read & write.! So if anyone out there wants to know anything about the history of World War 2 - Clones is your man! Cheers Bobe - job well done.!
Catch 'The Threats' at Rebellion & the 100 Club (with us) in October.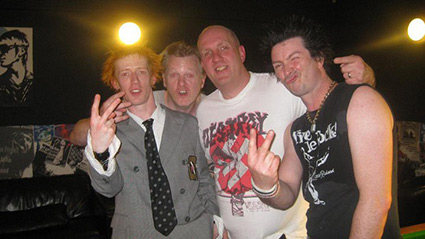 05/05/11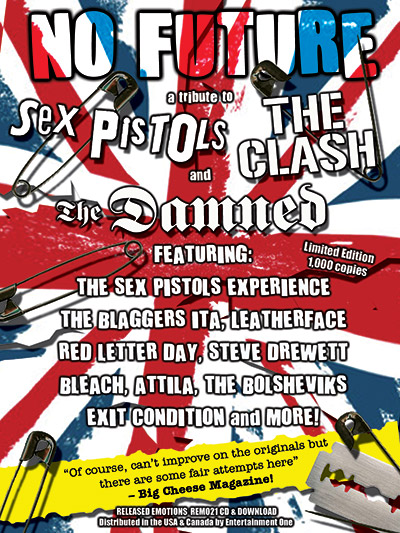 'No Future' for the USA.!
'No Future' the tribute album on which the 'Sex Pistols Experience' contributed two recordings is due for release in the USA & will be available from 9th May 2011 in the US & Canada, distributed by 'Entertainment One'.
The album of Pistols/Damned/Clash covers was picked up for US distribution due to good reviews in the US media, Entertainment One are a major US Indie music distributor & will be getting it onto the music store shelves & on-line this week. A promotional tour for the Sex pistols Experience is being planned for later this year/early 2012.

20/04/11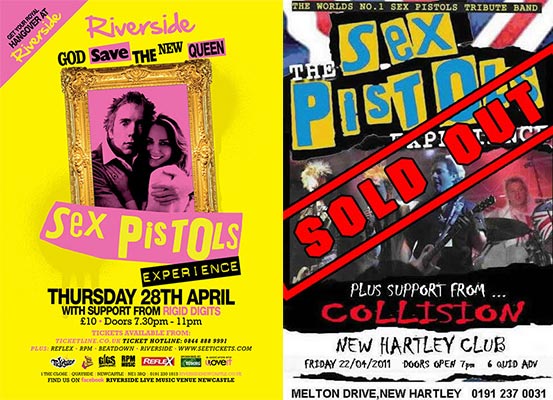 One of the most respected & leading newspapers in the U.K - 'The Times' are giving the 'Sex Pistols Experience' bit of coverage next week, they're running a feature on activities under the "Alternative Royal wedding weekend" banner, & will be recommending our gig in Hertford Corn Exchange due on April 29th - the night of the "Big day', as something alternative to do if (like us) you couldn't care less about the 'Royal Wedding'.?

So to round off April 2011 we head up to a 'Sold-Out' show in Whitley Bay this weekend -please don't turn-up hoping to get in to the gig - you won't. If your in the north-east then get tickets for the Riverside or O2 Academy shows coming up instead. Then its up to Dundee, & Bathgate, Followed by Thursday 28th April - Newcastle Riverside 'Destroy The Royal Wedding' with 'Rigid Digits', Advance tickets from the following LINK

Friday 29th April - It the one everyone's talking about, Heartford Corn Exchange, advance ticket LINK
Saturday 30th April we'll finish up in The Box, Crewe, with support from '4Jerry' who're laying on a bus for anyone travelling in from North Wales, see their FACEBOOK LINK
its only £8.oo advance ticket, or pay on the door

07/04/11
The Sex Pistols Experience have some exciting plans up our sleves for later this year, last year 2010 was in fact our tenth anniversary, but we forgot to celebrate it - so we're gonna do it this year instead, 2011 is our 11th year of existance but we're gonna celebrate like it was our tenth!! Ten year's of blowin smoke up the arse of the Pistols - how cool is that.? We didn't want to play all the usual dark & dingy Rock clubs & bars we usually do, we wanted to offer something a little bit special to all our friends & fans throughout the u.k to help us celebrate in style.! So we got our heads together & began to hatch a plan for a full 'U.K National Theatre tour' for the Autumn/Winter of 2011, into 2012.

We figured it'd be a nice treat for you not to have to stand around in some sweatty club getting beer spilt all over you whilst being shoved about by pogoing Punks, this way you can relax in the friendly atmosphere of some of the finest Theatre's in the land -sipping cocktails in the bar (or pints of beer with us) & then sit (or stand in some venues) in the comfortable surroundings of plush carpeted & reclined seating auditoriums & enjoy the show as it unfolds infront of you..
We have so far arranged a few special Theatre shows with some club gigs between, plus many of our favorite friends & special guests coming along to join the fun. Many more will be added over the coming weeks, but dates confirmed so far are:-


2nd July - Newcastle O2 Academy, with special guests 'Rebel Truce' (The Clash)
2nd September - The Renfrew Ferry, Glasgow, guests TBC
3rd September - Musselborough Town Hall, Special guests 'The Threats'
(with 'Bobe' who's been helping us out on guitar duties lately)
16th September - Buxton Opera house, + 'Ed Tudor Pole'
17th September - The Pavilion Theatre, Worthing + Ed Tenpole Tudor
22nd September - The Brickmakers, Norwich
23rd September - The Twist Colchester + Ed Tenpole Tudor
24th September - Playhouse Theatre, Harlow + Ed Tenpole Tudor
7th October - The Landmark Theatre, Ilfracombe + Ed Tenpole Tudor
8th October - The Lodge Sports Centre, Corby, Northants
14th October - Rothes Hall, Glenrothes, Fife Scotland + Ed Tudor Pole
15th October - Grand Hall, OR The Palace Theatre Kilmarnock Scotland + Ed Tudor Pole
21st October - Caerphilly Workingmen's Hall, with 'The Broken Hearts (Heartbreakers), & Rebel Truce (The Clash)
22nd October - London Punk Fest2, 100 club london + Rebel Truce, & 'The Broken Hearts' + The Threats + 4Jerry + Setting Sons
28th October - The Exchange Studio, Maidstone, Kent + 'The Broken Hearts'
29th Ocotber - Kingsmeadow Stadium, Kingston South London + The Broken Hearts & Rebel Truce (The Clash)
30th October - Bridlington Spa Theatre, + 'The Broken Hearts'
11th November - Birmingham O2 Academy + Ed Tenpole Tudor
12th November - The Corn Exchange Theatre, Stamford, Lincolnshire + Ed Tenpole Tudor
18th November - Theatre Royal, Wakefield + Ed Tudor Pole
26th November - Lamplight Arts Centre, Stanley, Co Durham + Rebel Truce (The Clash)

So we hope you appreciate all the hard work we're going to, to bring you - our loyal Sex Pistols (Experience) fans -the absolute best show we can deliver as a big thanks for all the support over the last ten (eleven) years.
Tickets are available now for all these shows, prices are as keen as they can be, but these shows are not cheap to put on, so we're looking at at the most £16.50 or thereabouts Theatre shows, £10/£12 in O2 Academy's, & the usual £6 - £8.00 into club shows - but we do hope you'll accept & appreciate that this is not the usual club gig we're trying to offer good value for your hard earned British pound notes & that you'll come along & join the fun, & get out & support us & the venues for what will no doubt be some unforgettable nights.! For further ticket/venue info - visit our 'Tour dates' pages.

14/03/11

Due to two festival offers over in Czech Republic the Birmingham O2 Academy show has been moved from May 21st to Friday November 11th, this later date will also allow us to add 'Ed Ten Pole Tudor' as support for this gig, and we're in O2 Acdemy 3 - so advance tickets will be a very wise move! see the dates page on November for further info.
10/03/11
Thanks to the good people of Norwich last Thursday (3rd March) for the raptuous response as we decided to give Bones'y a well deserved send off in his home town at the Brickmakers venue. We gave our first airing for this year of the 'Public imitation Ltd' show & we'll be doing plenty more as the year progresses, there'll be an announcement shortly regarding more Pistols/P.?.L gigs. We'll next be in Norwich on Thursday 22nd September, again at the Brickies, only £6.00 next time with advance tickets which will be available this week.

'The Boys' are tourning down in South America in March, & our mate Ed'Tenpole Tudor will be flying down to Blaaazill for his first ever live date down there to add his support as special guest in Sao paulo on April 16th. The SPEx should also be back to do some more live dates in Brazil during 2012. We're also making more plans for some more Pistols/Tenpole live Theatre shows right now, so keep an eye on our gigs for a live date near you..



18/02/11
S.P.E do S.A Bank ad' 'No Fun' TVC from Adelaide Oz:-
Just thought you all might be interested to see the results from our day in the studio during September 2010 when we were called upon to provide a take on the Sex Pistols version of the Stooges classic 'No Fun' for 'South Australia bank' T.V commecial, the Ad' is now airing all over the southern regions of Australia with the 'Sex Pistols Experience' blowing out millions of peoples T.V speakers! Enjoyyy....

17/02/11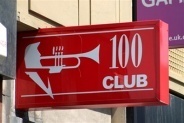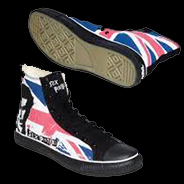 At last it looks like our favourite venue - the World famous 100 Club, Oxford St, London, has managed to be saved by a sponsorship deal with (coincidently) Sid's favourite trainer company ' Converse' http://converse.co.uk who are backing the club which we hope will see the iconic venue, & spiritual home of 'Punk' (& Jazz etc), manage to keep its doors open a good while longer.

But this good news doesn't let you off the hook.. the venue still needs people coming out to support it, see bands, & drink beer, otherwise the arrangement may well be short lived. So what better excuse do you need that to get your B&B's booked for Saturday 16th April when the Sex Pistols Experience' will tread the boards again to bring you another great nights entertainment. And what a line-up we have for you this time! Opening the night will be local '77 style Punk hero's 'Shag Nasty', who've reformed after a lay off of 32yrs.! L.A.M.F will bring you the best bits of 'Johnny Thunders & The Heartbrakers' followed by some 'Adverts' - with Punk legend T.V Smith & Lee (from 'The Price'). Then its time for the Sex Pistols Experience.

We've arranged for early doors at 7pm, & a late bar until 1am so you can get proper sozzled.! So make your travel arrangements, & get your advance tickets in now HERE
or if your in the Camden area anytime, stick this in your Sat-Nav '27 Pratt Street, Camden, NW1 0BG' & call into
'All Ages Records' & get your tickets there. Us & The 100 club really appreciate the fantastic support shown over the past gigs & hope you can get down for this one too.
www.the100club.co.uk

*This 100 Club show on Sat April 16th is to be professionally filmed for future Dvd release*
21/01/11
Well we've got off to a flying start this year, busy booking shows & festivals over the coming months & the gig diary is being updated on an almost daily basis as dates get confirmed, so please save our website to your favourites & keep checking back for a live date near you - we really do appreciate the continuing support, but more importantly the live music venues around Europe & the U.K especially need people coming out to see live shows to keep them open & alive in the continuing hard times, so please keep supporting them!!
Studs & Punks are running a fun little battle of the bands between the 'Sex pistols' V's the 'Sex Pistols
Experience' - so cast your vote & lets see how well we're doing -or not.! http://studsandpunks.co.uk - you
can also keep up with our live dates on there.
17/12/10

The Sheffield Boardwalk show due on Dec 29th has had to be postponed due to an untimely refurbishment, we hope to get a date sorted out once the venue re-opens. So for December you can catch us now only Over in 'The City Park', Kaliningrad, Russia for the Rock Xmas Tree Festival on the 23rd, we'll be back at the ex-'Cert 18' venue in York (now called 'Stereo') on Dec 28th.And finally for this year at The Railway, Bolton. Lancs (plus a Private Party for New Year - those lucky enough to be going know about it.!!)
The band want to thank all the Pistols fans throughout the u.k & Europe once again for giving us another great year of gigs & festivals - we're busy booking up dates well into next year & look forward to seeing you a again soon. "All best for the new year!" - The SPEx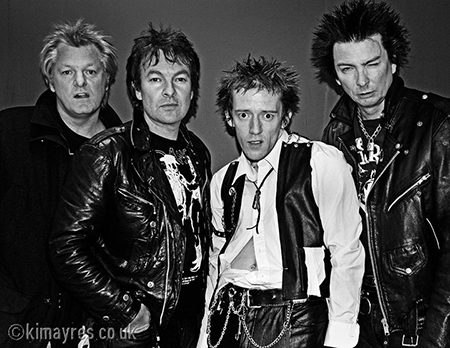 07/12/10
Just a note to wish Glen Matlock & his new Philistines band - (which now includes 'Ex-Sex Pistols Experience' guitarist 'Dave Bones' playing drums, pictured far right) the best of luck with their Canada tour, the 1st date starts 6th December, & there's planned further dates through 2011..
December 2010
6th - Toronto
7th - hamilton
8th - montreal
9th - Quebec
10th - Drummondville
11th - London (Canada)
12th - Sarnia
Then Monday 20th Dec' - King Tuts Wah-Wah, Glagow
& Tuesday 21st Dec' - London Monto Water Rats, London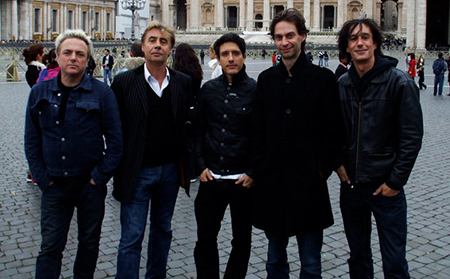 Big thanks to all those who came out to the London 100 club on Sunday 28th november to make a very memorable evening for all who were there. A fantastic atmosphere with lots of good humor made the night a joy to perform on the World famous stage once more, & we've put it down to one of our favorite ever shows of all time. Thanks especially to all those who helped or promoted for us, OPG, Anorachy especially, also big cheers for the Italian contingent, a dozen or so fans who tavelled all the way from Italy for the gig - Mucho appreciated!
Here's a little clip for those who couldn't make it.. we hope to squeeze one more show in there before the club has to close - look out for further announcements..

What a great time we've had recently, beginning with the arrival of two babies within the band! - First a little boy for 'Crooky & Nancy', & a girl for Steve Clones & his Mrs, all children & parents doing well. We wet the babies heads with a teriffic little trip over to Romania with Ed Tenpole, the people of Bucharest giving us a very warm welcome. The band were based bang in the middle of the capital city in the old town of Bucharest, & we made full use of our central location for some memorable nights out, & a sweltering hot show Club Mojo in the city. For 35yrs the people of Bucharest were subject to an oppressive communist regime that held them down & deprived them of any arts of culture, until in 1989 the people were successful in overthrowing their ruling communist leader & became free to catch-up on all that they'd missed over the years, this is one country that know's all about the word 'reveloution'! To this day arts & culture are embraced & celebrated like we've never seen anywhere before, both Ed' Tenpole & The S.P.E wanted to thank all those who came along for the 'experience', a very memorabe show for all the right reasons, we met some wonderful people afterwards, & we'd highly recommend any touring band to get their arses over there & have some fun!!
23/10/10
The reforming of the original line-up of 'Public image Ltd' came as close to happening as it ever will this weekend (24th Oct) with Keith Levene & Jah Wobble appearing on stage together for the first time in 30yrs to run through some Metal box classics, with a little help from our own frontman 'Johnny Rotter' handing the vocal duties.! The boys have had a bit of time to run through some tracks behind closed doors before making a suprise debut on the main stage at Bridlington Spa on Sunday 24th October as part of the Musicport festival. Any further shows will be announced here.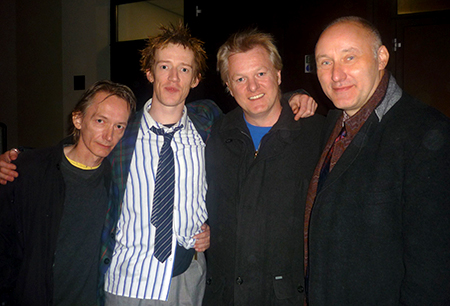 The Sex Pistols Experience will make their debut appearence in Bucharest, Romania along with special guest Ed Tenpole Tudor. We'll be at Club Mojo, Lipscani, Bucharest on Staurday Nov 13th. The gig is almost all sold out in advance so we look forward to that, & footage will no doubt appear on YouTube soon after!
Then after a 3 date trip upto Scotland (18/19/20th Nov') we're very pleased to be recreating the classic 'Anarchy in the U.k tour' line-up in the 'Box' venue, Crewe, Cheshire on 27th November. The Sex Pistols Experience team up with the top Clash boys 'Rebel Truce', & 'Born To lose' - the only Johnny Thunders & Heartbreakers tribute show. Should be good! Tickets only £10.00 HERE The next day of course is probably (& sadly) our last ever show at the legendary '100 Club' due to it's imminent closure in December. 'Early bird advance £10.00 tickets' are available until the end of October, & we hope to raise the roof one last time to give our favorite venue a good send off - please join us, if you can, for the 30th Anniversary of 'The Great Rock'n'roll Swindle'.!

December see's us traveling about a bit, from Bournemouth to Bolton, but with a 3 day trip oversea's for some quick Christmas shopping & another debut appearance on December 23rd in Kaliningrad, Russia.! We'll be headlining the 'Rock Xmas tree Mini-festival' at the 2200 capacity 'City Park' venue.