<![if !supportEmptyParas]> <![endif]>
<![if !supportEmptyParas]>
28/09/10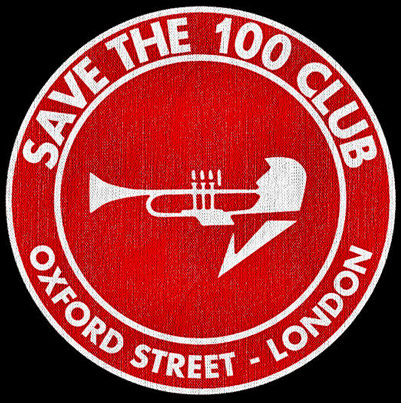 The world famous 100 Club in Oxford Street
will close it's doors by Xmas unless WE can save it.!

Our planned show at the World famous 100 Club on Sunday November 28th could well be our last ever at the iconic venue. It seems the that the fat cats of London have bled the venue dry with excessive rent & business rates, along with the current mess the economy is in is crippling many small independant venues, like The 100 Cub, which unless something happens will sadly follow the path of New York's C.B.G.B's, & others, who were lost due to the cost of excessive overheads. For further information to see what you can do to help keep this incredible venue alive see the 'Save the 100 Club' campaign here:- http://www.savethe100club.co.uk/
The venue needs people to get off their sofa's, go see some live bands, & get drinking some beer, & what better excuse is there than coming to see the Sex pistols Experience, with Ed Tenpole Tudor celebrating the 30th anniversary of the Great Rock'n'Roll Swindle.! Get you advance ticket in early for just £10.00 http://www.wegottickets.com/event/91981
17/09/10
Performing down-under It seem's coincidence has crossed our path once again, in the same week the SEX PISTOLS have officially licensed their music to a TV ad for the first time, with 'Pretty Vacant' to be used on a William Hill ad' for betting on football.. the Sex pistols Experience have re-recorded a 45 second take of the Sex Pistols (Experience) version of the Stooges song "No Fun" to be used as a backing track on a commercial for a bank, however our version will only air in Australia, but at least we finaly get to play in Oz!
'The Great Rock'n'Roll Tribute' Live at The 100 Club, London, Sunbday 28th November
Tickets are now on sale for the up-coming '100 Club' gig in London, Sunday 28th November. We couldn't let the year pass without paying tribute to the 30th anniversary of 'The Great Rock'nRoll Swindle' album which was released during 1980. So we'll be hoping to see a full house as we attempt to gather some faces of old to join the celebrations, the Sex pistols Experience will perform some highlights off the album, & star of the film, & man resposible for 'Who Killed Bambi' - 'Ed Tenpole Tudor' is on-board as special guest for the night.
We could only get Sunday 28th at the 100 club as all other dates we're taken this year, so not the ideal night for coming out in London, therfore to tempt you out we're offering advance tickets at a very resonable £10.00 until Oct 30th, then it'll be £13.00 thereafter & on the door. So book your tickets & Monday 29th off work..!
Grab your advance tickets here:- www.wegottickets.com/event/91981

18/08/10
Chart toppers

The Sex pistols Experience rose to the top reaches of the Amazon download chart with our version of Pretty Vacant which reached No6 this week (August 2010, but moves up & down every day), with the demise of the music industry generally & any worthwhile chart show long gone these days, surely the biggest music store in the World today is the only chart that counts!? So were fairly chuffed to of outsold even the Sex Pistols with their own version of the song on the Sex Pisols download chart - thats cool! Both Pretty Vacant & our version of anarchy are available on the 'No Future' tribute album on our store page HERE or individually on Amazon download:- HERE
03/08/10
Big Cheese
'Big Cheese' the independent British magazine which covers alternative music including rock, punk, and metal amongst others, has stepped out of its boundries & run an interview & quater page article on the 'Sex Pistols Experience' in the current issue, Big Cheese is out now from you local WH Smiths or on line at:- www.bigcheesemagazine.com

Studs & Punks
Any Punk rocker worth his studs will know the only place to keep up to date on all events, & their favorite bands, is on the Studs & Punks website, the home of all things Punk Rock. This month they're running an interview we did with their website, read it here:- www.studsandpunks.co.uk
Channel 4 T.V
Here's a sneek preview of a film shot for Channel 4 recenty up in Sheffied about the Sex pistols Experience, it gives a little background info & some rare behind the scenes backstage footage of the lads, it might get deveoped into a more lengthy T.v version, or it might just stay as this little 3min' wonder, either way - Enjoyyy...


The Sex Pistols Experience from Jason Pang a.k.a. Jenson on Vimeo.



Wickerman Fest'..
We had a jolly nice time up at the Wickerman festival (July 24th) it was good to catch-up again with Undertones, Tenpole, The Buzzcocks, & the many other bands who appeared alongside us. We'd like to think all those who came along to support us enjoyed it too - it certainly looked & sounded like it from the Scooter stage! If you didn't make it into the Big-top tent (we understand security were stopping people coming in due to the 3,000 capacity or whatever it was) then here's a little clip of what you might of missed, Pretty Vacant @ The Wickerman festival:-
Bones/Clones
Guitarist Steve 'Dave' Bones has decided to step down from the stage for the last time recently after an offer of a full time 'proper job' which will have him working within the record industry & after 4 long years on the road with us it was just too much of a temptation to resist.! He's now free to drink all the tea he likes without fear of us taking the piss, & we wish him all the very best with the new career. So guitar duties hava passed over to our new recruit - 'Steve 'Mark' Clones' who joins us after years of experience playing Johnny Thunders in Heartbreakers tribute 'L.A.M.F'. Being as Thunders was the chosen role model of Steve Jones back in the day made Mark the ideal choice for us! Clones hails from west London (Putney) & we hope you'll enjoy his playing & his real London accent!! However with a baby expected in October it's likely we haven't seen the last of Bones'y just yet..



" The Wickerman festival, with new recruit Steve'Mark' Clones on guitar "

22/06/10
Our good friend, & sometime special guest 'Ed Tudor Pole' continues with his quest to make the World hear his music, & has now unleashed a new wepon in his arsenal -
his new website:-
www.edwardtudorpole.com please have a look around & keep up with his forthcoming activities on there.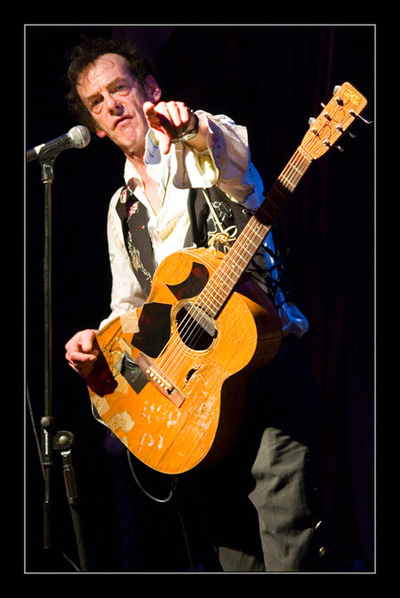 18/06/10
Those strange folks over in Thailand seem to have produced a new T-shirt which has appeared at a few shows recently, & is for sale on various on-line stores around the World. Its kind of a blend of the Sex pistols & the Sex pistols Experience, very strange & nothing to do with either of the bands, & we have no idea how this company keep on coming up with these whacky ideas - we mailed & told them several times, its of no benefit to us (or the Sex pistols) if you buy one, but hay-ho - if you like em, there you go..
And now over to Europe, those mad-cap Germans have re-issued that terrible old Dvd 'live at the 100 Club' but with new artwork, the same shit, different cover. We can't stress enough that you really dont want to be spending your hard earned cash on this film. We were supposed to be paid a flat minimal fee for the company to film us live in the 100 club 4yrs ago, a gig which was in hindsight a mistake to play & their cheque bounced! (see news item http://www.sexpistolsexperience.co.uk/100clubdvd.html ). Nobody but the production company make anything from the sales of this film after we we're swindled - so in some respects it pleases us that its crap quality - but on the other hand its a shame that the fans might waste their money on it when we'd much rather they had something that better represents the band live. There's nothing we can do to stop it being released -we've tried. So you've been warned - avoid!!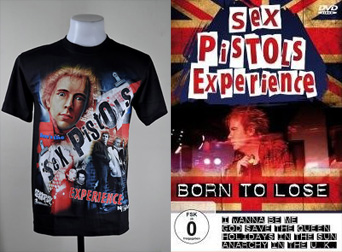 28/05/10
We made a pilgrimage to Cookes pie and mash shop whilst in London recently, the best plate full of grub a working band could wish for! The shop, which has been there since 1900, was a regular haunt of Cook'n'Jones back in the day, featured on their Dvd 'There'll always be an England', & was also a setting for the cult film 'Quadrophenia' & has served the same food ever since. Here you can choose from eels – which are available hot or jellied for £2.50, or live at market prices – and beef or vegetarian pies, served with mashed spuds and liquor, which is a fresh parsley gravy made from the stock those eels were boiled up in - Yum-Yum..!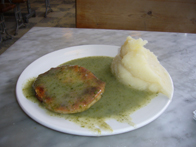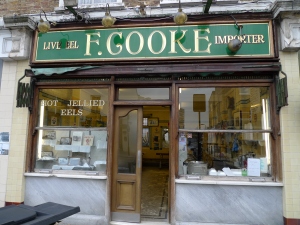 Cookes can be found at
48 Goldhawk Road, Shepherd's Bush, London.
Get yourself down there if your in london!

22/4/10
Malcolm MacLaren was buried today in Highgate cemetary London following a horse drawn funeral procession through Camden town. His coffin had been stencilled with the words "Too fast to live - Too young to die", Hundreds of fans gathered along the route by Camden Lock to pay their last respects as a green double decker bus filled with members of the funeral party travelled through Camden, which played Sid Vicious's version of My Way at high volume with an 'A' Anarchy sign of flowers hung on the back. Amongst the funeral party we're Vivienne Westwood, Adam Ant, Bob Geldoff & Tenpole Tudor amongst many others. The bus was also draped with many 'Cash from Chaos' T-shirts, & on the back a banner which read "Malcolm was here 1946-2010". - Rest in Peace Malc'.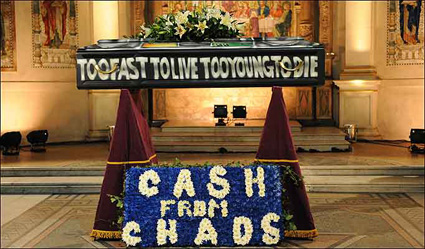 For a charity fund raising Mclaren T-shirt visit:- http://www.humanade.org.uk/
We had a great time down the World famous 100 Club, London, 15th April, always good to catch-up with so many people in one night as 'fans' travelled from far & wide to relive the heady days of Punk rock with the Pistols & the Clash in the iconic (& our favorite) venue. The Duel had warmed up proceedings getting the crowd ready for the Clash boys 'Rebel Truce' to take to the stage doing all their best stuff from the first 2 albums in-keeping with the 70s spirit. Then closely followed by our good-selves, we kept the set short & to the point leaving just enough time at the end of the night for a quick costume change as we launched into 'Public Imitation Ltd', after the first song 'This is not a love song' we brought on our special guest for the night ' Mr Keith Levene' then followed half an hour early 'Public Image Ltd' classics.! It was a real privelege for us to share the stage with such an influential guitarist & he was on good form as we ran through 'P.i.L', 'Annalisa', ,Low life', 'Death Disco', 'Memories', & 'Poptones', with one more run through of P.i.L just for good measure.. For those who missed out on the 100 Club gig, here's a review from Music-News.com :- LINK & some video shot down the 100 club is on youtube, here's one of them.:-
Italy turned out to be starved of some Punk rock, our recent visit to the northern cities of Turin & Milan brought the fans out in droves, we teamed-up with Italian tribute band 'Green Ade' & spent three days traveling about, guzzling beers, & performing at three great venues. Further plans for a return to Italy are on-going now & we expect to be back later this year. Here's a clip from Milan on April 10th:-
12/04/10
It was sad news to hear the reports on the death of Malcom McLaren over the weekend. The band were busy on tour in Northern Italy so we were unable to reply back to all the (literally) hundreds of texts & emails we recived as a result.
I don't know that there is much we can say to Pistols fans out there on the matter, as despite a few near misses, we never actually met the guy,
but our sympathies of course go to the family & friends. One thing is for certain, had it not been for the efforts & imagination of Malcolm 35yrs ago the face of popular music, art, fashion & culture in general - all around the World - would be vastly different than it is today.
Without doubt it is thanks to Malcolm that the Sex Pistols became probably the Worlds most iconic band of modern times.
Despite the bitter-sweet relations with the band at the time, had he not manouvered them, & manipulated the media the way he did, furnished them with his clothing designs, & booked shows around the U.K, Europe & U.S.A, the the Pistols might well of sunk without trace or further mention outside of London, & we'd probably be doing some shitty office job or working on a building site instead of performing the shows we do today.
With this unfortunate & untimely news in mind we'll be having a re-think over plans for this Thursdays 100 Club show (15th April), which is seemingly becoming a focus of attention for many, & will hopefully be, in our own small way,
a fitting tribute to more than just the band.
Malcolm McLaren 1946 – 2010 - R.i.p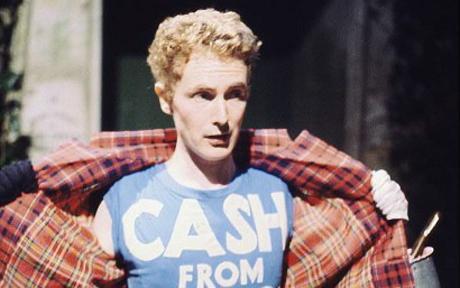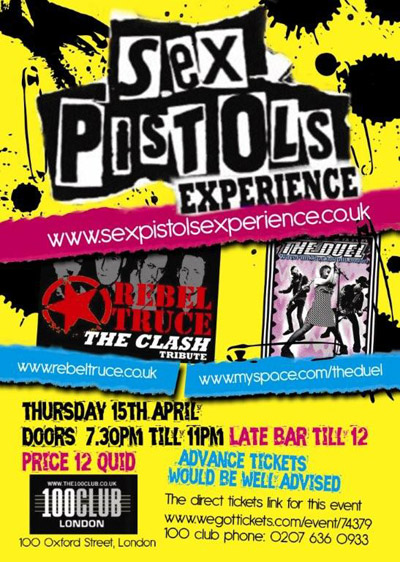 " No Future -A Tribute to the Sex Pistols, The Clash, & The Damned"
The Sex Pistols Experience, along with top Clash trib 'Rebel Truce' & London Punk favorites 'The Duel' will be hosting a party at the World famous 100 club, Oxford st, London on 15 April 2010 to launch & release the 'No Future' c.d which consists of various artists paying tribute to the top three Punk bands of the 77 era. The Sex Pistols Experience contributed studio versions of 'Anarchy in the U.K' & 'Pretty Vacant' to the album.
Available through through Cadiz Music. www.cadizmusic.co.uk
Sex Pistols Experience + The Clash (by Rebel Truce) + The Duel + a guest or 2??
Doors: 7.30pm - 11pm
Price: £12.00adv
The direct tickets link for this event:- www.wegottickets.com/event/74379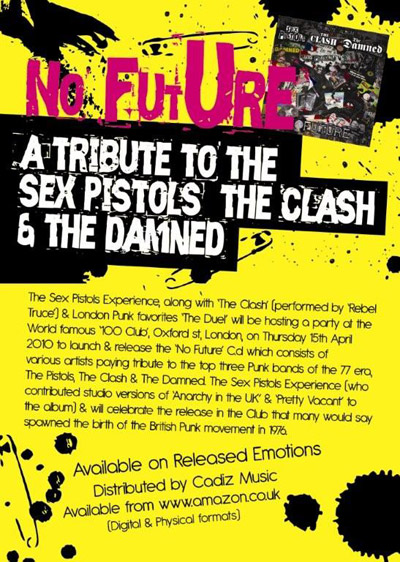 <![endif]>