First off, and lastly for 2004, "Happy Christmas" And a Massive thanks to all who came along and supported 'The Sex Pistols Experience' at all the gig's in every corner of England, Ireland, Scotland & Wales over this last year, Cheers!, hope to see you all again during 2005.
<![if !vml]>

<![endif]>
Secondly, a huge "Thanks mate", firstly, must go to 'Marc' (Kid Vicious' of Leeds) who helped us out with many shows whilst our regular bassist was busy with outside commitments. Cheers mate , you done us proud, and you were a pleasure to work with, good luck with whatever you go on to do.
<![if !vml]>

<![endif]>
Peter Kay's 'Phoenix club' was the hottest (heat wise) that we've ever had to endure, due to numbers of people, lack of beer in quick time, and the radiators probably?? and of course 'The Love Battery' whipping the crowd up in support!?? with all those classic tunes done in such fine style, big thanks to Vic of 'punk.f.m'. for the help in organizing everything. I'm sure it can't of been easy for all those attempting to mosh-about/pogo, we appreciate your endurance!! gave you all a good start towards your festive diets anyhow!? The queue at the bar was madness, and they promise more bar staff for next year!?
<![if !vml]>

<![endif]>
Thanks to everyone who travelled from every corner of the U.K to all our shows through November & December, we didn't do that many, but Newcastle, Stoke, Doncaster & Bolton were all 'Sold-out', to the point where, at some gig's recently, people had to be turned away at the door, and were, apparently, stood outside with ear's pressed up against the windows!!!? Buy your tickets in advance to avoid being stood outside in the cold would be our advice!
<![if !vml]>

<![endif]>
Were doing a 'Tsunami' charity show with several other Tribute bands on April 2nd at the 'Snooty fox' Wakefield The 'Sex Pistols Experience' will be one of the first on, around 1 or 2pm due to the fact we gotta get up to Hartlepool 'Studio' for the evening.
<![if !vml]>

<![endif]>
We would like to put out an appeal on behalf of the BBC...
The B.B.C. have been in touch with the 'Sex Pistols Experience' again, this time over proposals to produce a film documenting the Sex Pistols last u.k show (until 96) In England, when they played the Ivanhoe's club in Huddersfield. Christmas day 1977. There were two shows that day, an evening show for the adults, and a full show during the afternoon for the kids of the then striking fire fighters. There was loads of give-aways for the hard-up family's after 13 weeks of striking, including 'Bollocks' T-shirts, stickers, badges, cream cakes, even a bike!!
Independent bbc filmmaker 'Peter Spence' is already underway with producing a film documenting the events surrounding this now milestone in music history, and is keen to hear from anyone who was there on that day, in particular any of the 'kids' that attended the afternoon gig, to relate any stories, photos, memorabilia, anything of interest no matter how seemingly insignificant! Interviews have already been done with some of the '30 something's' that have come forward already and filming of what's left of Ivanhoe's club, basically just the frontage, as now the club is taken up with a 'Lidl' supermarket!
Peter will be attending one of the 'Sex Pistols Experience' gigs during Feb/march to capture some live footage, to show there's still very much a strong interest in the band today! More details on the making of this documentary can be found on:-http://www.bbc.co.uk/bradford/features
<![if !vml]>

<![endif]>
Speaking of the B.B.C, the film we took part in 'blood on the turntables-the Sex Pistols' was shown on B.B.C 2 recently, however the beeb told us they'd had to edit an extras 9minutes out for the bbc2 version, so some of our bits ended up on the cutting room floor! The fuller version can be seen repeated often on Sky's bbc3, Both Johnny & Malcolm had so much to say during interviews, the court case is a subject both can talk on length about, that there was over 6 hrs of footage! ..Plus Glen Matlock's part, & all the bits we spent two days in London filming, all to be squeezed in to a one-hour programme! So there's little wonder we get only the occasional glimpse here and there to help fill out the story. The 'rushes' (film) will be released back to programme maker Steve Crabtree soon, so we'll be able to finally get hold of the photos taken in the B.B.C's White city studios, and we will get them on this site's 'Photo's' page real soon!?
<![if !vml]>

<![endif]>
<![if !supportEmptyParas]> <![endif]>
The 'Sex Pistols Experience' are saddened to report that Dave Goodman, Sex Pistols sound engineer & producer of early Pistols recordings, suffered a heart attack and died at his home in Malta earlier this week.
Dave was responsible for the legendary recordings of '76' & early '77'. His recordings resulted in one of the most celebrated bootleg albums of the punk era, 'Spunk'. He also contributed some of the 'Swindle' soundtrack.
Dave Goodman had been in touch with the Sex Pistols Experience quite regularly over the last few months, we sent him off a box full of our live C.D's, D.V.D's, T-Shirt, (which he apparently wore proudly down his local in Mellieha,Malta!), and of course one of our tour mug's! In exchange he sent us the first copy of 'The Sex Pistols Long Lost Video's' , the new D.V.D he'd been busy working on, editing and putting together, and sent 'US' the 1st copy, to get our feedback on it, see what we thought, and return any 'constructive criticism' we might have.
It's basically fourteen obscure 'Sex Pistols' early demo's put to rare (and some not so rare) live & studio footage, due for release sometime this year, sadly, it now looks as if it'll not see mainstream release, and at the moment we seem to be the only one's with a copy!!
Dave had also given the 'Sex Pistols Experience' some helpful tips, guidance & constructive criticism to help make us what we are today. Take a look at his website off our 'links' page for a great insight, and some good stories on the pistols early days.
His last words to us were ...." Good luck with the band, Keep the spirit alive!" ... and we fully intend to!
Dave Goodman - Rest in Peace.
<![if !vml]>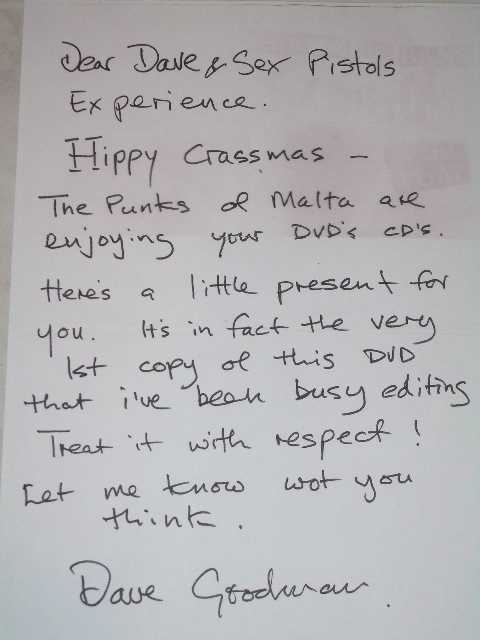 <![endif]>
<![if !vml]>

<![endif]>
So come-on all you 'Sid's' out there, if you think you can cope with the attention, gig's, travel, weekends away, beer, women (sometimes?) hotels, and of course, you gotta play bass sometimes, get in touch with us now. We're only after a 'part time' Sid at the moment, as we do have a 'stand-in Sid' who'll do most gigs for now. So its not 'Big-Time' commitment at this stage. e-mail us a couple of photo's and a bit about yourself. Past 'applicators' need not apply!
<![if !vml]>

<![endif]>
Thanks to all who came from far & wide for the Huntsman in Stoke, it's too small in there for us now, but with the best will in the world we'll keep at it, so apologies to all those at the back who couldn't see a thing?? Cheers to 'Tosh' of 'SECTION 5' for introducing us on stage when the intro C.D went 'missing'! and for doing the vocal honour's on 'Bodies' for us, great stuff...any 'Bad Manners' tributes out there short of a 'Buster Bloodvessel' he's yer man...!??
The city of York turned out in force for us, a packed and sweaty night for everyone, people travelled far and wide again, thanks to you all. Got a bit 'riotous' for a while there, but no injuries reported!? There's some good photo's on the Certificate 18 website, www.certificate18.co.uk and they had a 'record bar take' the night we played, as did Doncaster this week, suck on that 'Fibbers' of York, who ignored e-mails at their peril.
<![if !vml]>

<![endif]>
Some 'time-out' through March due to the boy's having some Holidays (in the Sun!?) but we will be squeezing in a new venue for us at the 'Top spot' hindley Nr Wigan on the 18th, and a return the The Three Tunns in Gateshead on the 26th, get there EARLY to avoid being left out in the cold, like you may of been last time!!??
We have a busy April coming, with some new towns for us to visit, The Welsh harp in Gloucester, Wharfdale Rugby club nr Skipton, Cannock's L.A Rock Cafe, The Ferryboat Norwich, and two London shows at the Standard in Walthemstow & The Kings Arms in Acton, all getting a taste of the 'Sex Pistols Experience' for the first time, so we look forward to welcoming some new faces to the fold.
<![if !vml]>

<![endif]>
O.K....O.K... The Dave Goodman D.V.D, ...your all wanting to know, we've had so many e-mails over this, we try to reply to everyone but it's getting impossible, so i'll answer you here as best i can at the moment. Dave Goodman sent us his 1st copy of the D.V.D he'd been busy editing, for us to take a look at, and pass on any thoughts back to him. It doesn't at first glance appear to be anything more than the 'Spunk' demo's put to various clips of the pistols live, to me, much of it doesn't work. As Glen's bass playing over image's of Sid out of it in Winterland, and likewise in Sweden, 'So it goes' video, the three promo video's, all with the early sound demos over the top just don't work!? And I told Dave so. It's just bits from gigs here-and-there, all the way through, not all of it 'early stuff' as stated on the box. But never the less, it's well put together, and worth a look, and most likely has un-seen footage in there somewhere (?) but not much of it, and I don't have 'every bit' of video footage they ever did, like I know some of you have, and would most likely be better judges of it than me.
We're left in the difficult situation of having this footage, and we appreciate that Dave saw fit to send it to the 'Sex Pistols Experience' over anyone else for our opinion, and I appreciate that you all out there want to see it, and I don't want to be the one who say's you can't, but, I also don't want to be the one who's seen to be profiting out of this. So I think the only way forward is to use it as a promotional tool for the Sex Pistols Experience, put on some live stuff of England's only Sex Pistols tribute show, with demo's, contacts, whatever, and follow it with some of the 'Long lost video's' for you all to see. After all that's exactly what Dave would have done!! He'd cashed in on the image of the Sex Pistols ever since his association ended with the band, by releasing sound-a-like stuff, the 'Ex Pistols' 'Land of Hope and Glory', 'Schools are Prisons', 'The Swindle Continues', 'Cash Pussies' and so on, and so on... all dressed up to look like Sex Pistols recordings from the archives. What a load of Bollocks!! .... We all know it was always just session musicians, attempting to copy the sound, with artwork designed to look as much Sex Pistol'y as possible, even using photo's of John lydon on the cover of The Swindle continues'!? So it's not unreasonable, I don't think, to use some of his material to help promote the Sex Pistols Experience around the world, as Dave Goodman used the real Pistols to help promote his stuff!?? Turn the tables back in favour of the Pistols.?? And, knowing Dave for the short time I did, I think he'd approve!?? So in time we'll edit some footage together ourselves, and put it all together to view on one D.V.D. Give it time for the dust to settle, and all those keen enough will come back and visit this site, and it'll be available.
<![if !vml]>

<![endif]>
The Sex Pistols Experience 'Queens Birthday Boat Party' is ON...! It's taken a lot of wrangling, pursuading & convincing to get it together this year. The boat hire company have been brilliant, and bent over backwards to help us get it on, and if the 'River Police' have their way it won't happen again! Ever! Don't miss out.
The date is set now for the Queens official Birthday on SATURDAY 11TH JUNE. The 'celeb's' have been rounded up, the band are ready, raffle prizes in place, tickets will SELL-OUT, so don't hang around.
- Boarding time for the 'Queen Elizabeth' (The same boat used by the pistols to promote 'God save the Queen' single in 77') is at 6.30 from Embankment pier. Sailing is at 7.00pm, don't be late as the boat can'not wait for late arrivals.
-There's only 130 tickets available, no more. Everyone will be logged onto the vessel and ticket numbers matched to your names according to Thames river authorities safety rules, so if your queuing please be patient.!
Here's what to do to get your tickets:-
Send cash in registered envelope, or ideally a cheque or postal order for £25 made payable to 'D.Twigg', and address it to:-
D.Twigg,
C/O The Sex Pistols Experience,
79 Avocet Way,
Bridlington,
East Yorkshire,
Y015 3NY.
-You will need to include your NAME, and RETURN ADDRESS to send the tickets back to (some people did'nt last year!!??)
We also need a contact MOBILE PHONE NUMBER to get you or someone in your party on the day, incase it all goes 'tit's -up' and we need to make last min' alterations.
The Queen Elizabeth will sail 7pm sharp or as soon as everyone with tickets are aboard and logged on. If your late, and we can't get you on the phone, we'll have to go.
-DON'T BE LATE!!
-No food or alcohol to be brought on-board, there is an on-board bar at usual bar prices.
-There will be the usuall '70's PUNK DISCO' provided by 'VIC at PUNK F.M' ,
- Sex Pistols Memorabillia 'RAFFLE' as those who came last time will know "It's pretty damn good!!" with a few cool items to be had. The Sex Pistols Experience will also be giving away some D.V.D's, C.D's, t-shirts etc, So allow a little extra beer money to get some tickets from 'Nancy' on the T-Shirt/C.D stall, £1 each, £5 a strip of five, or £10 will get you 3 strips of five tickets. £20 will get you 6 strips of five tickets. Thats 30 chances of winning something...or not! Good luck.
- The Band will play two sets, with a few suprises thrown in!
-The raffle prize draw will take place at the end of the trip.
- Whilst the boat hire company appreciate the nature of our trip, and are very supportive, if for any reason they feel that behaviour is outside of what they deem 'acceptable', they WILL terminate the trip at the nearest pier and order everybody off. So please don't be a pissed up Dickhead and spoil it for the rest of us!! We are on thin ice as it is and would like to do this next year if possible, but we need everyone to behave themselves and show some respect!!
-There will be no refunds for any reason.
ENJOY!!!!!!!!
<![if !vml]>

<![endif]>
'Listen up' all those of you in the North East, after the success of last weeks Gateshead gig, B.B.C Radio Cleveland have picked up on the band coming to South Shields 2/4/05 and are doing a LIVE interview with the 'Sex Pistols Experience' on the Saturday morning 2nd to talk about the coming day's gig's, but they'll be lucky if they manage to rouse us, as it'll be at 7AM!! So if you're getting up for work at that time with the radio on, we'll do our best to wake you up!! After that we're loading the van and heading off to Wakefield's 'Snooty Fox' to do our bit for charity, with the 'Tsunami Benefit Concert'. The S.P.Ex will be starting the day off at 2pm, playing an hour, and then there are 10 or so other bands on throughout the day/night. We head off up the A1 then to Hartlepool for the evening show at 'The Studio'. There's a good strong following for the band up there so be there early to ensure you get in. The South Shields gig will also include the NEW 'SID (or Kid?) SINGS' set.!! The next day, Sunday 3rd the band are back in the Wakefield/Doncaster area to do the afternoon at The 'Boot & Shoe' in Ackworth, a small venue, but always a good day with a spot of Pogoing to help the Sunday lunch go down!
<![if !vml]>

<![endif]>
The B.B.C have been in touch and asked the Sex Pistols Experience to provide some soundtrack to their latest documentary about the Pistols last u.k gig, xmas day 77 in Huddersfield. Filming is completed; just need the soundtrack doing, which is where we come in. More info as we get it.
<![if !vml]>

<![endif]>
It's more sad news, Crowded House drummer Paul Hester took his own life on Saturday 26th/4th, after hanging himself from a tree in Melbourne, S.P.Ex drummer 'Paul Crook' said: -
"He was always a great influence with my playing, right from the early 'Split Enz' stuff I always admired Paul's drumming, his huge, solid drum sound, the simplicity of his playing, which stood me in good stead for the pistols, and mostly his great sense of humour, which always rubbed off during Crowded House's live shows. He was one of those rare breeds of drummers, whose personality shone through from the back of the stage, making every gig unpredictable and enjoyable. I'll always remember seeing him run naked around the balcony at the end of a gig in Bradford!! But seeing the band, at home in Melbourne shortly before he quit is etched in my mind, as he pounded the skins so relentlessly, stealing the show with his wit and ability. He was without doubt a seminal influence on my own drumming; Australia has lost one of its greatest musicians. Anyone who's not familiar with Crowded House should educate themselves!"
-Paul Hester R.I.P.
<![if !vml]>
<![endif]>
<![if !vml]>

<![endif]>
The Sex Pistols Experience are putting together a few shows, both U.K and abroad, with the '5th Sex Pistol', Ed 'Ten Pole Tudor', Who's re-launching his music carreer at the moment, playing a few solo dates, including this years 'Wasted' festival. A solo album is expected out later this year, and who better to support the Sex Pistols Experience and guest on a few songs than Ed!!? He might even be tempted to join the band on stage live to play his contributions to the 'Swindle' soundtrack along with the his chart hits of the early 80's. We'll inform you all which dates he could be at on the gig's page. The Swindle really does continue!! ......... More info as we get it.
<![if !vml]>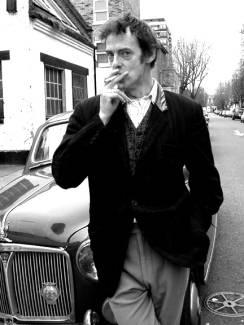 <![endif]><![if !vml]>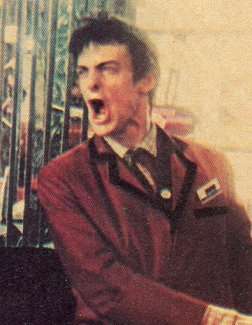 <![endif]>
<![if !vml]>

<![endif]>
What a night 'Cannock' turned out to be!! A terriffic venue, one of the friendliest & helpful the band have ever done. Hot and sweaty again, as the boy's like it, unfortunatly a little more than 'Johnny Forgotten' could bare, for those of you concerned enough to wonder what prompted his on stage total collapse at the end, well... after suffering a bout of 'flu', and loosing that voice in Heartlepool last week, doctors put him on a course of antibiotics, which as you might know don't mix too well with alcahol!?? So, during the interval he happened to mention to the landlord he thought the voice was struggling again, and generally felt unwell, whipping up a speedy fix, the boss re-appeared with THREE double brandies for him, of course Johnny being Johnny was'nt going to say "No", so down the hatch they went, only to smash him round the head twenty minutes later during the final song, sending him out like a light, falling like a felled tree, bollock's over boot's, bashing his head on 'Kid's' Bass amp on the way. End of Show. Lights out. Goodnight Josphine.
Next day, with no recollection of the previous night, a sore head, and egg like lump on the brow, he was 'fine'. And off to London we all went.
<![if !vml]>

<![endif]>
London'ers made up for our lack of shows there in recent times, and it all got a bit too lively for the owner of the venue, who was a bit worried about the level of 'activity' amongst some of the crowd, and saw fit to call the show off 3 quarters in! Stopping 'Kid Vicious' after just one song, and leaving the set short by about 30min's. So next time people, stand still and behave yourselves!! Just as you would to the usual Pink Floyd, Led Zep and other boring prog rock bands they usually put on there!? A little review can be seen on www.raysgigs.com .
<![if !vml]>

<![endif]>
Also, now that the salts all off the road, the new PS122 76 Ford Torino is back out to play. and can be hired for events, weddings, promotions etc. just email requirements.
<![if !vml]>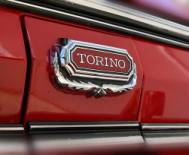 <![endif]><![if !vml]>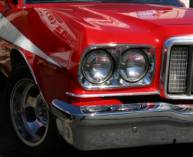 <![endif]>
<![if !vml]>

<![endif]>
It seems to be the worlds worst kept secret that the '5th Sex Pistol', star of the Great Rock N Roll Swindle, 80's chart topper with 'Swords of a Thousand men' etc Eddie Tudor Pole is now confirmed to be doing the support slot on the Boat Trip on June 11th for us, we'll be doing a few songs together too. We're also planning doing a few other shows together sometime in the future, but nothing in stone at the moment.
<![if !vml]>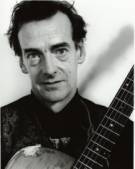 <![endif]>
<![if !supportEmptyParas]> <![endif]>
<![if !vml]>

<![endif]>