<![if !supportEmptyParas]> <![endif]>
12/12/12
Catch our last shows of 2012 at:-
Friday 21st Dec - Colchester Judge & Jury
Saturday 22nd Dec - London 100 Club (see banner below)
Friday 28th Dec - The Warehouse, Huddersfield,
35th anniversay of the infamous Ivanhoes concert & just a few yards away from the original listed building.!
Saturday 29th Dec' Exchange Arts Centre, Keighley. A 35th anniversary of the 'S.P.O.T.S' Tour.!

We want to wish all our fantastic followers...
"A very Happy Christmas & look forward to seeing you all in 2013.!"

30/11/12
Keep in mind the Christmas post deadlines if anyone's ordering stuff on the webstore.
Orders for Asia, Australia, N.Zeland by 7th Dec.
U.S.A Canada & S.America 12th December,
Eastern Europe, Africa 15th Dec,
& U.K, Ireland, Western Europe orders in by 20th Dec -
Happy Christmas Punks, & thanks.!
www.sexpistolsexperience.co.uk/shop/
20/11/12
Catch the next 'Sex Pistols Experience' live shows on:-
Friday 30th Nov' - Indiependence, Wigan. WN1 1LP
Friday 7th Dec' - Newcastle O2 Academy + Rebel Truce (The Clash tribute)
www.o2academynewcastle.co.uk/event/46111/the-sex-pistols-experience-tickets
Saturday 8th - Hark To Towler, Tottington, Bury. BL8 4AA +Rebel Truce - no tickets - just turn-up.!
Advance tickets are (honestly!) Very recommended - Please don't leave yourselves stuck out in the cold unable to get in (as we've seen recently in various places) Get your tickets at the usual outlets or turn up EARLY -(especially in Bury).. see you there..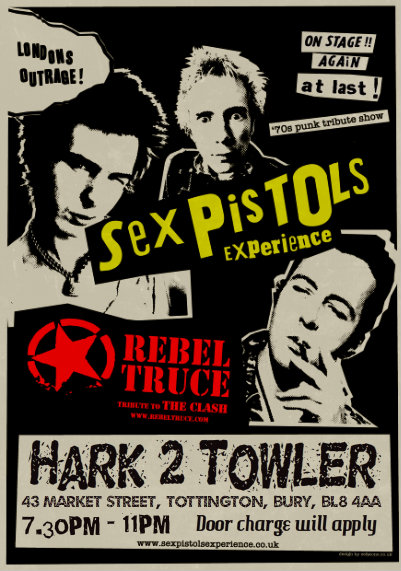 15/11/12

During 2013 (& beyond) S.P.E Drummer 'Paul (Dave) Crook' will be out on the road pounding the skins for British Rock'n'Roll band 'THE GODFATHERS' who'll release a brand new single, followed by the much-anticipated release of a new studio album in February 2013 from the London band. So the S.P.E will be enjoying a bit of time out whilst Crooky gets busy with the other former S.P.E - 'Sid Presley Experience' who coincidently were the very first Sex pistols cover band back in the early 80s when guitarist Del' Bartle helped on guitar duties with Dave Goodman's 'Ex Pistols' for the 'Swindle Continues' album (Revolution in the Classroom etc) small World..! Catch-up with the Stranglers & The Godfathers (with Crooky)on tour around the u.k in March, & you can follow The Godfathers on facebook, give em a 'like here
www.facebook.com/TheGodfathersFamily
16/10/12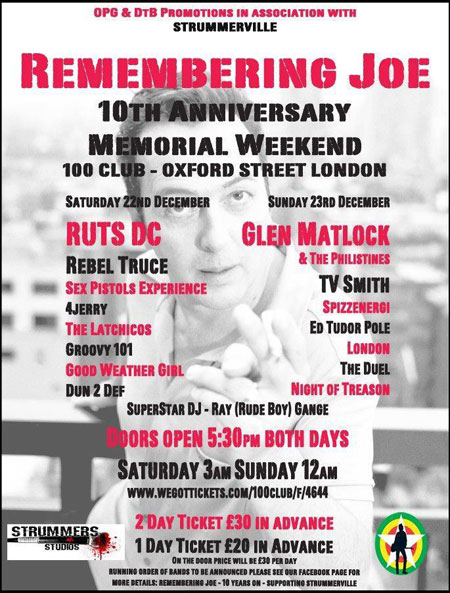 Our next London 100 Club gig is over December 22nd/23rd - that's right - Two nights of it , so make sure you've got your Christmas shopping in by the 21st & where better to do it than Oxford Street & London's West-end.! S.P.E are on the Saturday 22nd, and being as its all for Strummerville we're letting Rebel Truce (The Clash) & Ruts D.C go on after us.! ;-) But more importantly (as of 16/10/12) there's less than 100 tickets left before another sell out, so don't come crying to us when you can't get in on the door on the night.!
For more info on the fantastic line-up (including Soo Catwoman's kittens, Dun to Def, Glen Matlock, Tenpole, & T.V Smith + lots more) & to get your adv' tickets in,
visit:- www.wegottickets.com - Don't hang about..
08/10/12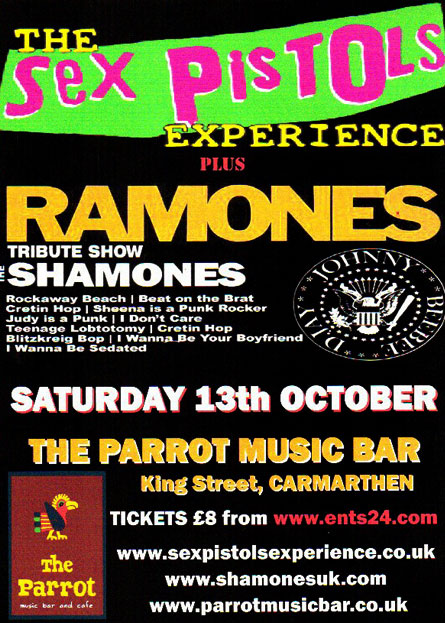 Saturday 13th Oct ' the band are over in South West Wales to Camarthen, we hear there's folks travelling from all over to come along, our friends in Caerphilly, Cardiff, Newport, Swansea, & Pontypool etc.. Please get your tickets in advance as its only a small'ish venue, it'll sell out, & we'd hate to see people being turned away at the door as happened at both our shows last week.. Support on Saturday is by the definative Ramones tribute 'The Shamones' the band that forced Bryn Merrick (former Damned bassist) out of musical retirement, the Shamones are laying on a bus from Barry/Cardiff to get people to the gig - visit their facebook page if that suits you..
Parrot Music Bar,Carmarthen
+Support- The SHAMONES
32 King street, Carmarthen. S.W.Wales
Adv tickets Tel:- 01267 236012
www.facebook.com/The-Parrot-Music-Bar-Cafe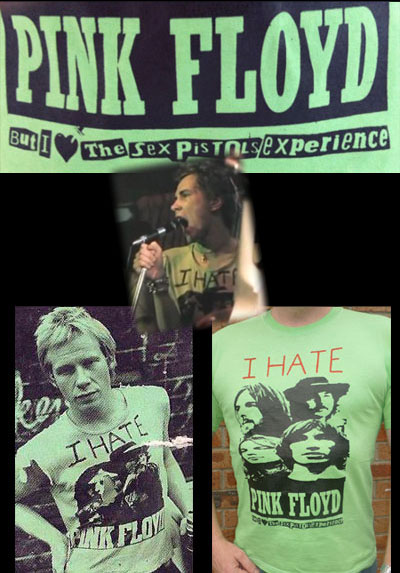 Ever since John Lydon / Johnny Rotten took a Pink Floyd T-shirt and wrote "I HATE" over the top of it back in 1976 he unknowingly set a benchmark & created a trend where legions of Punk Rock followers have been speaking their minds and expressing themselves through their T-shirts - this was the original home-made classic design that opened the floodgates of self expression & a D.I.Y punk clothing ethic. Drummer Paul Cook was seen to be borrowing later that same year, & now you can have your very own reproduction with a 'Sex Pistols Experience' twist on the original. We found the same retro Pink Floyd print to use once agian 35yrs later, screenprinted the custom "I HATE" over the top, & hand-dyed each one in the distinctive bright green colour. Fantastic.!

"I've no idea where I got it from, it being green, which was an oddity… Not my colour. It might have been something I nicked off a stall. What I didn't like about them (Floyd) was the pretentiousness. There was an aura of "Oh we're so great there's no room for anybody else.'" Johnny Rotten said when asked about the shirt.


The first batch we had were gone in a flash earlier this year, our second print run is available now in limited stocks due to the extra work involved with this shirt, get em whilst they're hot.! £13.00 inc u.k P&P. STORE LINK
Our next shows,
We'll be in Doncaster on firday 21st September at the Garage venue, then the band headline Saturday 22nd for our last festival for this summer at the Viking V.W bash at York raceway. The following weekend the band go back upto Scotland to Dundee Friday, & Bathgate Saturday with Ed Tenpole - further details over on the dates pages..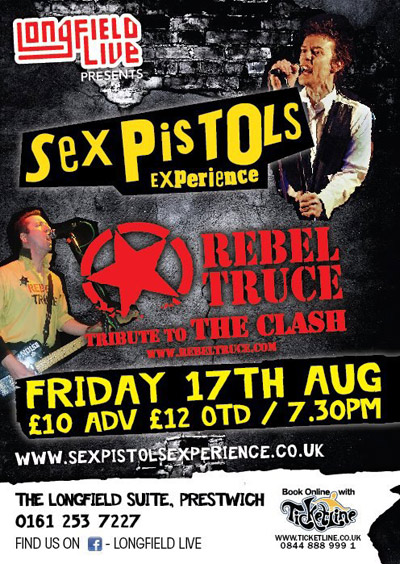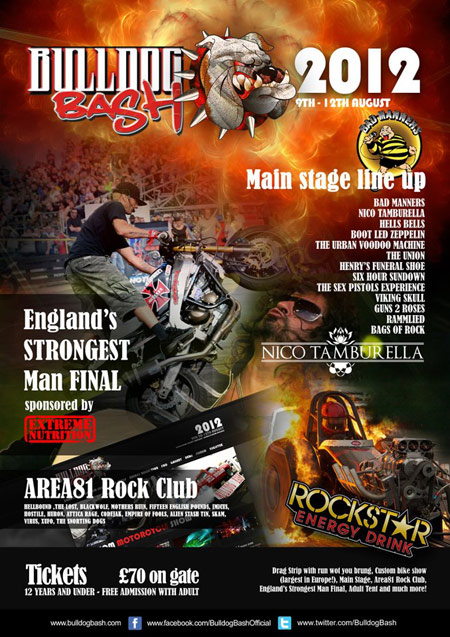 Saturday 11th August - more Festival fun at the annual 'Bulldog Bash' Warwickshire County Raceway along with Bad Manners, Guns 2 Roses, & all the fun of the biggest biker event in Europe, for full details visit the Bulldog website:- www.bulldogbash.eu





Sunday 5th Aug' - Rebellion Blackpool, fringe event
S.P.E @ The Beat nightclub (above the Rose & Crown) Corporation St', 2pm til 4pm

A quick trip to Japan for the Fuji Festival (27/7/12) was proof enough the Japanese have fond 'memories' of the early P.i.L shows as Rotter, Wobble & Levene stormed the stage to a frenzied crowd.
20/07/12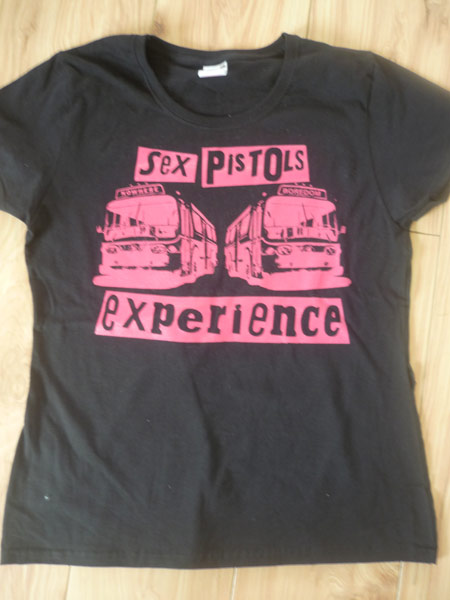 Some limited edition T-Shirts have arrived in with the 'Somewhere / Boring' tour busses in pink accross the front.
Available whilst stocks last in Ladies/Medium/Large/Ex-Large/XX-Large
STORE LINK
05/07/12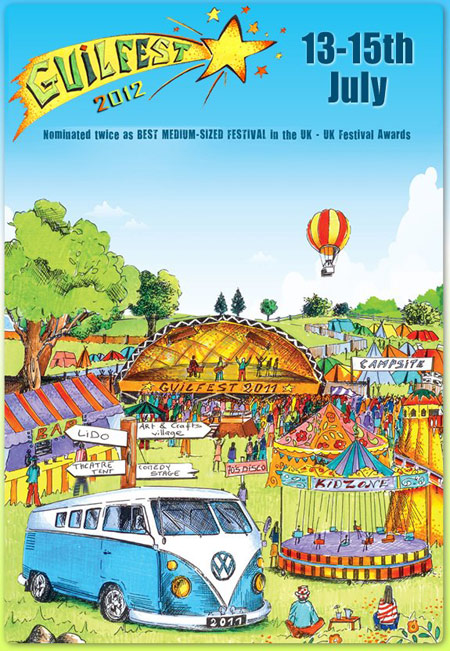 Sunday 15th July:- the 'Sex Pistols Expeirence' are returning by popular demand to the Guildford Festival ( Guilfest 2012) . This year, the festival takes place over the weekend of the 13th, 14th and 15th of July. Famed for its fantastically eclectic line ups and fun and friendly atmosphere, GuilFest offers a weekend of great live musical entertainment set across 8 stages, crossing all genres – there really is something for everyone! As well as live music, there is comedy, theatre, arts and crafts, all sorts of other entertainment, the Sex Pistols Experience will hit The Vive Le Rock Stage Sunday evening. This stage is the home for all things Punk and Ska at GuilFest, & sponsored by 'Vive Le Rock Magazine' ( http://www.vivelerock.net/ ) the stage is much bigger this year so all the hundreds who couldn't get in last year will hopefully be ok this year, & features an excellent line up of some of the best punk/ska acts in the UK today, including The Beat, Buzzcocks, The Undertones and many many more! For full details of who you can see on The Vive Le Rock Stage & the entire festival site this year visit:- www.guilfest.co.uk

6th/7th July the band make a (very) long awaited return to Hull, East Yorkshire, on Friday 6th to the 'Fruit' venue on Humber street in the old town fruit market area. We look forward to coming back to the city where it pretty much all started for us over ten years ago when the then fledgling 'Sex pistols Experience' won through the heats & came out triumphant in the final of a regional 'Battle of the Tribute bands' competition held at the (now demolished) Cherokee club. We won a bit of cash -which got spent down the Pub of course, & a trophy plaque type thing which came in very handy for propping open the rehersal room door in the barn we used to use - its probably still there. But anyhow, if people remember us & turn-up - we promise to come back again a lot sooner.!
Grimsby follows on Saturday 7th back in Bailieys venue which is under new management, always a good night for us there, hot, sweatty, & packed out- just as it should be.!
13/06/12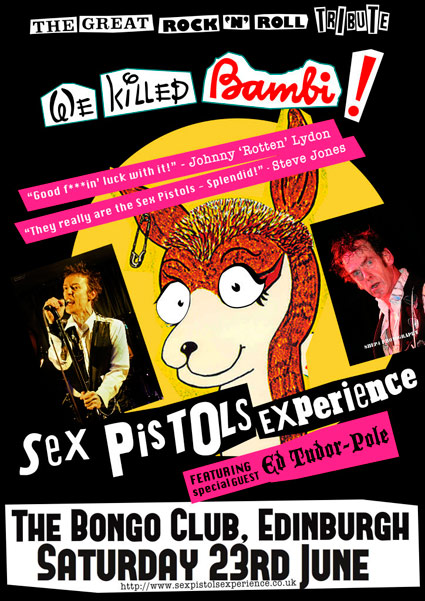 A flying visit upto Scotland is coming on June 22nd Glasgow Renfrew Ferry, & change of venue on 23rd June to the Edinburgh Bongo Club, 37 Holyrood Road Edinburgh EH8 8BA. Tel: 0131 558 7604
For both shows we have one of Scotlands finest Punk covers bands ' Punk Jock' to warm-up the crowds before our special guest
'Ed Tudor-Pole'. Doors 7.30pm Adv tickets just £10.00 visit our dates page for ticket links.

17/05/12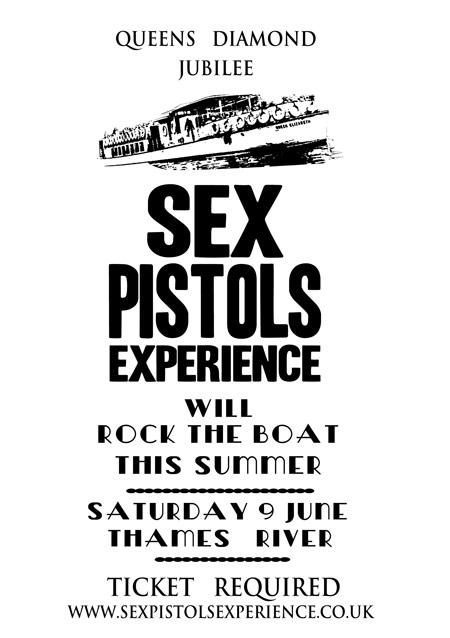 The Diamond jubilee Thames Boat Party on Saturday 9th June is fast approaching, we've got about 30+ tickets left for sale on first-come-first served basis. It'll be great to catch-up with alot of familiar faces from the past ten Thames boat parties that we've done aboard the 'Queen Elizabeth' - the same boat hired by Malcolm Mclaren on June 9th 1977, when banned from the land the Pistols took to the water to celebrate their also banned No1 single 'God Save The Queen'. This year marks not only the Queens Jubilee & Birthday, but also the 35th anniversary of the Sex Pistols original trip & our own tenth year of activity!
We hope you can join us for the party which is sailing at 7.30 pm from Westminster Pier (right by Big Ben), to return at 11.30pm, advance ticket is required available only HERE
16/05/12


Due to new management taking over, our Grimsby Baileys gig return date was postponed from May to Saturday 7th July,
the day after Fruit gig in Hull, East Yorks, (Friday 6th July)
10/05/12
Festivals 2012
It's almost the summer of 2012 & the festival scene is begining to take shape for the S.P.E, we'll be making appearances at a few festivals this summer as usual, up & down the u.k mostly, one or two others & some European jaunts might be added over the coming weeks, so please check back for further details. We got off to a flying start early this year with a warm-up at the 'Winter of Discontent' festival in north London, & you can catch the band at the following (more might be added over the coming weeks):-


Sunday 27th May 'Decades Festival' - Old School Weekender (25th - 27th May) At Club Ice, Workington
Friday 1st June - The Diamond Festival, The Town Hall Theatre, Hartlepool
3rd June, Glastonbudget, Leicestershire. Europe's Biggest festival featuring only the Best on the current European Tribute band scene
8th/9th June - the Gasworks in Bradford are holding a Punk Weekender, we'll be headlining on the Friday
9th June we celebrate the Queens Diamond Jubilee with our own mini festival on the river Thames.!
Saturday 16th June have the Vive-Le-Rock Festival at The Workhouse, Llanfyllin (in Mid Wales).
Sunday 24th June, Jah Wobble, Keith Levene, & Johnny Rotter as 'Metal Box in Dub' can be seen in North Yorkshire
Sunday 15th July - we're very pleased to have been asked back for a 2nd year running to the award winning Guildford festival 2012 http://www.guilfest.co.uk/index.php we'll be hitting the 'Vive-Le Rock Stage' to round of the weekend off on Sunday night along with the likes of the Undertones, Buzzcocks, Gary Numan, & a whole host of other top bands & artists from across the decades. It a fantastic event, & an honour for us to be a part of it all once again.
Sunday 5th August, to hopefully calm all the email requests we get to do Rebellion festival, the S.P.E are doing a Rebellion Festival fringe event, at the Tache' Blackpool on the Sunday afternoon when there's not much going on in the main hall we'll be over the road in the Tache venue from 3pm.
Saturday 11th August the 'Sex pistols Experience' will be appearing with 'Bad Manners' at the 2012 Bulldog Bash
Friday 24th August is our opportunity for some Duty free shopping with a trip to Belgium for a Huge European Tribute festival featuring only the best tribute bands in Europe!
Liedekerke Nr Brussels
Saturday 22nd September we'll remain active on the Volkswagen scene, this time in York for the Viking Volks fest'
Saturday 22nd December - "REMEMBERING JOE - 10 YEARS ON" The 10th Anniversary of the passing of Joe Strummer (in association with Strummerville), a 2 day event with a whole-host of bands, S.P.E & 'Rebel Truce' headline Saturday, Glen Matlock & his philistines will headline Sunday, tickets available now.
More festival dates may well be added, so please check back - or send us your festival enquiries now.. we're already booking some for 2013.!

Jah Wobble, Keith Levene, & Johnny Rotter as 'Metal Box in Dub' performing the best of P.i.L's 'Metal Box' & '1st edition' albums will be appearing at the (mainstage evening) at the Mount Fuji Festival Japan on July 28th - why not nip over & check em out.!
www.fujirockfestival.com
09/05/12
This Saturday 12th May, Wolverhampton Slade Rooms, there'll be aftershow beers/meet'n'greet for photos etc at the Numa Bar (ex Little civic) straight after the gig a short walk from the Slade rooms, where we'll also be joining up with the 'Tubeway Days' aftershow.! So hold onto your tickets for free entry.!! :- www.facebook.com/numabar Numa Bar, North Street, WV1 1RE Wolverhampton
30/04/12
BBC2 9pm tonight (Monday 30th April) 'The 70s' programme will focus on 1975-77 & will feature a few shots from our 35th anniversary Caerphilly concert from october 2011. The BBC spent the day filming with us with shots of the queue up the street before doors opened, & quite alot of live footage - including the soundcheck, so will be interesting to see how much, or little (if anything), has made it to the final cut.. if you miss it catch it on the BBC i-player. HERE

Due to the planned Japan July tour for 'M.B.I.Dub' Our Coventry show at the Arches venue has been moved FORWARD from July to Saturday June 30th. There's been a great deal of interest locally for this one according to the venue, & tickets are on sale now, tickets already bought will be valid for the move of date.

A late addition to the gig listings is Leicester Soundhouse we'll be performing there on Saturday 19th May support from 'First Wave', 'Rhubarb Republic' and 'Gandhis Flip Flop'. E-tickets are out now at SeeTickets £6.00 adv/£8.00 on the door LINK

25/04/12
02/04/12
The 'God Save The Queen' Boat trip, which is the 35th anniversay of the original, & the Queens Birthday, & our tenth anniversary, on the river Thames is quickly selling out, with fans coming from all corners of the uk & oversea's to join the fun - so if you thinking about coming aboard the 'Queen Elizabeth' (The same vessel hired by Malcolm McClaren for the Pistols in 1977) for what will probably be our very last boat party, then please be quick & get your tickets in the STORE


There's some good reviews & photos going about from Glen Matlock's current live gigs, featuring our ex guitarist 'Steve 'Dave' Bones' playing on drums in Glen's band, catch a gig if you can.. http://www.philjens.plus.com/rattle/brixton310312.html & say 'hi' to Dave from us - he's struggling not to sign autographs as 'Steve Bones' we hear ;-)
12/04/12

27/03/12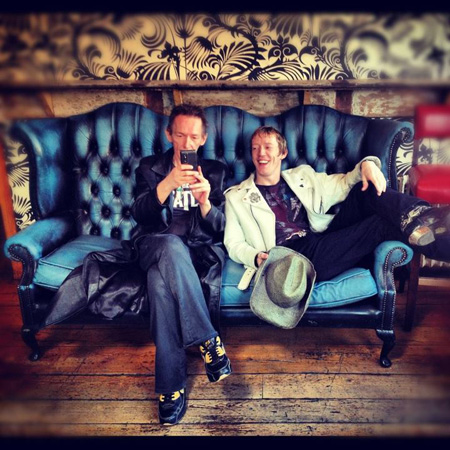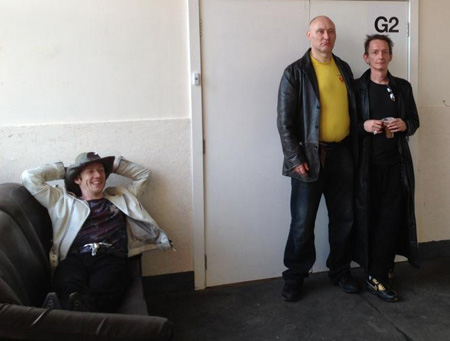 We've been having a good run of gigs through March 2012 with sold-out shows in Basingstoke, Plymouth & Leicestershire, full on madness in Kingston & Cardiff, & a great night with our debut in Beford Esquires (we'll be back to Bedford later this yr). It was also a promising start with a sell-out for the first 'Metal Box in Dub' show with Keith Levene & Jah Wobble revisiting their legacy live with the help of Johnny Rotter on vocal duties. More M.B.I.D shows are being planned & will be announced on Wobbles own site www.30hertzrecords.com& being as the show includes Rotter - for your convenience we'll list them on our dates pages too. John Lydon's P.i.L have also began to announce afew shows for this summer, it should be noted that M.B.I.D are not aiming to rival Lydons current 'P.i.L', Wobble & Levene are mearly having a good time revisiting their youth & performing their hugely influential music from 'First issue' & 'Metal Box' albums from 1978/79 with a bass heavy Dub added to the mix.. http://en.wikipedia.org/wiki/First_Issue & http://en.wikipedia.org/wiki/Metal_Box ..
Since the 'Sex pistols Experience' did a few dates back in 2009 as 'Public Imitation Ltd' which included guest appearences with Wobble & Levene, calls & emails came flooding in asking for more as fans wanted the original sound & line-up - or as near as can be, so we felt that the baton was best passed over to Wobble & Levene to run with, & especially with the re-emergence of Lydon's P.i.L we decided to mothball 'Public Imitation Ltd' until such a time as there's room on the live scene for our tribute once again.. With 'Metal Box in Dub' there'll be no lengthy tours, just occasional dates here & there, & it'll probably only last a year or so, however they (Rotter/Levene/Wobble) are busy writing & recording new material for an up-coming album, so catch them if you can & check back for updates..!


'Public Image' & 'Low Life' filmed Friday 23rd March..

15/03/12
For the first time in 30 years Jah Wobble and Keith Levene, the core of the classic post punk innovators Public Image Limited will be taking to the stage together again. The ground breaking, dub heavy bassman and one of the most original guitar players ever have reconvened to play tracks off the two key albums from their original outfit and a bunch of new tunes that continue their ground breaking work from the past
After being out of contact for a few years the pair had decided to revisit their own legacy of the first two Public Image albums from the late seventies that redefined music in the post punk period and arguably were the first releases to signpost the form.
Wobble, who knew Johnny Lydon since the mid seventies after meeting him at Kingsway College of Further Education, was one of the original 'Four Johns'- the gang of very smart nutters who were the inner core of what was to become 'Punk Rock'. Terrorising the hippies on the Kings Road were John 'Wobble' Wardle, John Grey, John 'Sid Vicous' Ritchie, and John Lydon. When the Pistols fell apart and Lydon started his next project it was inevitable that Wobble (who got his nickname from Sid Vicious) would get the call up and the pair of them added ex Clash guitar man Keith Levene to the line up to form Public Image.
The new band recorded two amazing albums that redefined music with Wobble's wobbling bass end, Levene's chiming harmonic guitar and Lydon's sensational poetry that was half cackled and half whined creating a totally new music that influenced everyone from post punk to U2 and beyond.
The original P.i.L was an ambitious but short lived affair, much like the Sex Pistols before them, they lasted little more than a couple of years before the inevitable revolving door of musicians & hired hands would join & soon after depart, the 'group' continued into 1992 before disbanding for a hiatus lasting some 17yrs.
In 2010 Lydon reconvened the band without the two key members and toured to critical acclaim. Also during 2010 & after a handful of guest appearances with tribute band 'Public Imitation Ltd' got the ice broken & Levene & Wobble on the phone to each other once again. So early 2012, despite threatened court action by Lydon, but with the help of the vocal talents of 'Johnny Rotter', Wobble and Levene decided to revisit their past as well, whilst also fast forwarding to the future with some planned new material. A short tour of Japan was planned & a handful of u.k dates followed with a new take on their classic album, & so 'Metal box in Dub' was born.! And a new studio album is being recorded now & coming in 2012, further updates will be on www.30hertzrecords.com
29/02/12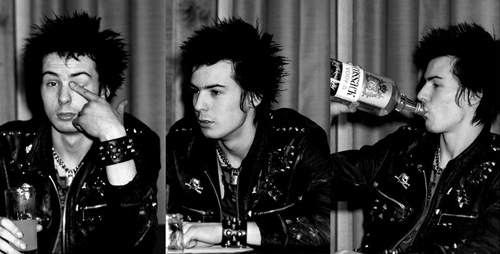 The Photographer & writer (& all round good egg) Peter Gravell, who made a name for himself in the Punk community with his shots of Sid Vicious & The Sex Pistols at their hight in 1977, & later was in attendance at Sid's last party fling in downtown N.Y, is selling off his last remaining prints of the era that were so well exhibited at the Proud Galleries exhibition a couple of years back. For a full list & prices etc email him on:- p1@gravelle.biz
Or Get him on Facebook:- www.facebook.com/profile.php?id=100002961394647
A book of Peter's photography work over the years, which goes far & beyond the 77' Punk scene,is in the working stages at the moment.. we'll let you know when it's out.! You can still get your T-Shirts featuring Peter's photo's through the 8-ball website:- www.8ball.co.uk/tag/peter-gravelle/
09/020/12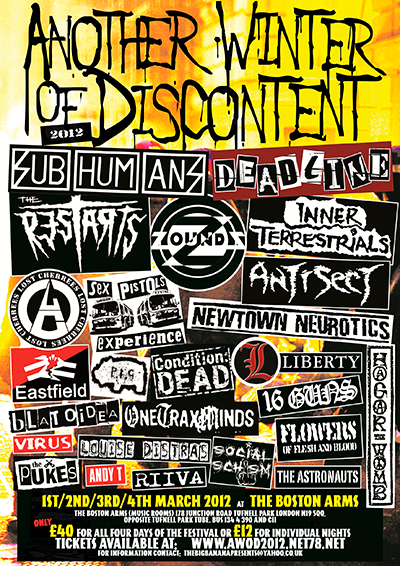 After a rare hiatus (time off) during February, with Johnny Rotter busying himself with Jah Wobble & Keith Levene in preparation for some u.k 'Metal Box in Dub' shows (& a possible new album!), then we have a quick jaunt to Sicily a little Holiday in the sun. Our next U.K shows will be Birmingham Ballroom (The old Carling academy) on Saturday 25th February with special guest Ed' Ten Pole Tudor. Then on the 1st March we make our first festival appearance for 2012 at the first night (Thursday 1st March) at the 4 day 'Winter of Discontent Festival', Boston Music Rooms, Tufnel park north London, a great line-up of Punk bands from around the uk will follow us over the next 3 days. Friday 2nd March see's a long awaited return to Mr Kyps venue in Poole, Dorset, just next-door to Bournemouth, again with Ed Tenpole who's flying back from a 'one night tour' of Bucharest to be there.! Saturday 3rd March we hit Basingstoke, Sanctuary music venue, with Ed Tenpole. Tickets & further info can be found for all the shows over on our dates pages. If you can come along to any shows please try to get the advance tickets where available, we seem to be seeing a healthy growth in crowds lately & we don't want to see you left out in the cold..

We have a had a very busy start to this year with the phone ringing & email coming in everyday with enquiries, lots of new venues coming aboard, & we're trying to visit as many as possible. Our website has hit a quarter of a million hits this year, so please add this site to your favourites tab on your search engine & keep-up with us by checking in on a regular basis to see if we're coming to a town near you, if we're not, send us your venue suggestions & we'll see if we can make it happen..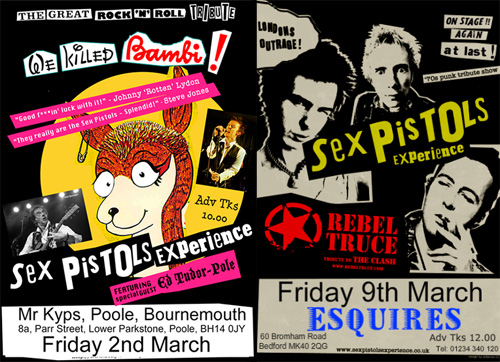 In March we have a debut in Esquires Bedford on the 9th with the fantastic 'Rebel Truce' - The Clash tribute, that band are a hard act to follow, blowing the roof off warming up for us to a capacity crowd in Newcastle during January. We head back to Wimbledon F.C Kingsmeadow Stadium with the 'Rebel Truce' boys on the 10th March. Then on 16th &17th March we team-up with Ed' Tenpole again & head over to the Globe venue in Cardiff - (tickets are going quick for that one) & then on down to the Junction in Plymouth. "3rd March you could catch the original P.i.L members Keith Levene & Jah Wobble who're borrowing 'Johnny Rotter' from us to do their uk debut of 'Metal Box in Dub' up north in Hebden Bridge. With Hugglescote in Leicester next for the SPE on 24th, then onto another debut on the 'Isle of Wight', & Portsmouth with 'Rebel Truce' & 'Ska'd for life' over the 30th & 31st March.
April, May, & onwards, is just as busy, & we're considering many offers for the Jubilee weekend.. come back & see what were up to, & we hope to see you at some shows - don't forget those advance tickets...

31/01/12
We have just taken delivery of some New T-shirts which are in stock at the moment, 'Bollocks Yellow' with our own twist on the Vacant Busses design. Available in Small/Medium/Large & Ex-Large. They were getting snapped up quickish at the recent gigs, so avoid the queue at the merch', & look like your ahead of the game by arriving to the show with one on (!) & get your's through our on-line store now.!
Check them out in the store !!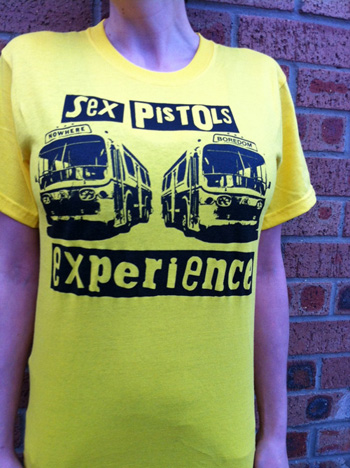 Based on the original bus design by David Jacobs, Point Blank,
Collective Reinventions
16/01/12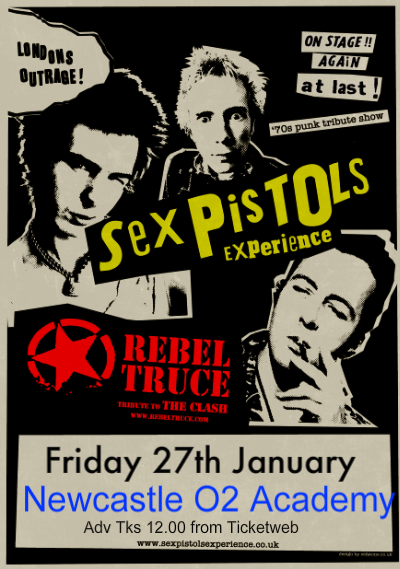 Advance tickets for the Newcastle O2 Academy gig, due on 27th January, are on general sale now. Special guests for this show (due to having so many requests from the North East) we're bringing back 'Rebel Truce' - The top 'Clash' Tribute - these boys always make us raise our game live, & are gaining a very healthy national reputation for their show, definately one not to miss if your a regular at the venue. Remember its also early doors 7pm to 10.30 due to the club night afterwards. See you in 'The Star' for a few pre & after-gig beers.! Advance ticket link
Following on from the sucess of our Gulidford Festival apperance during summer, the S.P.Ex will be making a return to the area with a show at the Boileroom in Guildford on Saturday January 28th, we wanted to make the night a little bit more special so we're bringing along special guest 'Ed Tudor-Pole' to warm-up with his amazing one-man acoustic show.! Chack our January dates for further details & adv' Tickets.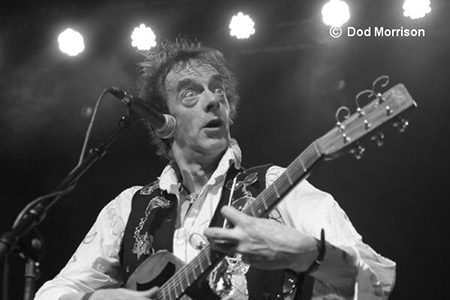 The 'Great Rock'n'Roll tribute' with special guest Ed Tenpole Tudor rolls into London Islington on April 14th at The Garage venue, tickets have now been released through Ticket web & HMV, & the first 100 will recieve a Pistols/Clash/Damned complimentary C.D album.!
http://venues.meanfiddler.com/the-garage/listings/featured/5998
05/01/12
Japan tour dates have been released for 'Purpose In Life' a collaboration featuring ex- P.i.L bandmates Jah Wobble, Keith Levene & our own 'Johnny Rotter' who will be flying over to present 'Metal Box in Dub' giving a new sound & edge to the 30+yr old classic album tracks. Read more about the original 'Metal box' here:- http://en.wikipedia.org/wiki/Metal_Box
'Purpose In Life' present - " METAL BOX IN DUB "
Friday 3rd feb - Tokyo, Shimokitazawa. Garden
Saturday 4 feb - Tokyo, Shimokitazawa. Garden + Friction
Sunday 5 feb - Tokyo, Shimokitazawa. Garden + Ness
Tuesday 7 feb - Osaka, Muse
(all shows 6pm til 10pm)
More dates TBC, all tickets 7,000 Yen + vat + 1 free drink at the door