<![if !supportEmptyParas]> <![endif]>
<![if !supportEmptyParas]>
18/12/09
As this year draws to a close we wanted to thank all the people/friends/fans who helped us keep going through our 8th year by coming out to the gigs & supporting us & the venues. Its been a pretty tough year for bands & venues all across the u.k due to the smoking ban & recession kicking in, resulting in people not going out as much, & bars & clubs closing down at the rate of 50 a week recently. So it really is, & has been, appreciated more than ever to see you turning out in these hard times.

However on a brighter note - we were lucky enough to catch the re-formed 'Public Image Ltd' live recently www.pilofficial.com , & if you can get to the last few shows we'd highly recommend doing so - they were brilliant, & really gave us some great ideas & set a high standard for us to live up to for our up-coming 'Public Imitation Ltd' gigs! It was great to hear all those P.i.L songs done live once more after a lay-off of almost 20yrs, so we're looking forward to recreating them throughout the coming months.
Throughout 2010 we're going to be looking at doing some more "Team-up shows" with Tenpole Tudor, 'Rebel Truce' (the u.k's top Clash band) & working really hard ouselves to do the 'Public imitation Ltd/Sex Pistols Experience' double-headder gigs - so look out for those.! We're busy adding many u.k dates to the diary now, & also looking to do some more European dates as offers are already coming in,we are also looking into offers from further away overseas places, all will be considered & revealed in due course as dates are confirmed.

Over the last year we added our 'Facebook' account www.facebook.com/sexpistolsexperience for you all to keep upto date with activities, & we hope this will eventually become as popular as our Myspace page - which is close to achieving one million hits already.

We're gonna be having a jolly good knees-up at the last few December gigs of 2009 with The Clash boys 'Rebel Truce', coming to Buckley Tivoli, York Fibbers, & Sheffield Boardwalk where 'Nancy' will be making an all too rare appearance for our New Year eve-eve gig since the birth of baby 'Johnny' back in March 09, -so buy her a Vodka & lets all get pissed - & roll on 2010 - "Cheers!"

07/10/09
The Band have recently been busy in the studio doing something they said they'd never do - reproducing 'Anarchy in the U.K', & 'Pretty Vacant' for an upcoming Pistols tribute album to alongside tracks from some other punk bands who've done their own versions of the classic tracks. "The reason we said we'd never try to reproduce the songs in the studio is - why bother?? If you want to listen to the 'Bollocks' then go listen to the Sex Pistols doing it, there's little point in (us) trying to improve on it, or waste money in a studio copying a classic album of over 30yrs of age, which is why in the past we've only ever put out live stuff". However, when a record company offers to pay the studio time - we figured it'd be a giggle! - so o.k then!! & off we went & had a jolly old time in Axis studios ( http://www.myspace.com/axisstudio ) playing pool & pissing about until we got to do our various 'takes', & the job was done in no time, & we're very happy with the results, & dare we say it ...we feel we improved on the originals.!
So, we're considering spending a bit more time in the studio to do some more songs that we figured would be of interest to the Pistols fans out there.. studio versions of unreleased tracks, or "what might of been" scenarios, plus some special guests, etc.. all will be revealed soon once the track listing is sorted out & we have an album ready to go - thats if we decide to do it. Details of the tribute album will be announced as soon as we have the info. We'd also like to thank 'Steve' for doing a pretty cool retro version film of the band doing E'M'I live recently at the sold out Barnsley Birdwell Club, its been getting alot of hits on that youtube thing recently, & we think it captures the band better then anyother film we've seen on there...
EMI VIDEO PRODUCED BY STEVE
6th/08/09
The band are now accepting all reasonable offers for all remaining dates in 2009, we're able to negotiate some favorable 'recession-busting terms' to fill-up the last few dates of this year, drop us an email if you want the 'Sex Pistols Experience' in your club or venue & we'll see what we can do..
Enquiries are on-going for early 2010 when we'll unleash our 'Public Imitation Ltd' show which promises to be alot of fun, at the moment we're running only from Jan to March 2010 so we hope to get in as many dates as possible around to U.K & possibly elsewhere. Checkout the myspace page:- http://www.myspace.com/publicimitationltd & let us know if your town has a suitable venue?
Next year (2010) is already looking pretty healthy with some exciting plans & a good few enquiries coming in for festivals & new venues in all regions, all will be revealed shortly..

28/07/09
Our good friend, & occasional special guest at many of our gigs Ed Tudor-Pole is pleased to announce to arrival of his new album, his long awaited (25yrs!) 3rd TEN POLE TUDOR release called 'Made it this far' on 'Angel Air records' http://www.angelair.co.uk/ .
'Tenpole Tudor' enjoyed a number of UK Hit Singles between 1979 and 1981 with their signature Hit being 'Swords Of A Thousand Men' (UK no 6 in 1981). Frontman ED TUDOR POLE is a descendant of Henry VIII (not many of those have appeared in UK Pop Charts) and initially went to RADA to train as an actor but fell in with The SEX PISTOLS (he appeared in the film The Great Rock'n'Roll Swindle performing his own number 'Who Killed Bambi') but after just 2 weeks in the band Sid Vicious died, and the rest is history...

During the 90's he appeared regularly in film & TV, perhaps best known fr presenting Ch4's The Crystal Maze, and now spend his time regularly performing live all over the world.

'Made It This Far' is the group's first album since 1981 and is an eclectic mix of styles from rockabilly to rock'n'roll.

Ed is currently touring UK with his 'Save England From It's Fate Tour'-an electronic one man stadium show, for dates check-out his myspace link (off our 'home' page).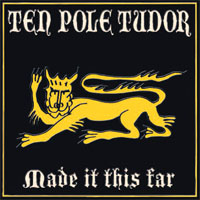 Track listing:-
1. Made It This Far 2. One For The Master 3. Football Rockabilly
4. Pete's Mercedes 5. Mohican 6. Yippie Yi Yay
7. The Occasion 8. Real Fun 9. Such Desire
10. All My Heart 11. St Louis Blues 12. I Laid Her Down
13. Football Yobbo 14. Last Orders 15. To Her Majesty 16. Shutup Tracey
Available from all good record stores, or follow this link to Ed's Angel Air page:-
http://www.angelair.co.uk/sjpcd309.htm
MUSICIANS
ED TUDOR POLE, MICK O'DONNELL, PAUL MARTIN, DARRELL BATH, ANDY ALLEN
02/07/09
Sex Pistols Experience founder member & drummer 'Paul Crook' will be a special guest on 'The Jack E. Jett Show' on Rational Radio in Dallas, Texas this Saturday 4th July. The Jack E. Jett Show (America's equivalent of the U.K's 'Graham Norton Show') is a chat show that covers a wide array of topics from pop culture to politics. The station is a 50,000 watt channel that has a reach to over 6 million homes. In addition, there is a large international streaming audience due to the syndicated success of the "Queer Edge with Jack E. Jett" televised series. A former TV host that currently has shows running on 3 continents, has an insatiable appetite for human interest stories and love sharing them with the listeners. Bizarre Magazine described Jack as "The weirdest talk show host in America". Some regular guests include Sandra Bernhard, Belinda Carlisle, Rory Kennedy, Henry Rollins, Jerry Springer..etc
The show airs live from 1:00-3:00 p.m. Central Standard Time (7:00pm- 9pm U.K time) every Saturday and Sunday and repeats at midnight. 'Crooky' will be on air between 1.34 & 1.59pm cst. The Jack E Jett Show can be heard on Rational Radio 1360am in the Dallas/Fort Worth area, and worldwide via the internet at RationalRadio.Org
Jack E. Jett official website:- http://www.jackejett.com/

This coming weekends gigs (Thur 2nd - Sat 4th July) are expected to be some storming nights, Sheffield is always a good one @ The Boardwalk on Snig Hill this Thursday (2nd July), tickets are available on the door. Friday (3rd July) see's a long awaited return to the Studio venue in Hertlepool, where local promoter Ste Ainger has presented all the best of the u.ks Punk & Oi bands for the last.. God knows how many years, & has now decided the time is right to be hanging up his promotional services with a last big blast at the venue on Friday featuring The Sex Pistols Experience! So we intend to make it a night to remember, "Cheers Ste".
Finally, The Birdwell Club near Barnsley has done over 300+ tickets for Saturdays show with 'The Sex Pistols Experience & Ed' Tadpole'. The venue is located just south of Barnsley, & north of Sheffield/Rotherham Birdwell is little more than a 'dot' on the map - but its sure got more than its fair share of Pistols fans ! So anyone planning on going to along on Saturday (4th July) - be sure to get your advance tickets in, or reserve some prior to setting off (call 01226 742377) otherwise you might travel there only to find it sold-out.!? What a night that'll be! See you there if you can make it..
We have some more new Tour T-shirts coming very soon, keep an eye on the store page as they do tend to get snapped-up pretty quick..
Our festival appearance's in Poland & Czech Republic in early August have had to be cancelled due to the servere local floodings there recently - our sympathies to the fans & people over the who have been affected, we shall be back at the first opportunity. Whilst were talking about oversea's trips - enquires are going on right now for our first couple of dates in Japan & we hope to make it there in December if suitable venues have the available dates, otherwise we'll plan for 2010.
11/06/09
Our New Show - 'Public Imitation Ltd'.! ...PiL are Back!!


We're pleased to finally announce our plan for a new show to present to all our friends & fans which will eventually run alongside our regular 'Sex pistols Experience' shows. If you've enjoyed our Sex Pistols gigs at some point over the past 9yrs, you'll know we pride ourselves to deliver the best show we can, paying attention to all the details, a winning formula that has taken us all around the World, & we're working harder than ever now so you cannot fail to enjoy this exciting new live project:-

"You might know us better as the 'Sex Pistols Experience' - but now the band present, for a limited time only, the Worlds 1st & only PIL tribute show - 'Public Imitation Ltd'! The band will accurately re-create & re-produce the look, sound, energy & excitement of 80's new wave sensation Public Image Ltd, who's music hasn't been heard on a u.k stage in over 20yrs - This has never been done before.!


Anyone into their music throughout the Post-punk/New-Wave era of the early 80's, following John Lydon from the Sex Pistols into Public Image Ltd will remember that the band became far more influential & creative than the Sex pistols ever were.! Public Imitation Ltd, or 'P¿L', have been spending alot of time rehearsing and mastering the sounds, look, and adding all the other essential elements it takes to make a PiL gig the exciting & original live show it once was back in their day.

Over a 13yr career (spanning 1978 to 1992) PiL spent the 80's selling out venues up & down the British isles, with extensive tours of Europe, USA & Asia. Instead of having just one album worth of songs (& some B sides etc) like the Sex pistols, PiL released several albums worth of material through a variety of line-up changes from which 'Public imitation Ltd' have picked out all the best bits & will deliver them to you in a totally new unique live 'experience' !
Including early album tracks like ' Low life', 'Annalisa', 'Death Disco', 'Flowers of Romance', 'Low Life' etc, plus their chart hits like 'This is not a love song' - 'Bad life' - 'Home' - 'Rise' & some of the best most powerful album tracks like F.F.F. & Solitaire.
So dig out your old vinyl & brush up on what was all those long-lost gems of 80's over-indulgence! 'Public Image' are back !

www.myspace.com/publicimitationltd

After almost NINE years doing the 'Sex pistols Experience' the band are really having fun at the moment running through their favorite P.i.L tracks, & stretching their musical wings to present an alternative great live show. Paying the special attention to the stage presentation, lighting, & added PiL props as seen on live PiL T.V footage, and then adding a unique twist of our own to the mix, - after all - Pil was all about experimentation!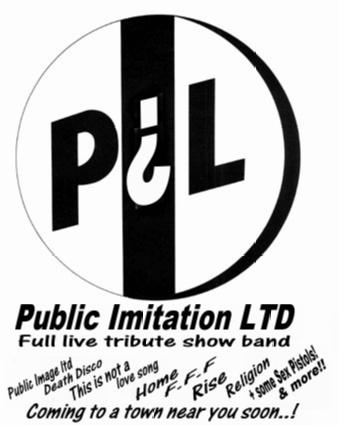 If you are an agent/venue/promoter who knows his/her Punk-Rock/New Wave history then you cannot fail to be interested in booking this band!? Contact now for routing & availables for a limited period only - Jan/Feb/March 2010. This really is a show 'not to miss'!!
'P¿L' Dates are being accepted & booked NOW!!

11/05/09
We're looking forward to a long-awaited return to Hull in East Yorkshire on Friday 15th May - we have alot of history in Hull (see our myspace blog!) The Springhead on Aston Rd is now under new management & aiming to bring back the award winning spark of the past years instead of the dodgy recent past, so we look forward to catching up with alot of old familliar faces. We're billing it as a bit of a 'warm-up' for the MUTINY Festival in Bridlington which happens on May 16th.
Bridlington is the town we first kicked-off in 8 years back & we'll be inviting the Anti nowhere League, UK Subs & some of the other bands round for a BBQ during the day & see you all again during the evening at the Brid' Spa.! (see our myspace friends list for 'Mutiny fest' info)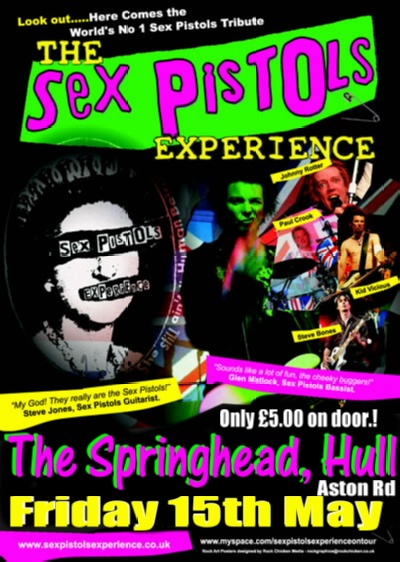 Then next on May 22nd we're back down Plymouth, Devon, for the annual V.W fstival, we headline the Friday night & its going to ba a CRAZY night if last years event is anything to go by! We had a really nice review in the 'Plymouth Hearald' Newspaper last week for a low-key gig we did down there in April.. follow this link if you want to have a quick look.. http://www.whatsonsouthwest.co.uk/article.php?id=19270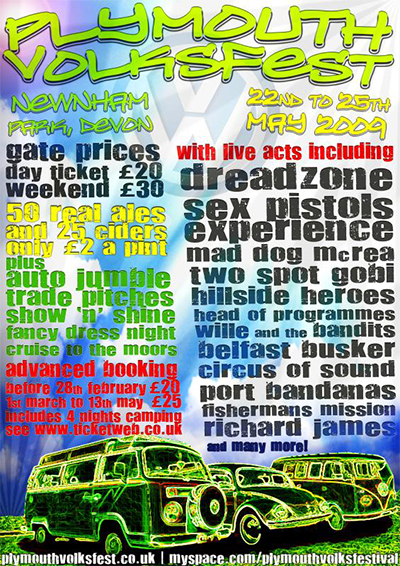 We had an amazing evening on 20th March - fulfilling a long held ambition to perform the Longhorns Ballroom in Dallas Texas, one of only 2 surviving venues from the ill fated January 1978 Sex Pistols U.S.A tour (with Sid on bass), the other venue being Cains Ballroom in Tulsa (we performed there on our 1st USA tour in jan 06') The good people who organise the annual 'Mods V's Rockers' Biker/Scooter festival in Dallas saw the perfect opportunity to re-create some local Rock'n'Roll history by inviting The Sex pistols Experience over to Dallas Texas to headline the weekends event in Longhorns Ballroom on Friday 20th March. (Big thanks to 'Mark & Dave' & everyone else for all you did for us!)
Upon arrival in the venue on the Thursday we were told the old backdrop with the 'Longhorns' logo had long since dropped to bits due to a leaky roof.! After watching the Pistols longhorns live VHS film for the last 30+yrs we wouldn't feel the gig was complete without the iconic backdrop. So, we went out & bought some gloss white paint, 4 paint brushes, a case of 'Lone Star' beer, put 'Never mind the Bollocks' through the P.A, & set about re-painting the old logo onto the back of the stage once more, to get the look just right for the up-coming Dvd!.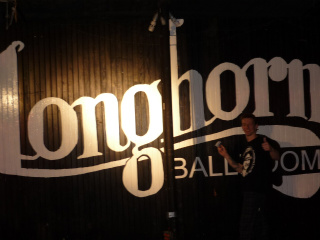 Then when we finished our handywork (at 2am) & after a good few beers, we signed our artwork to leave our own little bit of history at the Longhorns as a setting for all future shows to perform infront of..(our time at Artschool finaly came in useful!) So the Sounds of the Sex Pistols echoed around the Longhorns Ballroom once more - 31yrs, 2 months & 10 days after the Pistols had performed there, & what a load of fun we had...There was lots of press interest for what was our 3rd appearance in Dallas, & we look forward to a return to the city & some more U.S.A dates at some point in future. Here's a couple of tracks from youtube captured from the Longhorns show...

07/03/09

Peter 'Kodick' Gravelle is holding an exhibition of some of his most iconic artwork from his head'y days photographing all the mojor punk rock bands of the late 70's. Peter might be recognised by those of you who watched the 'Who killed Nancy' film recently from his account of his times spent in London & New york hanging out with Sid & Nancy & many of the bands of the day. The exhibition of largely unseen photos will be held at Proud galleries, Camden london from Thursday 19th march to Sunday 29th, (we'll be at the opening night on Wednesday 18th) Limited edition prints will be available to buy - make sure you go take a look if your in the city. www.proud.co.uk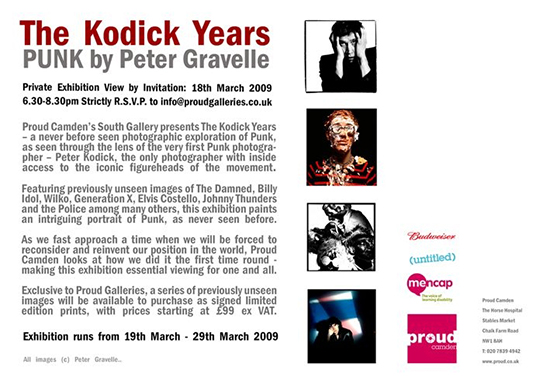 20/02/09
After 31 years, 2 Months and 10 Days the Longhorn Ballroom in Dallas Texas will once again echo to the sounds of the Sex Pistols when the World greatest tribute to the band - The Sex Pistols Experience (us!) will perform there as part of the 'Rockers V's Mods festival' on Friday 20th March 2009.
We've already had dozens of emails from many of the city's residents who are talking about this show already, & many of the people who attended over 30yrs ago are coming along once again for a fantastic one-off night of nostalgia.! Including Hellin Killer who's seen in the film 'Who killed Nancy?' (We're hoping the good people of Dallas will bring along their photos from 1978 too!!?) The venue is one of only two surviving locations from the Sex Pistols ill-fated january 1978 tour which ended up with the bands untimely demise in San Fransisco after the Winterland show. The gig before Winterland the Pistols appeared at Cains Ballroom Tulsa, the Sex Pistols Experience performed there 28yrs later whilst on tour in january 2006. So Longhorns puts a big tick in the last box of their wish-list of achievements since starting out 8yrs ago. Entrance to the festival is only $20.00 & for further info here's a link to the festival site: - http://www.rockersvsmods.com/
Link to the longhorns Ballroom site:- http://www.thelonghornballroom.com/
30/01/09
lookout for the sex pistols experience appearing on BBC Look North T.v news either Saturday or Monday at 6pm, they're filming the band in Cambridge tonight (Friday) for an interview about 'Who killed Nancy?' and to talk about the band etc. Then they'll be on the radio airwaves with BBC Radio Humberside (Hull & East Yorkshire regions) on the breakfast show monday morning 2nd Febuary (30th anniversary of Sid's death) at 8.30am, followed at 9 to 9.30 for BBC-WM (West Midlands) for the same agian before headding down to london monday for the 'Who killed Nancy?' film launch party.!


24/01/09
The 'Who killed Nancy' film is available to buy on Dvd from our website store LINK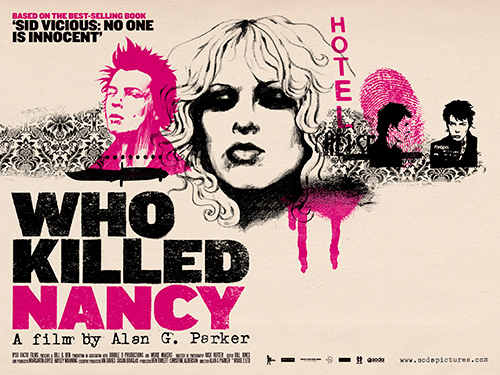 <![endif]>